Far Cry 6 transports players to the island nation of Yara, where ruthless dictator Antón Castillo rules with an iron fist, kidnapping Yaran citizens for slave labor and experimental test subjects. Many Yarans are ready to take up arms and end the Castillo regime - like Dani Rojas, a young reluctant guerrilla who joins up with the Libertad rebels and proceeds to wreak as much explosive havoc as possible against Castillo's forces. PlayStation Plus Extra and Premium members can step into Dani's boots starting on June 20, when Far Cry 6 joins the Ubisoft+ Classics library.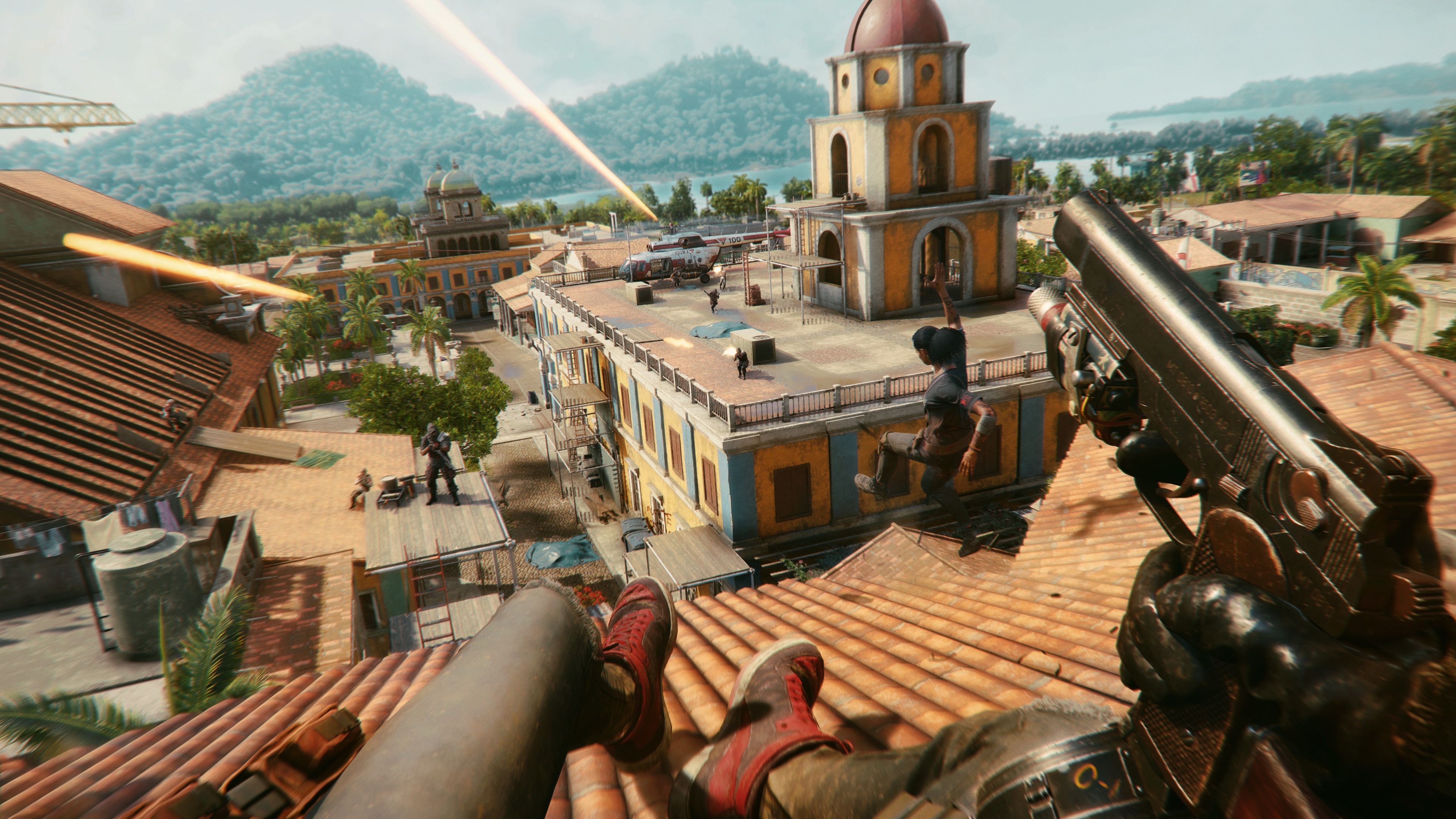 As Dani, you'll wield a wide range of customizable weaponry, including Supremos - powerful improvised backpacks that can launch rocket salvos, ignite a ring of fire around you, or unleash vehicle-disabling EMP blasts. You'll recruit Amigos - animal companions like Guapo the crocodile and Chorizo the wiener dog - who will follow you into battle to attack and distract enemies. And you'll take down Castillo's troops in a lot of creative ways as you travel across Yara to destabilize his operations and build a resistance against him. Ubisoft+ Classics grants access to Far Cry 6's base game, as well as crossover missions with Rambo (Rambo: All the Blood), and Stranger Things (The Vanishing).
Ubisoft+ Classics is included with PlayStation Plus Extra and PlayStation Plus Premium memberships. Including Far Cry 6, members get access to the following Ubisoft titles:
Assassin's Creed III Remastered 
Assassin's Creed IV Black Flag 
Assassin's Creed Chronicles China 
Assassin's Creed Chronicles India* 
Assassin's Creed Chronicles Russia* 
Assassin's Creed Freedom Cry 
Assassin's Creed Odyssey 
Assassin's Creed Origins 
Assassin's Creed Rogue Remastered 
Assassin's Creed Syndicate 
Assassin's Creed The Ezio Collection 
Assassin's Creed Unity 
Child of Light 
Eagle Flight 
Far Cry 3 Blood Dragon 
Far Cry 3 Classic Edition 
Far Cry 4 
Far Cry 5
Far Cry 6
Far Cry New Dawn 
Far Cry Primal 
For Honor 
Ghost Recon Breakpoint 
Ghost Recon Wildlands 
Immortals Fenyx Rising 
Legendary Fishing 
Monopoly Madness 
Monopoly Plus 
Rabbids Invasion 
Rainbow Six Extraction 
Rainbow Six Siege 
Rayman Legends 
Riders Republic 
Risk Urban Assault 
Scott Pilgrim vs. The World: The Game - Complete Edition 
South Park: The Fractured But Whole
South Park: The Stick of Truth 
Space Junkies 
Star Trek: Bridge Crew 
Starlink: Battle for Atlas 
STEEP 
The Crew 
The Crew 2 
The Division 
The Division 2 
Trackmania Turbo 
Transference 
Trials Fusion 
Trials of the Blood Dragon 
Trials Rising 
UNO 
Valiant Hearts: The Great War 
Watch Dogs 
Watch Dogs 2
Watch Dogs: Legion 
Werewolves Within 
Wheel of Fortune (US, Canada, UK, Ireland, Australia, and New Zealand only) 
Zombi 
Find out more about Ubisoft+ Classics and its included games, and for more on Far Cry 6, check out how its developers found new ways to tell stories and get into the heads of Far Cry's villains, and visit our dedicated news hub.
*When playing on PS5, this game may exhibit errors or unexpected behavior and some features available on PS4 may be absent. To play this game on PS5, your system may need to be updated to the latest system software. See PlayStation.com/bc for more details.