The Division 2 is heading back to where it all began in The Division 2 Warlords of New York, a narrative-driven expansion that brings the action from Washington, DC to the summery streets of Lower Manhattan. Coming March 3, Warlords of New York features a new open–world map for Agents to explore, along with a new story that puts them back on the trail of rogue Division Agent Aaron Keener.
After disappearing in the first game, Keener has resurfaced, surrounded himself with other rogue Agents, and used them to unite New York's violent factions under his own banner. Worse, he's working to create a new bioweapon even more potent than the Green Poison that brought society crashing down. Stopping Keener means going through his four lieutenants, each of them among the most dangerous Division Agents to go rogue, and each packing new Skills for you to claim when you defeat them. But first, you'll need to find them, and that means contending with New York's regrouped and evolved factions (notably the escaped Rikers and the pyromaniacal Cleaners), who've learned a lot since their earlier clashes with the Division.
The renewed battle for New York unfolds across five main campaign missions (four of which can be tackled in any order), along with open-world activities and eight interconnected side missions that let Agents further interfere with Keener's plans. Once you've finished those, you'll have a new endgame to contend with, which affects not only New York, but Washington, DC as well.
Warlords of New York's Lower Manhattan contains four new named zones to explore: the Financial District, Two Bridges, Battery Park, and Civic Center. These areas make up a massive former Dark Zone that encompasses places like Wall Street and Chinatown, all recently smashed by a summer hurricane into a treacherous, twisted landscape. The new zones are open only to Agents who've reached Level 30 and World Tier 5, but if you're not there yet and want to jump straight to the new content, Warlords of New York lets players jump straight to Level 30, which players who pre-purchase the expansion can do immediately.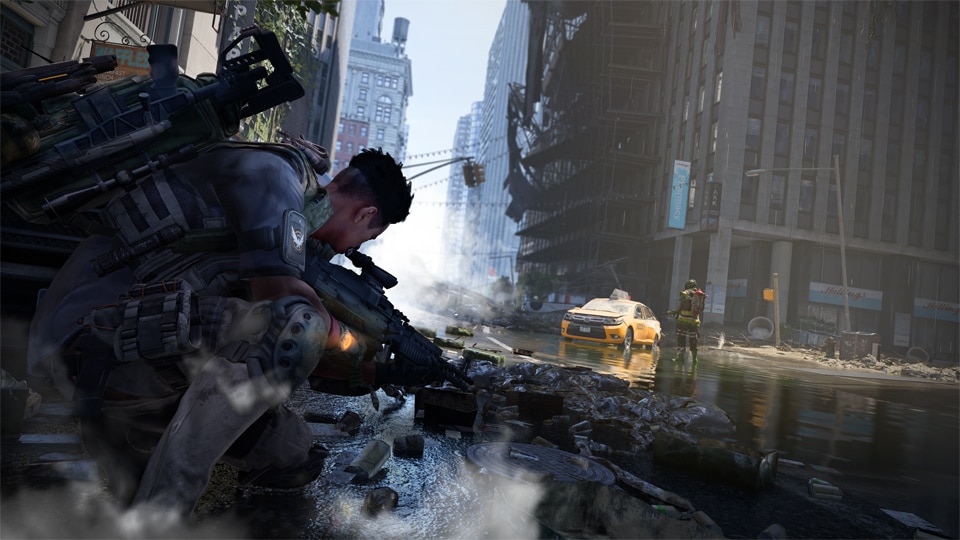 Each zone levels up along with your Agent, letting you explore freely as you climb toward the new level cap of 40. In addition to the new cap, Warlords of New York introduces an infinite SHD Level Progression system that lets players continue earning perks points to keep improving their Agent indefinitely. You'll also be able to unlock four new Skills, including a decoy, an incendiary sticky bomb launcher, a trip-wire trap, and an explosive sticky bomb launcher. There's plenty of new gear to earn as well, including new branded sets, named items, and exotic armor and weapons.
Warlords of New York will also introduce several key gameplay enhancements spurred by community feedback. The gear system is getting an overhaul, as are recalibration and Skill power. (For more details on what's changing and why, check out the preceding links.) These enhancements will be free to all Division 2 players, regardless of whether they own Warlords of New York.
One week after the launch of Warlords of New York, The Division 2 will begin introducing Seasons of content, with each introducing a new, three-month Manhunt endgame event in which players will track a new target by first hunting down four lieutenants. Each Season will also offer Leagues – a series of challenges that players can complete to earn rewards – as well as time-limited Global Events that apply a modifier to the entire game and reward players for completing set tasks. Players can also grow their Season level by playing the game and completing specific seasonal activities, which will reward them with new gear and cosmetics through a free Battle Pass-like system. To get even more rewards, players can pay to unlock the premium Season Pass, which offers its own progression track.
The Division 2 Warlords of New York launches on March 3 for PS4, Xbox One, PC, and UPLAY+, and is coming to Stadia later in March. In the meantime, players can begin setting the stage for Warlords of New York with Episode 3 – Coney Island: The Hunt, which arrives on February 12 for Year 1 Pass owners, and will be free for all Division 2 players on February 19. Episode 3 features two new missions set in Coney Island, two new Classified Assignments for Year 1 Pass owners, and a new Firewall Specialization that can deal massive flamethrower damage while also buffing allies who stand behind the Firewall's shield.
The Division 2 is available now for Xbox One, PS4, PC, UPLAY+, and Stadia. For more on the game, check out our previous The Division 2 coverage.