One year ago, Division Agents hit the streets and set out to save New York - a city decimated by disease and left in chaos by nefarious groups looking to seize power. In that year, The Division has seen the release of the Underground, Survival, and Last Stand expansions, as well as several key updates driven by community feedback, and the introduction of a public test server for the PC version of the game.
"It's been a super exciting, wild ride," says Julian Gerighty, Creative Director at Massive Entertainment. "Live games are an amazing opportunity to get very close to a very passionate community. For me, The Division exceeded my expectations, and seeing how passionate people are, how much feedback we've received, and how much work we've done to support the game post-launch has been mind-blowing." In fact, throughout the year, Gerighty says he was surprised to see how attached people were to The Division, citing an average playtime of multiple hours per day . That dedication, combined with the development team's interaction with those players, helped Gerighty extract one of the most important lessons from the first year of The Division. "It's the spirit of generosity towards players," he says. "It's not being afraid to be more generous in terms of what we give players and how we reward them for their time in the game."
Since the release of 1.4, the mentality of giving back to the community continues to be a driving principle for the team and one that even extends into the Year One anniversary celebration. From March 9 to March 16, all active Division players will receive 200 premium credits to spend as they see fit, and a premium celebration emote as a thank-you for being a part of this important milestone for the team. Additionally, from March 9 to March 11, players will have a 2X multiplier on high-value target rewards, and on March 11, there will be a 2X multiplier on field proficiency caches.
"The one-year anniversary is a celebration of everything we've done in the first year of the game's release," Gerighty says. "But we also want to turn ahead and look at Year 2 and how we're going to support the game for everyone, for free." That free content for Year 2 is coming in the form of two separate expansions planned for release this year. The first unnamed expansion will be based on an event system that drives players to activities that feature modifiers, leaderboards, and unique vanity items that will only be available through these activities. In addition, Gerighty says the team has plans to include a loadout feature that will let players switch efficiently and quickly between their favorite gear combinations, as well as a system to mark a player's feats. "(It) will reward players for different activities - long-term activities, short-term activities, and medium-term activities within the game," Gerighty adds. "Basically, our Division achievements, if you will."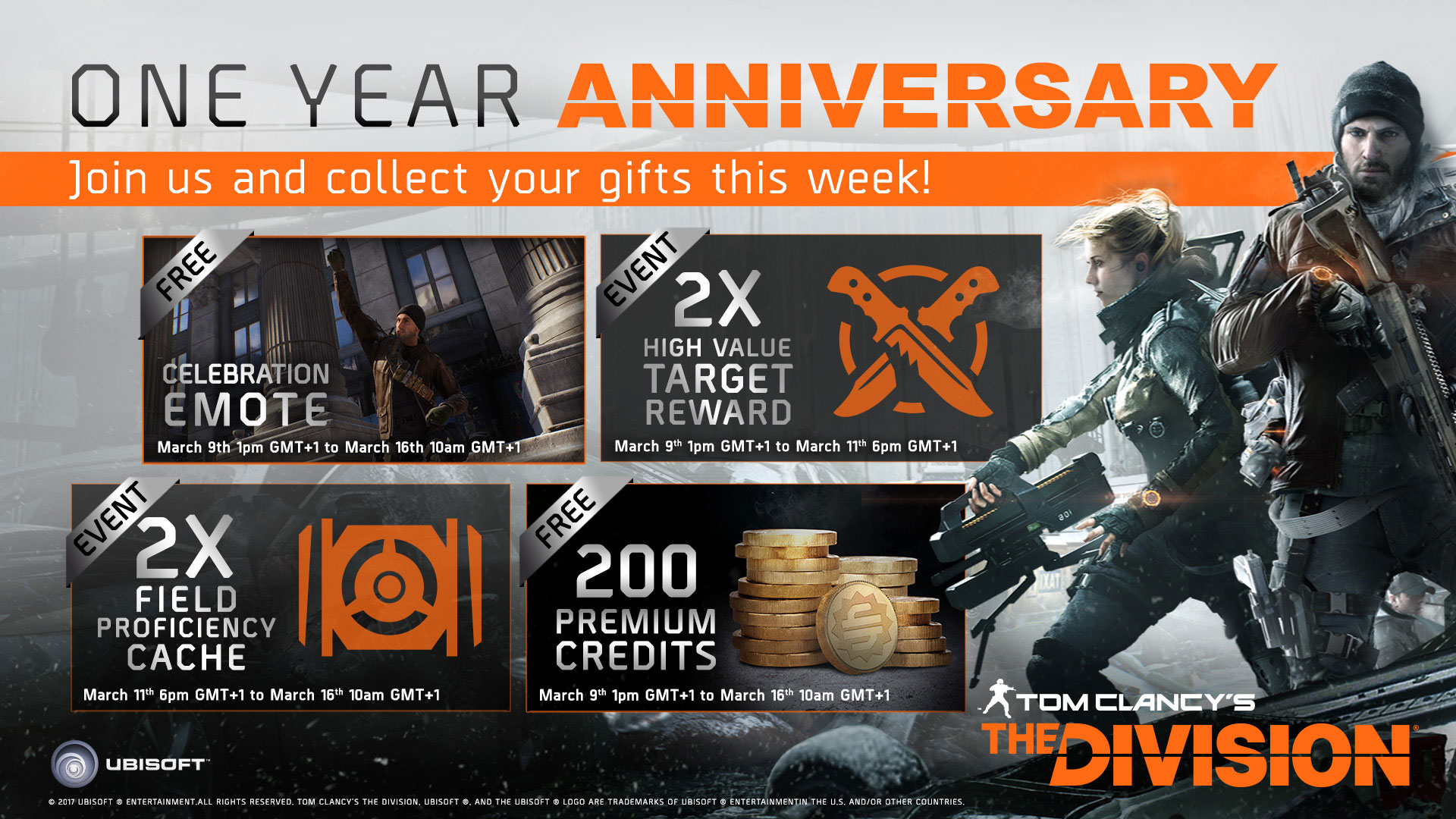 The second expansion is still far enough away that the team doesn't want to comment on it, and while Gerighty stresses that it will be "more content-focused", new story missions won't necessarily be a part of the package. "Story missions are tricky, but that doesn't mean we won't have narrative content," he says. "We can't really deliver story missions that will fit into the RPG aspects of the game in a simple way. So we're not going to be doing the classic main mission type of thing, but narrative content is something that we are definitely looking at." When asked if they're considering raising the level cap or expanding the map, Gerighty said The Division development team is still exploring different things they could do, but for right now, its focus for Year 2 remains on what they can deliver to the largest player base. "That means (Year 2 content) won't be paid-for DLC. These won't be paid expansions," he adds. "(This content will put a twist) on how people played the game before and reignite their engagement with the content. You may have already played in one style, but transforming that and then applying a competition filter is a very engaging way to deliver new experiences and new activities to the community."
And if you're wondering if any of this work will be affected by the recent Avatar news, it won't. "Massive is growing incredibly fast, and the announcement for Avatar is new for everybody, but it's not news for us. This is something that's been in the works for a while. The studio here is already much bigger than it was at the time of the release of The Division," Gerighty says. "The second thing: it's not just Massive behind The Division. This is an alliance of different studios - Massive in Sweden, Ubisoft Annecy in France, Reflections in Newcastle, and of course, Red Storm in North Carolina. There's a huge amount - hundreds of dedicated developers - working on Year One and Year Two (Division content)."
The Division is currently available on Xbox One, PC, and PS4.