Assassin's Creed Valhalla's first major expansion, Wrath of the Druids, launches on May 13 and brings players to Ireland to uncover the secrets of a mysterious ancient cult. Along the way, you'll discover the occult forests and haunted landscapes of Gaelic folklore while gaining influence among regional kings. Wrath of the Druids can be purchased as a standalone expansion or is available as part of the Season Pass.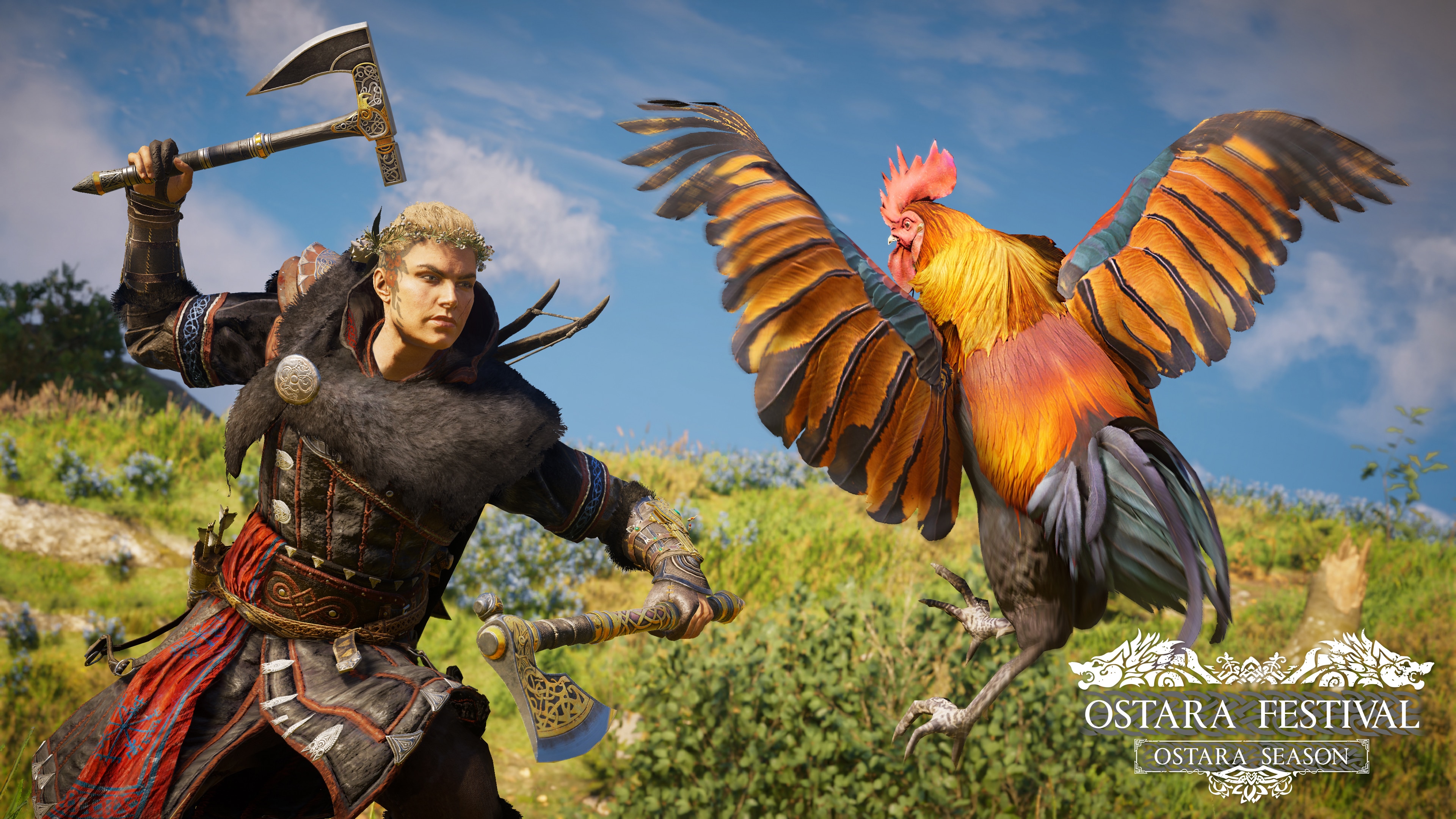 While Wrath of the Druids is still over a month away, there is still plenty of new content available now in Assassin's Creed Valhalla. It all starts with the beginning of Season 2, Ostara Season, and the Ostara Festival, both of which kick off today. The festival can be accessed from Ravensthorpe until April 8, and includes many Easter-related activities and quests, including:
A settlement decoration activity
Drinking, archery, and fighting minigames
Three new character quests: Eivor can enjoy an egg hunt, the May-Queen celebration, and protect the settlement against night spirits
Three new skills: Fearless Leaper lets Eivor land a devastating falling attack atop enemies, while the Raven's Loot and Loot Food skills increase Eivor's effocacy when at range or fighting close-up
Exclusive rewards including settlement decorations and customization items
To experience the Ostara Festival, players must have reached England and completed at least one of the first narrative arcs; the festival will then be triggered automatically when they enter Ravensthorpe. To experience the May-Queen activity, you must have reached settlement level 3.
Ostara Season will also bring additional rewards and the Mastery Challenge at a later date. The Mastery Challenge is an all-new game mode for Assassin's Creed Valhalla that introduces a replayable combat experience challenging Eivor to become a fighting Master.
Players are now able to change Eivor's gear appearance thanks to visual customization, aka transmogrification. Gear stats will remain unchanged, but you can now alter the appearance of any gear item to another in the same category, provided you own both items. Head to the blacksmith in Ravensthorpe to customize your look in exchange for some silver.
Finally, all Assassin's Creed Valhalla players will receive Altair's Outfit, the Yule Gear set and cosmetics, and 300 opals for free. To claim the rewards, visit the Animus Store. For more on Assassin's Creed Valhalla, check out our previous coverage, including our spoiler-filled Ending Discussion with Narrative Director Darby McDevitt.