This week at Ubisoft, games including Rainbow Six Siege, Riders Republic, Roller Champions, and Trackmania debuted or announced new content; a Ubisoft employee won a lifetime achievement award; and developers discuss creating unique narrative structures in open-world gameplay. Check it all out and more in this week's roundup of Ubisoft news.
Ubisoft Forward - Live From LA June 12
Ubisoft Forward will return for 2023, taking place on June 12 live in Los Angeles. For those unable to participate in person, the show will be streamed at Ubisoft.com. Stay tuned to Ubisoft News for more updates, including the run of show, all watch options, and special post-show information.
Rainbow Is Magic Returns to Rainbow Six Siege
The limited-time Rainbow is Magic event is back now through April 19, bringing unicorns, teddy bears, and a new game mode to Rainbow Six Siege. In Bop the Teddy, each team will have a Mr. Bear they must defend while attacking the opposing Mr. Bear. Operators are split into three different archetypes, each with their own ability and Teddy Bear grenade. The Rainbow is Magic Collection features new and returning cosmetic items, and players can unlock one pack for free by logging during the event as well as more by completing special weekly challenges. Collection packs can also be purchased with Renown or R6 credits.
Roller Champions New Season, Wild Ones, Coming April 4
Get ready to roll up to the jungle during Roller Champions' newest season, Wild Ones, when it launches on April 4. Wild Ones will bring three new arenas in addition to seasonal cosmetic items, and will make all maps from previous seasons available. Roller Champions will also see an overhaul of its reward system, retiring the Roller Pass and implementing the Pick a Prize system, where players get to choose the reward they want to earn.
Riders Republic Cutting Edge is Out Now
On March 28, Riders Republic kicked off Season 6, Cutting Edge, bringing 13 weeks of competition and content to the game. Cutting Edge marks the start of a renewed partnership with Prada, and celebrates that collaboration with two new outfits, an early launch of hoverboards with the Prada-designed Tulip board, and a special event where you can try out the Prada hoverboard. Later in the season, players will be able to team up with Shogun-riders to fight a hacker invasion.
Trackmania Spring Season 2023 Begins April 1
Trackmania's newest season, the Spring 2023 campaign, will launch on April 1, bringing 25 new tracks, 100 earnable medals, a new Prestige Skin, and over 150 new blocks for the track editor. The Spring 2023 campaign will also implement new in-game improvements, and distribute trophies to players who participated in the Winter 2023 campaign.
Enter To Win An Ibanez Guitar From Rocksmith+
Rocksmith+, Ubisoft's music learning subscription service, is giving away four premium Ibanez guitars. The giveaway entry period runs from now until April 11; each participant can only enter once, and the giveaway offer is only available for eligible territories.
Splinter Cell: Dragonfire Novel Out Today
Sam Fisher's saga continues in Splinter Cell: Dragonfire, a novel by James Swallow that released worldwide on March 30. After a mission to North Korea goes terribly awry, Sam must get to the bottom of a vast conspiracy in order to make it out alive; meanwhile, his daughter Sarah leads an unsanctioned rescue mission - if she can get there in time.
Ubisoft's Josiane Valverde Wins The Lifetime Achievement Award at the 6th Annual Black in Gaming Awards
Josiane Valverde, Ubisoft's current head of special projects for the Diversity, Inclusion, and Accessibility (DIA) team, won the Jerry Lawson Lifetime Achievement Award at the 6th Annual Black in Gaming Awards show on March 23. Speaking with Ubisoft News, Valverde reflects on starting her career in the Ubisoft mail room 35 years ago, the places her career has taken her, and why she is so passionate about DIA in 2023.
Katie Scott Joins Ubisoft As Vice President of Editorial
On March 28, Ubisoft announced that Katie Scott is joining the Global Creative Office as vice president of Editorial. An industry veteran with 10 years of experience, Scott will collaborate with Ubisoft's creative teams, power the vision behind Ubisoft's game portfolio, and ensure the global teams are aligned on Ubisoft's editorial strategy.
How Watch Dogs: Legion Told a Story Without a Main Character
At GDC 2023, during a talk titled AAA-Typical: Character and Story Arcs in Open Gameplay Structures, Watch Dogs: Legion Narrative Designer Brendan Hennessy spoke about the challenges the narrative team faced due to the game's Play-As-Anyone approach, and the solutions they found to create a narrative without a main character.
Finding New Ways to Tell Stories in Far Cry 6 and Lost Between Worlds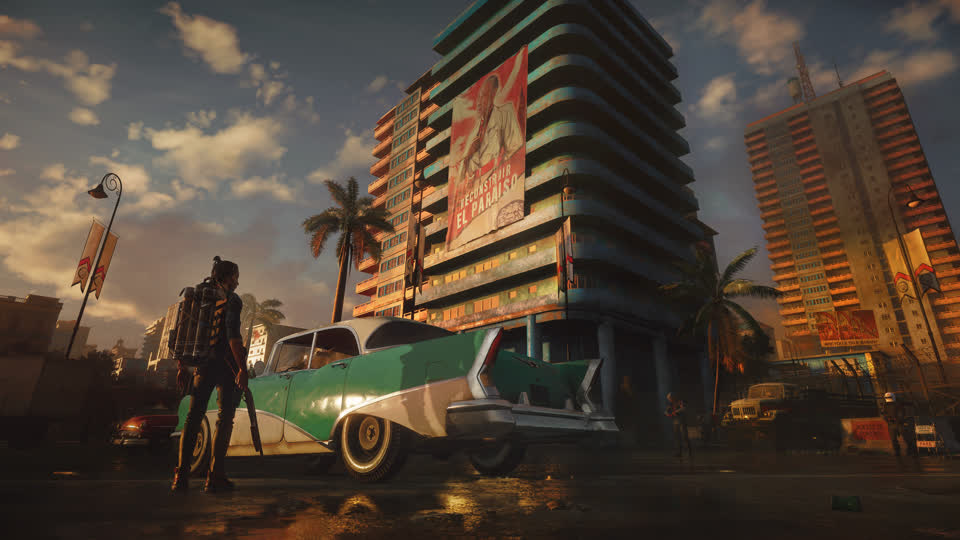 In the same GDC 2023 talk, AAA-Typical: Character and Story Arcs in Open Gameplay Structures, Narrative Designer Brendan Hennessy and Lead Writer Heli Kennedy also spoke about creating a compelling story for Far Cry 6. Together, they detailed changes to the cinematic language of Far Cry 6, how they designed a world that could be explored in any order, and the creation of a branching narrative for the Lost Between Worlds expansion.
GDC 2023: How Mario + Rabbids Sparks of Hope Improved Procedural Generation with Layered Battles
When Mario + Rabbids Sparks of Hope launched in 2022, it updated Mario + Rabbids Kingdom Battle's tactical combat system by trading in a grid for real-time movement, and moving all battlefields to a Darkmess dimension that was separate from its open worlds. Level Designer Frédéric Giraud spoke at GDC 2023 about creating a procedural-generation system that could create an infinite number of tactical levels, which would ensure gameplay was as fun and replayable as possible.
Ubisoft+ Adds Beholder 2 and Revita to Indie Collection
Ubisoft+ has added two new titles to its rotating collection of indie games: Beholder 2 and Revita. In Beholder 2, players take on the role of a new intern in the central ministry of a totalitarian state, and must strategize their way up the career ladder - or scheme to take the institution down by exposing its deep corruption. Revita is a roguelite platformer in which players are a child climbing a clock tower in search of lost memories.
Ubisoft+ Spotlight - South Park: The Fractured but Whole
(Editorial note: This is a series of quick weekly highlights written by Ubisoft News team writers that feature games available with a Ubisoft+ subscription. We hope you'll enjoy reminiscing with us, or perhaps discover something new.)
Brittany Spurlin, Writer/Editor: It's time to (superhero) suit up and fight crime vigilante-style in South Park. South Park: The Fractured But Whole is an RPG adventure and a sequel to the 2014 game South Park: The Stick of Truth. Players are once again the New Kid, but now they're joining forces with Eric Cartman, aka The Coon, and his gang of crimefighters who include Mysterion (Kenny), Toolshed (Stan), Human Kite (Kyle), and more. As New Kid, you'll get to create your own superhero persona - complete with special abilities, unique costumes, and a tragic backstory - before diving into a seedy underworld of united criminals.
Your alter ego can be one of 10 archetypes: the Speedster, the Brutalist, the Elementalist, the Blaster, the Psychic, the Plantmancer, the Gadgeteer, the Cyborg, the Assassin, or the Martial Artist. When the sun sets, your alter ego will take over and you'll gain their respective power. You'll only have the Speedster, Brutalist, and Blaster to start, but as you progress through the story, you can unlock more and switch between them as desired, keeping gameplay flexible and fresh. You'll be able to freely explore South Park looking for criminals, loot, and new abilities. Combat in South Park: The Fractured But Whole is still turn-based, like its predecessor, but takes place on hazard-filled grid with free movement.
Another unique, multifaceted aspect of gameplay is farting. Simply by breaking wind, New Kid can pause or reverse time during exploration, or cause an enemy to skip a turn during combat. Other superheroes in Coon's gang can also use New Kid's flatulent powers to enhance their own.
With a Ubisoft+ subscription, you can get access not only to South Park: The Fractured but Whole, but to its season pass as well, which includes all three DLCs, the exclusive in-game assistant Towelie, and the Relics of Zaron - Stick of Truth costumes and perks pack.
Game Updates
Brawlhalla deployed patch 7.06 on March 29, bringing new content and more.
New Legend Thea, an Athenian speedster, added to the roster
New game mode, Volleybrawl, introduced
Multiple game improvements implemented, including animated backgrounds for Brawlhaven and Small Brawlhaven, fanfare at login every time players earn new Account XP Titles, and a longer-lasting Battle Boots down animation
Riders Republic Cutting Edge didn't just introduce a hoverboard - it also brought a patch to the Ridge that implements gameplay improvements and bug fixes.
The new Ridge Ultimate Pack was added to the shop
Four new freestyle playgrounds
The Freestyle Snowmobile received a small speed burst ability, increased absorption tolerance, and a new cinematic mode.
Fixed a head clipping issue in first person view mode while wearing Ezio outfits
Rainbow Six Siege deployed a hotfix on March 30 addressing Brava-related server crashes and Rainbow Is Magic Battle Pass points.