This week at Ubisoft, The Settlers: New Allies released on PC, the first franchise installment in 13 years; Far Cry 6 is hosting a free weekend; and Tristan D. Lalla shares about taking on the role of Adéwalé and how media representation has evolved in recent years. Check it all out and more in this week's roundup of all Ubisoft News.
The Settlers: New Allies Out Now on PC
The Settlers: New Allies is available now on PC, and will be available on Xbox One, PS4, Switch, and Amazon Luna on March 23. A real-time strategy game, The Settlers: New Allies has a 13-mission campaign as well as a Skirmish mode, which pits you against other players or AI for a competitive experience. The game also features a new Hardcore mode, a rotating series of high-difficulty PvE scenarios that feature tight time limits and aggressive enemies. Whatever mode you're playing in, you'll have to choose one of three factions and start building out a settlement.
Assassin's Creed Voice Actor Tristan D. Lalla Discusses Representation in Games
Tristan D. Lalla, the voice actor behind Assassin's Creed IV: Black Flag's Adéwalé, spoke with Michael Kunta, a member of Ubisoft Montreal's BJEDI (Justice, Equality, Diversity, and Inclusion) employee resource group. Lalla discusses how he got the role of Adéwalé, how he adapted the character to fit his own Trinidadian background, what it meant to depict an enslavement in Assassin's Creed IV: Freedom Cry, and how far representation has come in media.
Far Cry 6 - Free Weekend Available Now
Play Far Cry 6 during its free weekend from February 16-20 on Xbox Series X|S, Xbox One, PS5, PS4, and PC. Dive into a rebellion on Yara and help overthrow a ruthless dictator. You can also play the free weekend in co-op, and those who do will earn the White Lotus Sniper Rifle. After the free weekend ends, head over to the Ubisoft Store for up to 70% off Far Cry 6; those who purchase the game will have their progression from the free weekend carried over to the full version.
Save Up to 80% On Ubisoft Games During Best Sellers Sale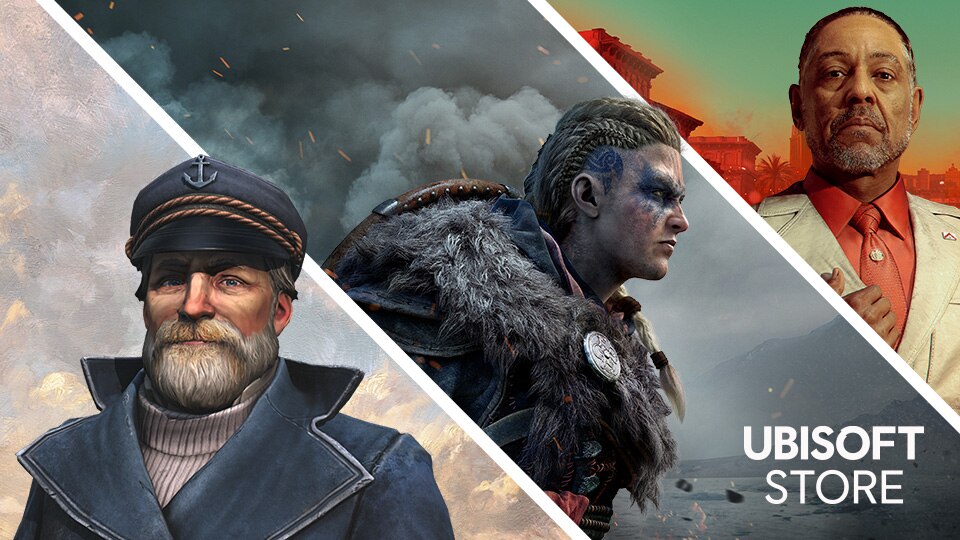 From now until March 1, the Ubisoft Store is offering up to 80% off some of its top-selling titles. Raid your way through ninth-century England in Assassin's Creed Valhalla as Eivor Wolf-Kissed, strategically organize a new city during the height of the industrial revolution in Anno 1800, or join a guerrilla rebellion fighting to free their island from a vicious dictator in Far Cry 6.
Ubisoft+ Spotlight - The Settlers: New Allies
(Editorial note: This is a series of quick weekly highlights written by Ubisoft News team writers that feature games available with a Ubisoft+ subscription. We hope you'll enjoy reminiscing with us, or perhaps discover something new.)
Brittany Spurlin, Writer/Editor: The Settlers: New Allies is here, making now the perfect time to dive into this 30-year franchise. In New Allies' story mode, you'll start out as the Elari, a group of people in search of a new home. Throughout the game's 13-mission campaign, you'll come up against bandits, fight enemy armies, and uncover lost secrets of your people's past. You'll also get to interact with (and play as) the game's two other factions: the Maru and the Jorn, each of which have their own strengths and weaknesses for building and fighting.
For those looking for a more competitive experience, The Settlers: New Allies has you covered with its Skirmish mode. Here, you can choose which faction you want to be before hopping into a PvP match against other players or AI. The mode features 13 different maps, as well as different objectives for Skirmish players to accomplish. Sometimes you'll be fighting another player for control over territory, while other matches will be a race to see who can build the strongest economy within a set amount of time. This variety, coupled with differing opponents each match, means that no Skirmish in The Settlers: New Allies is ever quite the same. Not only does that help make your 10th match feel as fresh as your first, it also requires you to carefully strategize on how to best complete your objective - focus too much on mining resources, and you may find yourself vulnerable to enemy attack.
Resource management and careful planning are cornerstones of The Settlers: New Allies' gameplay. You'll start with a warehouse, a small number of workers, and (sometimes) a lumberyard and quarry. You can use the stone and wood from those locations to build tools, expand your settlement, and create mines that produce additional resources. Once you have a steady stream of production going, you'll have access to virtually everything possible for your settlement. As your settlement grows, you'll need more Fighters, Engineers, and Workers to complete all your tasks. You can recruit these specialized citizens from your Carriers, who are responsible for transporting resources to construction sites. Managing your population is key; you can attract more Carriers by building residences, but if you don't have enough Carriers, any productions across your settlement will effectively come to a screeching halt. It's a balancing act that requires careful strategy, and will help you on your way to Skirmish victory.
The Settlers: New Allies is available now as a Day One game with a Ubisoft+ subscription.
Game Updates
For Honor deployed patch 2.41.2 on February 16, balancing out Afeera's gameplay abilities for Left Heavy Finisher and Left Red Moon.
Brawlhalla released patch 7.04 on February 15, marking the start of the Nightmare Horde Mode and ushering in new Mallhalla items.
Nightmare Horde is an extreme difficulty variation of classic Horde mode

New West Cassidy, Faint emote, and more now available in Mallhalla

Improved graphics on Wants to Rematch, making it easier to read against Podiums