Ubisoft has no shortage of mobile games across a wide variety of genres and if you've yet to sample some of the offerings on the iOS or Android store, you're missing out on the opportunity to significantly improve your morning commute, shorten your wait at an airport gate, or fill those times when you just want to be on our phone with the TV on in the background (we don't judge). Check out these six free-to-play games, which cover everything from magical combat to mysterious love stories, to ensure that no matter what you're feeling or what you're into, there's something for you.
For the fantastical strategist: Might & Magic: Chess Royale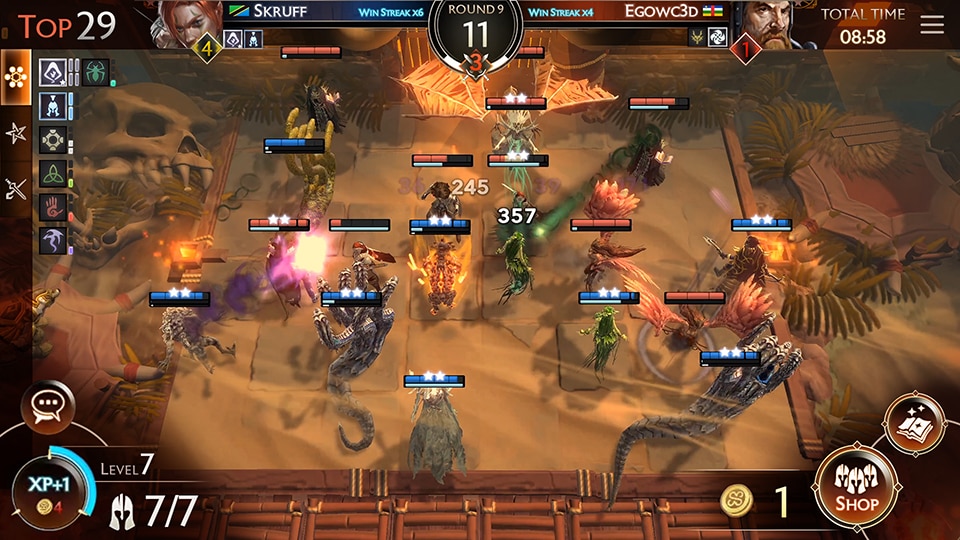 In Might & Magic: Chess Royale, you are matched against a pool of 99 other players, and must battle it out in 1v1 auto-chess matches. Lose three matches, and you're eliminated. You'll purchase and build up your roster of vampires, ghosts, druids, and other creatures each round as you gain gold and level up to expand your army.
As with any auto-chess game, you don't control your units during the fight, so strategy is imperative – and in Chess Royale, it all comes down to how you spend your gold. Should you purchase three versions of the same unit so they can combine to form a more powerful, two-star version (or similarly, nine of the same unit to yield an uber-powerful three-star form)? Should you spend some gold to level up and play more units of the same Faction or Class, so they'll build unit-specific bonuses called Synergies? Or do you decide to invest in Spells — passive bonuses which need to be purchased and affect all units, but only last five rounds? If you hope to build the strongest army and be the last one standing, you'll need to spread your gold shrewdly across all possible avenues.
For the tactical Assassin: Assassin's Creed Rebellion
Recruit Assassins, build and upgrade your base, and pry 15th-century Spain from the hands of the Templars. Assassin's Creed Rebellion features more than 60 different Assassins from nearly every era of the franchise, including fan-favorites like Ezio, Altair, Kassandra, and Shao Jun. To defeat the Templars, you'll have to take teams of three Assassins through hundreds of strategic side-scrolling missions. As you progress, you'll recruit more Assassins with diverse skillsets, and level them up to take on tougher challenges, all while managing your headquarters.
Remember, the best Assassin is a well-prepared one, so make sure to put in some time in the training room, craft the finest weapons, armor, and gear, and consistently produce materials and gold to fund it all. Your Assassins can work to forge items, accumulate building materials, and accrue gold while you're not using the app, so you'll find yourself with a fresh supply of resources every few hours.
For the adrenaline junkie: Trials Frontier
Trials Frontier packs all the hectic motorcycle parkour its console and PC siblings are known for into a streamlined mobile package. The game wastes no time getting you right into the action before taking you to your village, where you'll take on challenges to earn Coins and XP. As you level up, you'll collect blueprints and gain access to new bikes, which you can upgrade and craft parts for, not to mention trick out with a fresh paint job.
It just wouldn't be Trials without multiplayer, and Frontier has you covered. You'll have immediate access to global leaderboard, and once you reach level 10, you'll be able to race your friends and others around the world to see just who exactly is the most talented racer out there.
For the hack-and-slash looter: The Mighty Quest For Epic Loot
As you might expect from the title, Mighty Quest is all about the loot. A dungeon-crawler you can comfortably play with one hand, the game is all about upgrading your hero with the best weapons, gear, armor, and skills so you can take on the toughest enemies. With more than 1,000 pieces of unique gear, each of which you can upgrade, there's no shortage of loot or builds for your character. The PvE campaign offers up more than 100 levels, and additional difficulty modes ratchet up the challenge and the rewards.
Once your hero has conquered all (or you just feel like it), head to the PvP Arena and test yourself against the mightiest of foes: other players. If that's not enough for you, limited-time events and crossovers (like the For Honor crossover) add rare loot, unique gameplay modes, and exclusive rewards.
For the arcade seafood lover: Hungry Shark World
On the surface, Hungry Shark World is a simple game: Swim around the ocean and eat all manner of sea creatures in a never-ending battle against the insatiable hunger of your shark. Things get a bit more interesting when you consider that you start off as an extra-small shark and can only eat creatures smaller than you. That means there are a fair amount of living things in the ocean bigger than you, and they can do some serious damage if you try eating them. Oh, and did we mention the underwater mines you'll have to avoid as well?
Stay alive (and eating) for as long as possible to rack up the highest score, unlock bigger and more powerful sharks, and start wreaking some real havoc against swimmers, submarines, and huge undersea predators. Did we mention that there's a shark that shoots freaking laser beams out of its eyes? Because there totally is.
For the supernatural romantic: Is It Love? Fallen Road
The Is It Love? series traditionally lets you chart your journey through a romantic visual novel. Fallen Road puts a spin on the established formula by focusing on a heroine fighting against the destruction of the earth by a horde of demons. That's not to say that love doesn't play a part in this drama that plays out across heaven, hell, and Washington State. The relationships you build along the way will shape the course of your journey.
Fallen Road's art direction also plays a more pivotal role than ever before has earth, heaven, and hell are realized through the work of visual development studio, Wardenlight. Oh, and did we mention that two designers from Spider-Man: Into The Spider-Verse worked on it? The game is real pretty.
All games are available on iOS and Android devices. For more on all Ubisoft games, check out new.ubisoft.com.