The third book in the Assassin's Creed Last Descendants series, Last Descendants: An Assassin's Creed Novel Series, Fate of the Gods (Book 3), is available now, bringing the history-spanning hunt for the Trident of Eden to a conclusion. As a rogue Templar tries to seize control of the world by finding the final piece of the Trident, Owen and his friends enter a shaky alliance with Assassins and Templars to find it first by searching for clues in the distant past – specifically the Viking age.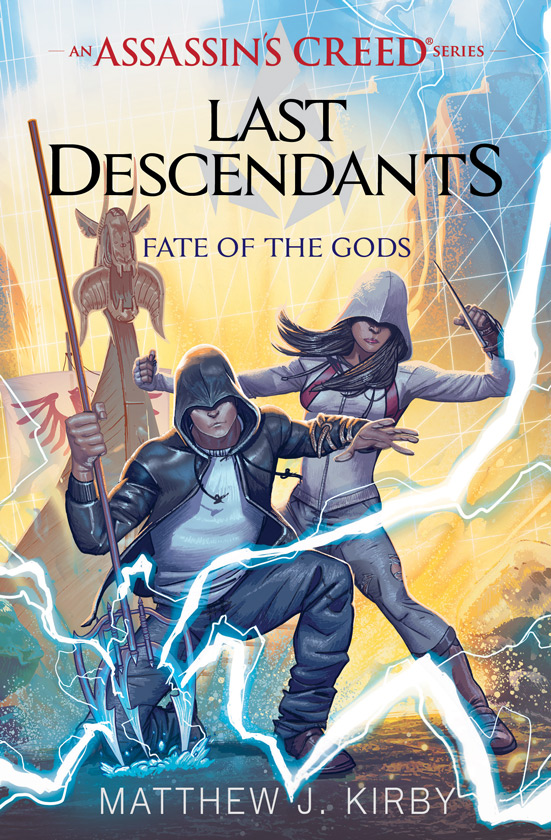 "They're trying to work toward a common goal of defeating a common enemy, and that takes them to the historical simulation in the Viking age, the end of the 10th century, where you have these really fascinating historical figures," said author Matthew J. Kirby in an earlier interview. "Like Harald 'Bluetooth' [Gormsson], who was the king of Denmark, and at one point also Norway. And you have Eric, the king of Sweden, and then you have this renegade prince named Styrbjörn. They're all sort of in this conflict, as ultimately Styrbjörn is trying to take the throne of Sweden that he believes is rightfully his. It was also a period of conflict between Christianity [and old Norse beliefs], because at that point in history Harald Bluetooth had converted to Christianity, along with much of his kingdom, but Sweden had not. So it's a real time of change and conflict in northern Europe."
With Fate of the Gods, Kirby brings the young-adult series to a climax, capping off an adventure that has taken its teenage protagonists to 19th century New York and 13th century China, among other places. And, like in previous books, the group won't be limited to exploring one simulation.
"There is another simulation that's taking place in the book that's really unique," said Kirby. "I don't know that we've ever seen anything like it in the Assassin's Creed universe. The teens go into a simulation ... of the collective unconscious. So these are memories that are really deep, and they're memories that kind of go back to the beginning of humanity and what makes us what we are, but ultimately they also have to figure out where these memories came from, and going through that simulation takes them back to the beginning.
"I think fans who are really drawn to the Precursor lore and the First Civilization will be happy," added Kirby.
Last Descendants: An Assassin's Creed Novel Series, Fate of the Gods (Book 3) is available now. For more on the series, check out our interviews with Kirby on the first Last Descendants and Fate of the Gods. And for more on Assassin's Creed, take a look at our previous coverage.