XDefiant will launch later this summer, but players won't have to wait that long to play a few more rounds of the free-to-play PVP shooter. Announced at Ubisoft Forward, XDefiant will be running an Open Session for all players on PC, PS5, and Xbox Series X|S from June 21-23; sign up by going to PlayXDefiant.com. Anyone who participated in the Closed Beta in April can log in a day early to participate in a special Early Access phase of the Open Session starting on June 20. Over one million players played in the Closed Beta, which was integral in helping the team test myriad aspects of the game and gather feedback.
"We received a lot of great feedback from our players after the end of our Closed Beta," says creative director Safy Saada, "and for the Open Session, we'll likely see some new faction balancing (particularly for Libertad) based on player feedback, as well as weapon balancing based on data we've collected from the Closed Beta."
"We're committed to improving the game based on player feedback," continued Saada. "With that, the goal of this Open Session is to validate some of those key improvements we've made (mainly a new netcode and better input lag). With the emphases of this being 'open', we want to put our servers to the test and get a read on its stability at a large scale in order to be ready by launch."
The full launch of XDefiant is coming later this summer, when the competition will kick off in earnest with a six-week preseason featuring the full slate of launch content, including 14 maps, five factions, 24 weapons, and more. Then it will be on to Year 1 and a regular cadence of new content, including four new factions (each with its own unique characters and skills), 12 new weapons, and 12 new maps.
"We're looking forward to our players getting really excited about the content we're going to deliver at preseason," Saada says. "With this being a new IP, I'm also looking forward to naturally building our community around topics like future factions, weapons, and maybe even new mode ideas."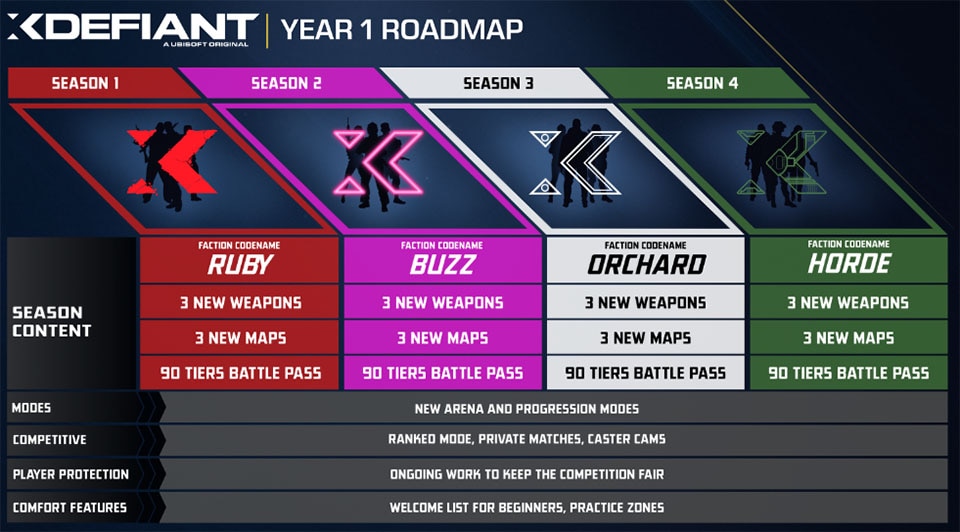 For those looking to join the XDefiant Open Session, Saada has one starting tip: "I encourage everyone to try many faction-loadout combinations. Everyone has a different style of play. Exploring these combos will help you find what works for you, as well as help you adapt to each game mode."
Register to play at PlayXDefiant.com, and for more strategies and tips to get ready for June 21, check out our tips from the XDefiant Closed Beta earlier this Spring.