The development team behind Starlink: Battle for Atlas started with a mission a few years ago: to build something new, something creative, and something "out there." As it happens, "out there" is an open-world, outer-space, multi-planet adventure that involves a physical replica of an in-game starship that sits on your controller, and comes equipped with swappable, modular parts – enabling you to adapt to nearly any in-game scenario on the fly. But long before Starlink got there, the development team was back on Earth figuring out how they could grow the idea that began their original mission into the massive space saga it is now.
"We started with a very small group of developers after we wrapped up Splinter Cell: Blacklist," says Matt Rose, producer at Ubisoft Toronto. "We were doing all sorts of prototyping and exploring different ideas. We were looking at everything – different platforms, different technologies – and there was a small group of people that were really electronics enthusiasts." Those enthusiasts developed a prototype version of the Starlink ship with exposed wires and duct tape, highlighting the crude beginnings of its eponymous breakthrough technology.
"We made something that worked," says Rose. "I remember when we first showed the prototype to a few people around the office, and I think the moment we knew we had something special was when we (saw someone playing) and making all of their own sound effects. They were filling in the rest of the experience they were envisioning. There wasn't much of a game at that point. It was still really early, but we knew we had something special we could build around."
What the team ended up building around its technology was an entire star system named Atlas, where you have the freedom to explore an entire planet, and then take off into the atmosphere and up into the stars on your way to another. "We became fascinated with this idea of bringing Ubisoft's expertise in open-world gaming to a broader audience," he adds. "Our team has the expertise from working on games like Assassin's Creed and Far Cry, as well. We thought (the open-world space concept) was a perfect match, so that's what set us on our path."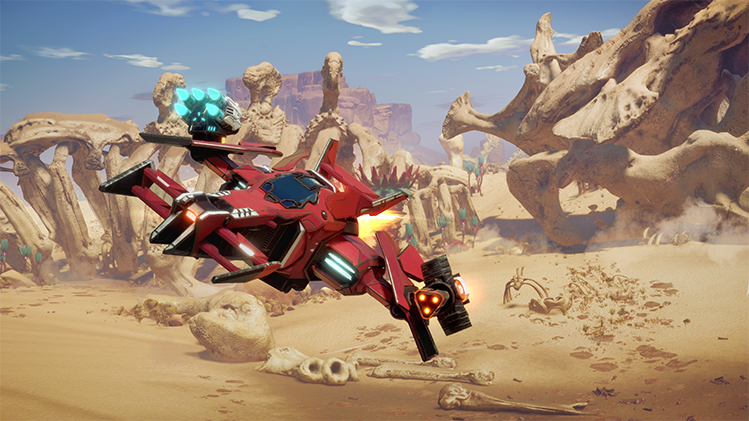 That path has led to E3, where the team is showing off the game for the first time before its release on Nintendo Switch, PlayStation 4, and Xbox One in Fall 2018. We've highlighted seven things you need to know right now about Starlink: The Battle for Atlas' interplanetary adventures.
You Get to Build a Crew and Form Alliances
In Starlink, you're a member of a crew aboard the Equinox (your mothership), but when you reach the Atlas system, things go south. "Unfortunately, they discover that space isn't always the friendliest place, and upon arrival, and they're ambushed," says Rose. "The Equinox is damaged. It crash-lands on a nearby planet, and their guiding force, the captain of the ship, is captured."
"You start off in a position of weakness. Your leader is missing. Your ship is damaged and can't take off," he adds.
From that point on, you have to explore the surrounding world and begin your journey of making your first allies in the Atlas system. Alien characters and their ships will join your crew, help repair your ship, and join in the search for your captain. Those alliances have critical importance elsewhere in the game, as they will be key in fighting enemy forces, even when you're not on the same planet.
There's a Constant Threat
The nefarious force in the Atlas system is Grax, the leader of The Forgotten Legion, who carries an obsession with an ancient, long-forgotten race called The Wardens. "The Wardens have been gone for a long time, but the remnants of their army and the legion they had to enforce their empire are still scattered throughout the system," says Rose. "So, Grax has really become obsessed with reviving The Forgotten Legion and using them to reignite some of these ancient Warden technologies."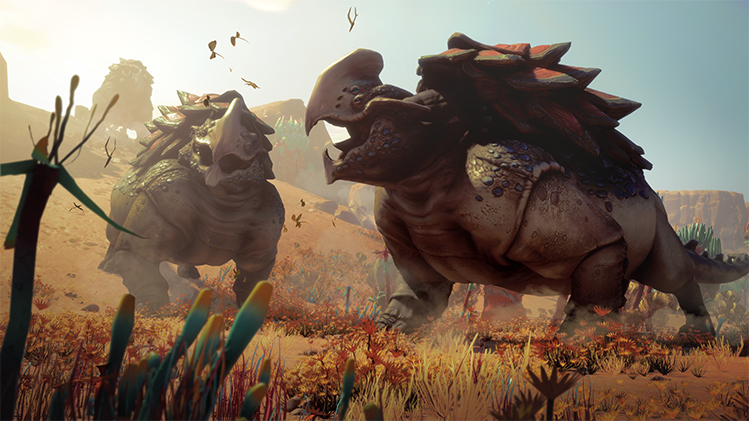 And it won't just be Grax's forces that you'll need to worry about. All of the planets in the Atlas system have creatures and environmental hazards that will create issues for you and your ship, forcing you to rethink your approach and possibly switch out your ship's parts to adapt. "There's a lot of environmental hazards along with different factions, as well as flora and some fauna throughout each world," says Rose. There are all sorts of things that players need to look out for."
Your Ship Lets You Play Your Way
The key component to Starlink: The Battle for Atlas is your ship and the fact you can swap out its parts whenever you want, as well as collect new ships and pilots. When you take them into the game, an entirely new level of progression and customization opens up to you.
"By playing, you can level up your pilots. They each have a unique skill tree and a unique special ability," Rose explains. "These are devastating abilities that you can use to turn the tide of a battle.
"In addition to pilots leveling up, you can also level up your gear, and that's done through the modding system," he says. "You can collect different mods out in the world and use them to augment your weapons and abilities. You can also use them to continue that customization when you're ready to fine-tune the weapons with different boosts and modifiers that resonate with you."
Combat Has Layers of Depth
The solution to some problematic Starlink scenarios may not be immediately obvious to you, but because of the flexibility and the freedom of its systems, you might find that the least obvious tactic can provide a unique advantage. "A lot players will sit and make a starship that looks really cool, but the game is about experimentation and adaptation along with creative problem solving," says Rose. For example, you can use any of your weaponry against Frost Giants, but they actually get charged up by cold weaponry. If I shoot my ice barrage at them, it's going to make them even more powerful."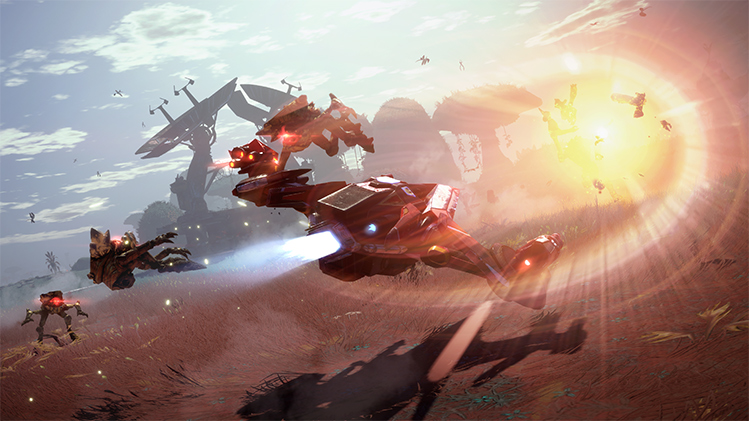 "Now, I might be able to use that to my advantage when they go into a berserk mode, so maybe I'll sit at a distance and use my cold weapons to set them into a rage – maybe doing damage to some of their own things. Generally, that's not going to be the best weapon for me to choose, so maybe I want to equip my volcano cannon or one of my other weapons to take on that enemy."
In any case, Rose stresses that Starlink is the kind of game where there is no right or wrong answer. If you try to take on a boss in the game, you can outfit your ship with heavy armor and weapons and try to take it head-on – or, if you're feeling a little less brave than that, you can opt for a more nimble ship that can exploit a potentially slower foe. "What we see as the core is this notion of creative combat," Rose says. "Gaining these amazing potential combinations and loadouts that you can build can make you much more effective in some situations, but may not be as good for others."
Atlas is a Living Star System
Your choices will affect your experience in Starlink. As you form alliances, fight Grax's forces, and explore the Atlas system, events will continue to unfold even without your direct interaction, and this is something that truly makes this space-faring adventure feel epic. "The permanent impact you can have in this game is something really, really special," says Rose. "If you build up an alliance on a planet, that will change how that planet continues to evolve and how the conflict changes. If you let the enemies get out of control on one planet, you'll have a very different experience when you go there, and all of those are absolutely persistent changes that change the course of a planet's fate."
"It's actually a living star system," he adds. "Every planet is progressing even if you're not on it based on how you impact that planet. You can change how that conflict unfolds even after you go away and visit another planet."
Go Where You Want, How You Want
All of the planets in Starlink are massive spherical objects that you can circumnavigate in a low-flight skimmer mode, or from higher up in the atmosphere. But maybe you just want to take a look at things from space? You're free to fly where you want, how you want, but the development team wanted to make sure that all of your different travel options had a purpose.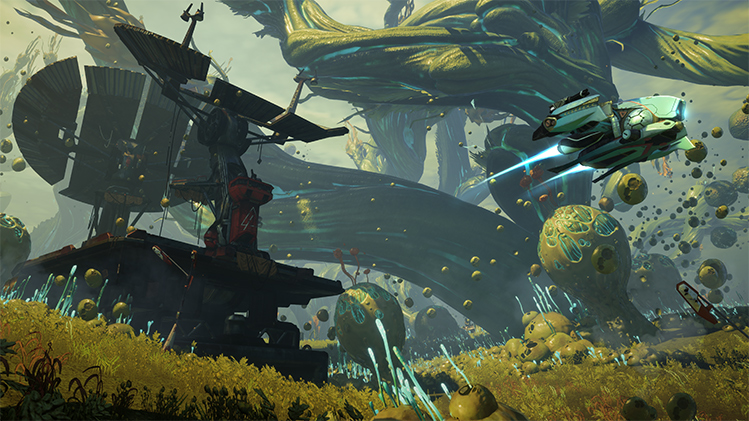 "You can fly in space. You can fly in the atmosphere," says Rose. "At any time, you can take off from the surface, but you are able to go down into this low-flight skimmer mode, and that's incredibly useful because it allows you to explore these worlds at your own pace. In full flight, you're whipping around these worlds and it's a great way to get from point A to point B, but it's not necessarily a great way to explore a series of ruins, look in little nooks and crannies for treasure, or cautiously approach an alien creature in order to scan it, so we support all of those modes, and players are absolutely free to fly whenever they want, skim whenever they want, take off to space whenever they want. It's all completely seamless."
It Has Split-Screen Co-Op
There will be plenty for you to do while playing Starlink solo, but the game also offers a co-op feature, allowing you and a friend to explore the system together and potentially draw from an even larger pool of swappable pilots, weapons, and ships. "We love the idea of people being able to use their toys collectively to hand them back and forth and say, 'Hey, you use this. I'll take that,'" Rose says. "We really focused on that split-screen experience. You can play the full game via split-screen. It's super fun and one of my favorite things to do."
Starlink: The Battle for Atlas is scheduled for release on Nintendo Switch, Xbox One, and PlayStation 4 in Fall 2018.