Admit it. You've all done it. You've lined up your toys, and maybe even grabbed a few precious items from your siblings' stashes. And then you battled. Across train tables and inside playhouses, you pitted action figure against army man, stuffed animal against plush doll - and it was glorious. Such is the joy of the Toy Soldier series, a unique tower defense/action hybrid from developer Signal Studios. And now it's returning for a third time with Toy Soldiers: War Chest, out in early 2015 on Xbox One, PlayStation 4 (the first time on a Sony console) and PC.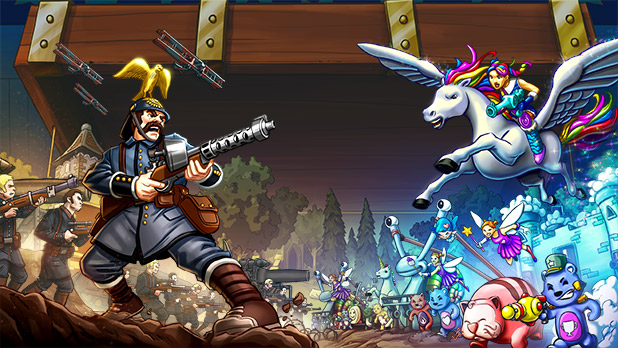 But what exactly is Toy Soldiers? Start off with classic tower defense: you set up turrets in designated places in a whimsical 3D diorama, then your foe sends wave after wave into the world to try to take over your toy box. Like any classic tower defense title, you can upgrade your turrets or switch them out for weapons that are better suited for the wave you're facing. The difference here? At any time you can take direct control of your turrets, which is not only fun but also lets you earn points that are used to call down your unique hero. Once on the field, your hero can mix it up with the marauding armies, mowing down the opposing toys and creating havoc while your turrets continue to fire away. And that's just a small portion of what you can do in the game; check out the launch trailer for more. Toy Soldiers: War Chest will launch with four armies. Along with the returning Kaiser and his German Empire, Ubisoft also revealed the all-new Star Power army, which has the colorful, courageous and... well, crazy heroine Starbright at the helm. But don't let yourself be charmed by the rainbows, hearts and glitter; Star Power's pixies, unicorns and teddy bears will decimate anyone foolish enough to underestimate their power and prowess. "We are proud to help create the next iteration in the franchise and bring Toy Soldiers to more platforms than ever before," said Chris Early, vice president of digital publishing, Ubisoft. "Toy Soldiers is a unique blend of tower defense and strategy, and Toy Soldiers: War Chest makes the toy box eternal, letting gamers face off against rival toys and friends to determine which army will reign victorious. There's something very satisfying about combining strategy with seriously fun gameplay, like taking out the Kaiser's troops with a laser-shooting teddy bear."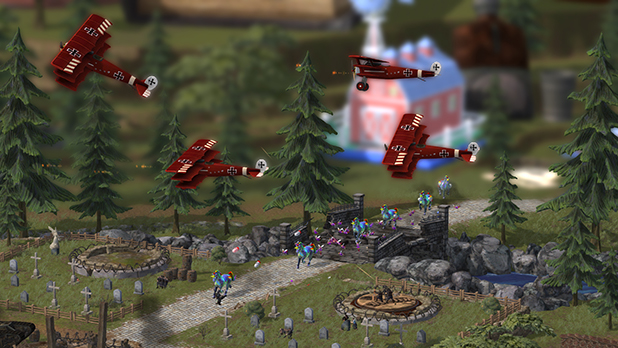 Toy Soldiers: War Chest is also the most expansive game in the series to date. There are more missions, more playable armies and more heroes than ever before. And there are more turrets (along with more ways to upgrade them), more modes and more ways to play with others - both competitively and cooperatively. "Partnering with Ubisoft presented an opportunity to create the Toy Soldiers game we had always envisioned," said D.R. Albright III, founder of Signal Studios. "Gamers of all ages can play as and face off against toys familiar to them from their childhoods to recreate the battles from their imaginations. Fans will have a great time learning how each army plays and the individual strengths of their troops and weapons." Stay tuned to the UbiBlog for more details on Toy Soldiers: War Chest, including developer interviews and hands-on impressions.