Beginning September 1, Assassin's Creed Origins is teaming up with Monster Energy to unleash collectible 24-ounce cans skinned with the game's art – and with codes you can redeem for cool loot when Assassin's Creed Origins launches on October 27. These codes can unlock in-game currency, crafting resources, or even one of four exclusive weapons you won't find through normal play: the Dust Biter sword, the Scepter of Thaati, the blunt Face-Breaker, or a unique predator bow called the Rain Bow.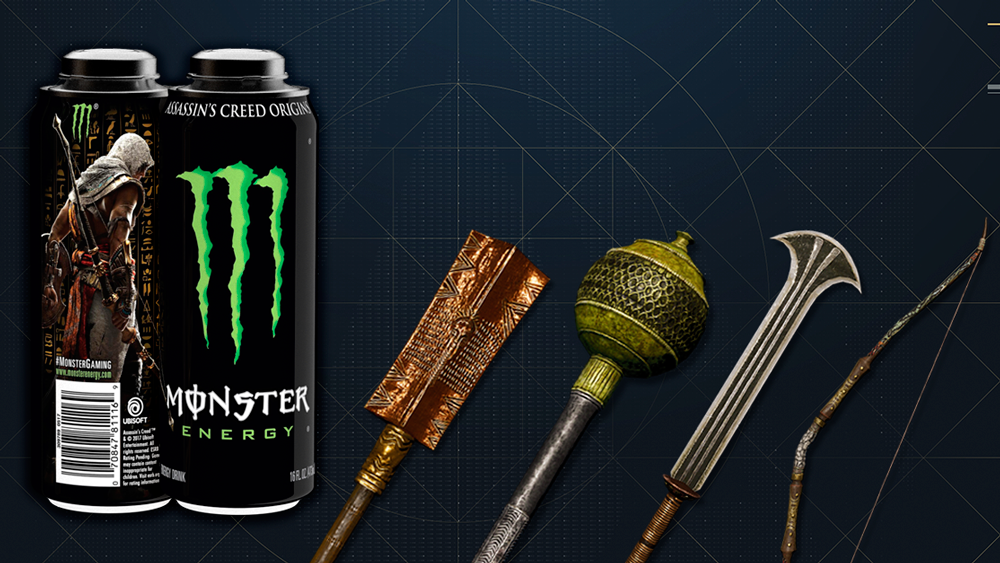 The codes are available by purchasing specially marked 24-ounce cans, four-packs, and 10-packs of Monster Energy, and can be redeemed by logging in to MonsterEnergy.com/AssassinsCreed with your Ubisoft Club account. Additionally, US and Canada residents can enter for a chance to win one of six grand-prize trips to Ubisoft Montreal headquarters for a special peek behind the scenes. Runners-up also have a chance to win one of 100 first-prize packages, which include an Xbox One S and an Xbox One copy of Assassin's Creed Origins. The program runs from September 1 through December 31, and codes can be redeemed until March 18, 2018. Check out the official contest site for more details.
Assassin's Creed Origins will launch on October 27 for Xbox One, PS4, and PC. For more, check out our previous Assassin's Creed Origins coverage.