Today, worlds collide in a crossover between two games: Assassin's Creed Valhalla and Destiny 2. Assassin's Creed Valhalla players can purchase a Destiny 2-themed character pack, which includes armor sets inspired by Lord Shaxx and Saint-14-, Gjallarhorn and Thorn-inspired swords, and scout and mount skins; as well as a weapons pack, which has four weapons inspired by Destiny 2's subclasses. Destiny 2 players can purchase armor ornament sets inspired by Eivor, Kassandra, and Altaïr, as well as an Assassin's Creed-themed Sparrow, Ghost, ship, and finisher.
On the surface, Assassin's Creed Valhalla and Destiny 2 may seem like a surprising choice for a crossover; one is a single-player RPG set in ninth-century England, the other an action MMO in a spacefaring future. But looking deeper, there are many thematic similarities: both stories are steeped in lore inspired by history with varying degrees of science-fiction elements, and both feature fierce fighters with diverse skills and tools. To learn more about how the crossover came to be, Ubisoft News spoke with Ubisoft's Yelim Kim, Alexandre Douce, JP Tan, and Ren Gomos, as well as Bungie's Josh Deeb, to learn about the process of both publishers working together, some of the challenges that arose, and how the final product took shape.
Towards the end of production on Assassin's Creed Valhalla, the team at Ubisoft wanted to explore some kind of collaboration with an external brand. The possibilities ranged from TV shows and movies to other game franchises, and Destiny was always at the forefront of the team's mind. Many Ubisoft employees are fans of the game and familiar with its characters and lore, and they wanted to explore the idea of working with Bungie. As it turned out, Bungie's employees were just as excited.
"Each game has a strong visual identity, so exploring opportunities across our respective brands was a huge amount of fun," says Deeb. "Our combined north star was a focus on being authentic to our brands and delighting our players. Hopefully our combined passion shines through in the final content."
Finding that balance was an exciting challenge for both teams. To begin, the developers approached their design strategy by looking for key elements that could be repurposed for their game. In some cases, as with bringing Assassin's Creed inspiration to the Destiny 2 armor ornaments, this meant modernizing materials and adding technological features, while replicating the recognizable Assassin outfits. In other cases, this strategy required developers to focus on the small details, as in the case of adapting Gjallarhorn's (a rocket launcher in Destiny) design as a skin for Eivor's raven.
"The Gjallarhorn is very mechanical," says Kim, who created the Destiny 2-inspired raven skin for Assassin's Creed Valhalla. "But there's fantasy in elegance, and there are very elegant elements in it. It has golden wings, the head of a wolf, the color scheme is white and gold, and the point color is red. Since we share fantasy elements in both worlds, I leaned into that fantasy, using white and gold colors."
The team at Ubisoft, wanting to create a weapon pack that would suit multiple playstyles, also knew it would be a challenge to adapt the high-tech weapons of Destiny 2 into swords. "Destiny 2 weapons aren't just tools, they are experiences," explains Gomos, "and we wanted to incorporate that into its emergence in the world of Assassin's Creed." Ultimately, they decided to add unique gameplay perks to each weapon, inspired by their Destiny 2 counterparts. For example, the Gjallarhorn sword has a custom effect that, when triggered in combat, will cause a rocket to fire and explode in a group of enemies. Knowing how special the Gjallarhorn is to Destiny 2 players (and the team being hardcore fans of the game themselves), crafting the Gjallarhorn sword proved to be one of the most exciting creative opportunities. "We were essentially making a cannon-sword," says Tan, "so we paid attention to where the projectiles could logically launch and still make sure there was a good balance between the blade and the barrel of the sword."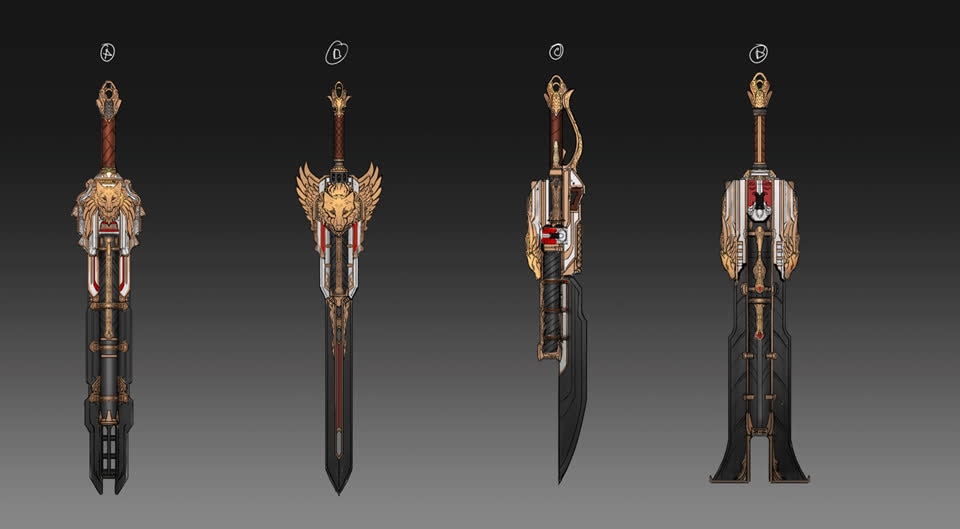 Destiny 2's subclasses are a staple in the game, so it was important for the team at Bungie to pick Assassin's Creed characters that would pair well with the established lore. Using a practical and thematic approach, they found characters that aligned well with the Hunter, Titan, and Warlock subclasses. "Kassandra is a self-sufficient survivor, Eivor a warrior and leader, and Altaïr an inventor and keeper of esoteric knowledge," says Deeb.
Developers on both teams are proud of the end result of this collaboration, and think they've created cosmetics that will appeal to players of both games. Whether tracking down the Order of the Ancients or protecting humanity, players will be able to express themselves and embody characters from a different universe. Assassin's Creed Valhalla characters can also change up their gameplay style with new weapons that offer unique gameplay perks.
"We wanted to make sure that if we embarked on this crossover, we would do it right," says Gomos. "This is a love letter from us to you, to those who enjoy the stories and experiences of these wonderful games."
"Plus," adds Deeb, "they just look pretty darn cool."
You can get these Destiny 2-themed cosmetics in the Animus Store, or head to the Eververse for Assassin's Creed-themed items. For more on Assassin's Creed, read about the recent AC15 artist collaboration, or the real-life recreation of Anglo-Saxon Winchester. For more updates, stay tuned to Ubisoft News.