The Ubisoft Store-exclusive Assassin's Creed Valhalla Collector's Edition will storm the shores this holiday season. With it comes the Ultimate Edition of Assassin's Creed Valhalla, as well as bonus game content and physical collectibles, including a high-end, 30cm-tall figurine depicting the fierce Viking warrior Eivor astride her longship as she leads her clan into battle. Other physical items in the Collector's Edition include an exclusive Steelbook case, a 5cm statuette of Eivor with his raven and Dane axe, a selected soundtrack CD, and a set of three lithographs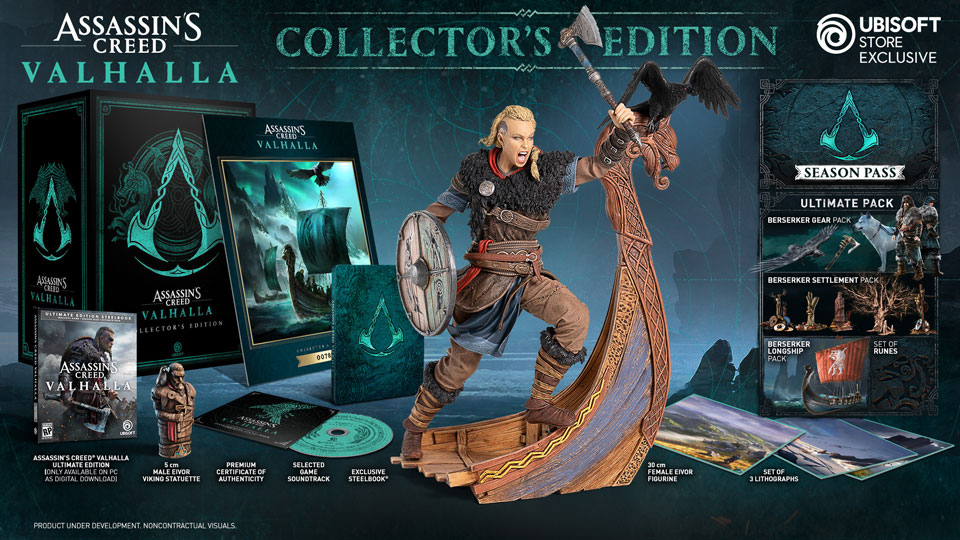 The Collector's Edition comes with bonus in-game content as well, including the Season Pass and the Ultimate Pack, which features the Berserker Gear Pack, the Berserker Settlement Pack, the Berserker Longship pack, and a Set of Runes. If you pre-order the Collector's Edition, you'll also receive a bonus in-game mission called The Way of the Berserker. All Collector's Editions will also come with a numbered certificate of authenticity. Check out the Ubisoft Store page for the Collector's Edition for additional details.
Assassin's Creed Valhalla is coming this holiday for Xbox Series X, PlayStation 5, Xbox One, PS4, Stadia, and PC including UPLAY+. For more, check out our additional Assassin's Creed Valhalla announcement coverage.