Once again, developers from around the world are assembling in San Francisco from Feb 27 through March 3 for the industry's largest conference on video game development. As always, the aptly named Game Developers Conference will be packed with activity, including an impressive roster of speakers, panels and our annual Ubisoft Lounge. To help make planning a little easier, we've put together a handy guide so you won't miss any of the action.
The Ubisoft Lounge: Dive into our Worlds
Now an annual GDC tradition, the Ubisoft Lounge gives you the chance to mingle with our developers, get exclusive insights on our tech and production, and chat with the recruitment team. This year we'll also feature a dedicated For Honor corner, so you can get hands-on with our latest title.
Location: West Hall, 2nd Floor. Running all week throughout GDC starting at 9:30AM.
Throughout the week, we'll have a variety of speakers giving talks, hosting demos, and leading Q&As and discussions on various topics including AI, VR, open-world design, and much more. You can see the full schedule outlined below: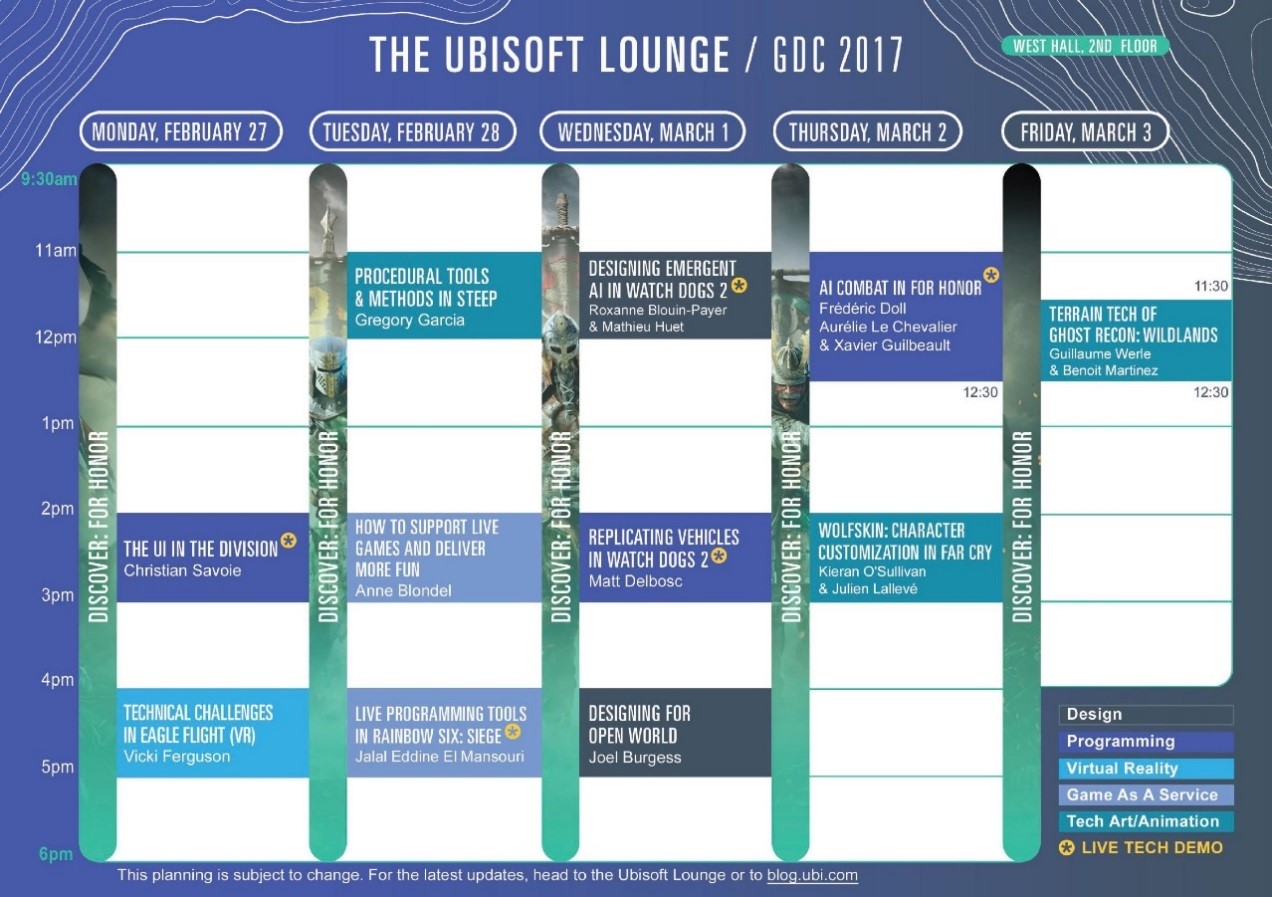 GDC conferences: Get a Sneak Peek
Speakers from throughout Ubisoft will lead and participate in panels throughout the week. Here are just a few that may pique your interest
Diversity panel: Building Diverse Worlds
This year, we're sponsoring a panel that brings together developers from Ubisoft, thatgamecompany, Beam Dog and more for a discussion on the power of developers in representing diversity.
Location: Wednesday March 1, 5PM , West Hall room #2024.
Discover more and mark it in your session scheduler here.
Social Media: Get Live Updates
Keep up with what's happening by following our careers social media channels!
For more news and content throughout the week, follow us on Twitter (#UbiGDC) and Facebook (Ubisoft Careers), and of course stay right here on UbiBlog.