Just Dance returned to the stage at E3 2017 with a new look and feel, a new tracklist and a host of new features.
Bebe Rexha was on stage to perform her grammatically unconventional track "The Way I Are (Dance With Somebody)", which features in the game. We spoke to Damien Pousse, Associate Creative Director of Just Dance 2018 to find out how the collaboration came about. "We had the opportunity to listen to Bebe's song before she released it," explains Pousse," and we instantly felt it had a special connection with our game. The song message is totally in line with the spirit of Just Dance: it's all about enjoying dancing with others and sharing special moments through dance. We started to think about having her at the E3 conference because there's no better way to explain what Just Dance is all about than just singing 'I wanna dance with somebody'."
>
Yes, the lifeblood of any music game is its track list, and Just Dance 2018 certainly won't be shirking in that area. "This year we're back with a combination of the latest hot songs and artists, like Ariana Grande, Beyoncé, and Bruno Mars – some classics like 'Daddy Cool' – and our signature unique and crazy songs, like Big Freedia's 'Make it Jingle.' We also have K-pop this year with HyunA's 'Bubble Pop,' so everyone should find something to love!"
But it's not just about new tracks – the game's interface has had a complete overhaul for this new installment. "Our goal is for players to start dancing as quickly as possible after launching the game – being only a few clicks away from dancing on any song" says Pousse, "We focused on the main game modes everybody likes, and we're taking time to really guide the player through the experience, so it's easy and fast to find the songs they like and dance right away."
Just Dance 2018 also adds a few neat ways to keep your dance-mojo at its peak. Rather than seeing ephemeral points tick up, players can switch to a scoring system that simply counts the calories they're burning. Real fitness folk can even create their own workout playlist to ensure they exercise to their favorite tracks. As if that wasn't enough motivation, there are now exclusive rewards to be unlocked by completing Daily Quests – some of which give players a glimpse into the secret lives of the Just Dance coaches.
Also new this year is a kids mode, with eight choreographies designed to encourage healthy movement in a younger audience (on Wii U, Switch, Xbox One and PS4). "We worked with a child development expert on the choreographies and a childrens' book illustrator for the visuals," says Pousse. "The menu and interface are also simplified, and feedback during the dances is always positive. We want we children to feel at ease and encouraged to dance."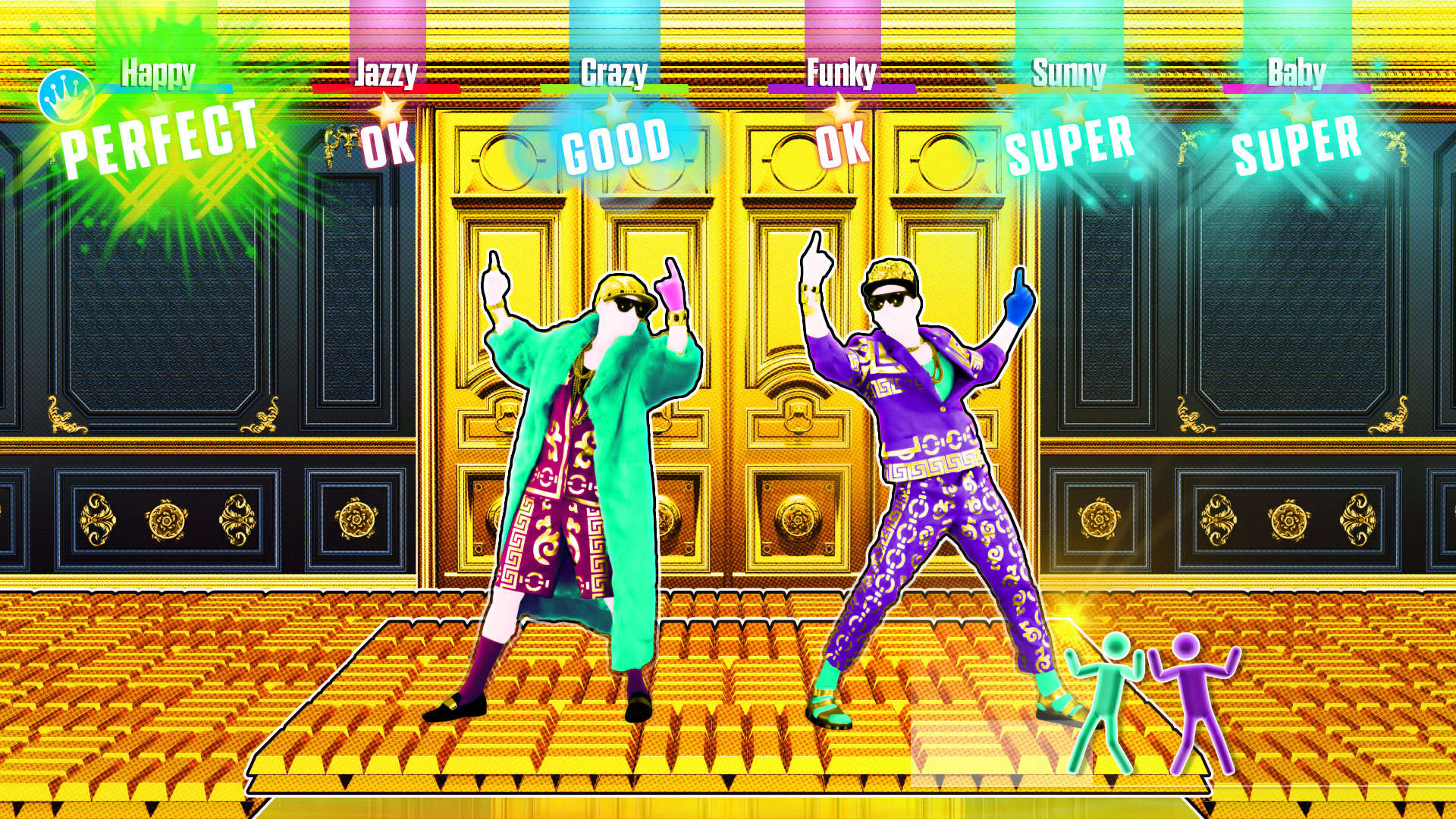 Many of the other popular game modes have received a revamp. Online mode "World Dancefloor" (on Wii U, Switch, Xbox One and PS4) for example, in which players can compete against dancers from all over the planet, now brings extra challenges to both co-op and competition. Players can participate in massive cross-platform events, special tournaments, and even join team up for epic boss battles.
The game continues to support the Just Dance Controller app on iOS and Android, meaning up to six players can use their smartphones as controllers (on Wii U, Switch, Xbox One and PS4) – with no need for Kinects, PS Moves or additional Joy-Cons.
Just Dance first found it's dancing feet in the heady days of the Nintendo Wii, so it's only right that the latest version brings exclusive features for a new generation of Nintendo fans. The Switch version of contains five exclusive "Double Rumble" choreographies, where players grab a Joy-Con in each hand, following the moves and feeling the vibes of the music through the console's HD Rumble technology. These choreographies allow you to feel what it's like to play in a Mariachi band or take control of a 5-star kitchen, it says here. "It's new way to enjoy Just Dance," says Pousse, "and we had a lot of fun creating these new challenges."
The Just Dance series has also become an unlikely fixture on the eSports calendar alongside the usual first person shooters and strategy titles. Pousse promises more news soon on how that will continue this year, and says he's really happy with the unique space Just Dance occupies in eSports, "it brings a joy and spectacle to any eSport competition – we've had some really fierce and talented competitors."
>
With the series now in its eighth year and 118 million Just Dancers around the world, we thought we'd finish by asking the team why they feel the game has such enduring appeal. "We always try to create new things," asserts Pousse, "new game modes, new experiences every year – we don't stop at just adding new songs. It's important for us to always push the game forward, and at the same time not take ourselves too seriously. I believe Just Dance has a unique tone in the game industry, a fun game created seriously. Plus, dance is a truly universal phenomenon – it's present in every country and culture, so everyone can enjoy it."
Just Dance 2018 arrives on (deep breath) Xbox One, Xbox 360 (with Kinect), Wii, Wii U, Switch, PS3 (with PlayStation Move) and PS4 on the 26th October. Check out Ubisoft Blog's other E3 coverage, and stay tuned for all the latest on Just Dance 2018.