Welcome back to week two of our For Honor 4v4 tournament recaps, where we chronicle the competitive action among the best European and North American teams. During each week of the qualifier stage, each team will play a total of six games and earn two points for every win. The teams with the most points in each region will earn a spot in the finals, which will take place in Montreal on November 11.
If you're only just tuning in, our North American competitors are Least Individual Talent (L.I.T.), Team NRG and Pure Players led by team captains SypherPK, NRG.iSkys and Bandanaa. Meanwhile, the European teams vying for glory are Ultimate Digital Athletes (UDA), For Goner and FreeVinx led by Clutchmeister, hhhhmmm1 and Alernakin. Each of the teams will participate in online qualifiers each Saturday through October 28 as they try to secure a spot for the live final event.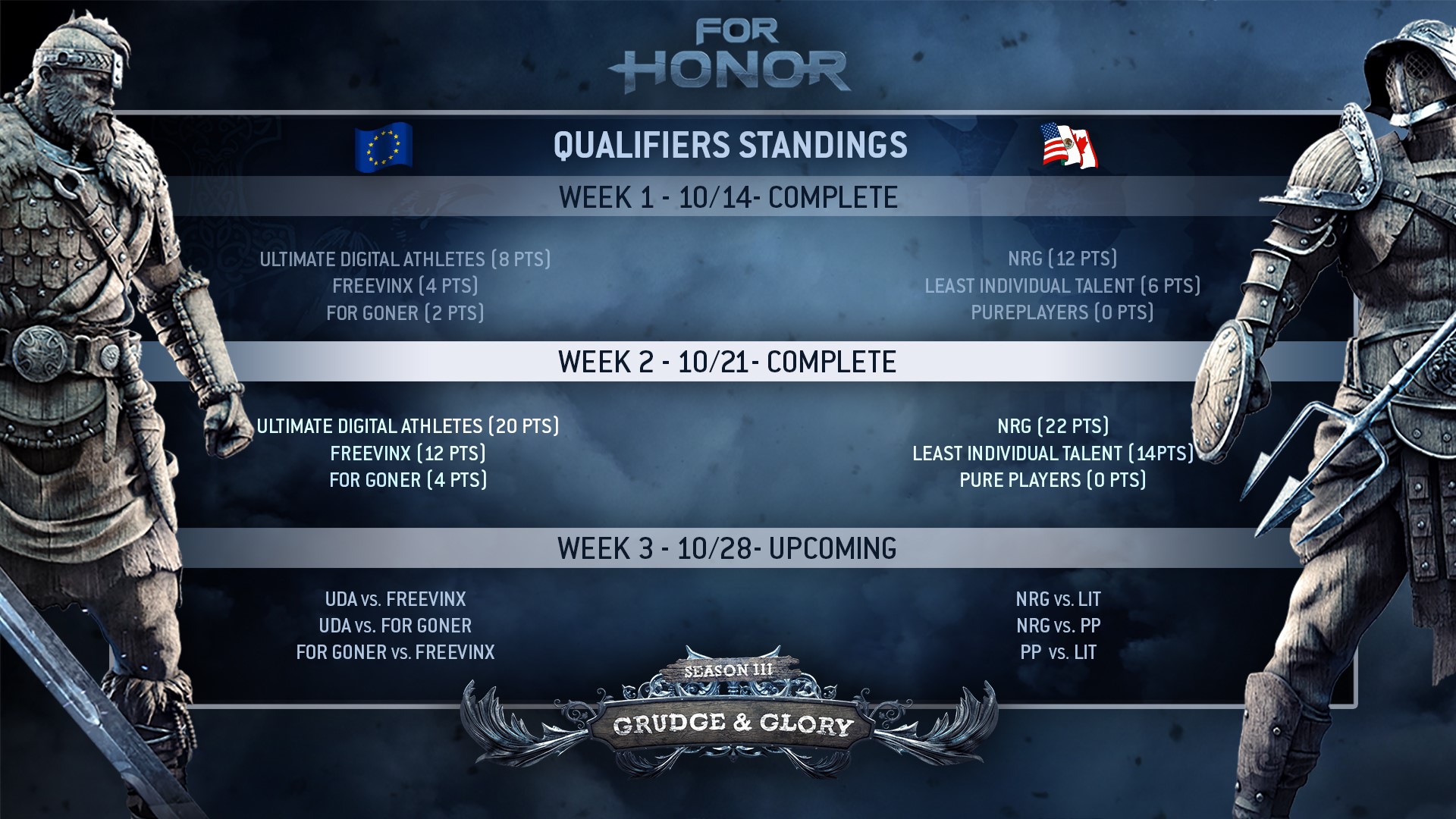 WEEK TWO – EUROPEAN QUALIFIERS
This week in Europe, Team UDA first had to complete their two games missing from their week one lineup, which resulted in two big wins. Clutchmeister continued to show his opponents why he considers himself the "#1 Digital Athlete", with 30 takedowns and four deaths. UDA then had a solid week two with four wins in six games, losing one game to both For Goner and Free Vinx. It can't be said for sure whether it's a coincidence or not, but both games where Legion had a lower-than-usual K/D ratio happened to also be UDA's losing games.
Team Free Vinx also had a good weekend, with four wins as they shut down For Goner, winning all three games in their matchup. Alernakin reminded his opponents why he was chosen as a team captain with a very impressive performance; 37 takedowns and only six deaths in this matchup.
After two weeks, the current standings for Europe:
Team UDA (20 points)
Team FreeVinx (12 points)
For Goner (4 points)
Team UDA still needs three wins to clinch its first place position, but a bad week from them combined with a perfect week from Team Vinx could result in Team Vinx taking the first place spot and advancing to the finals.
WEEK TWO – NORTH AMERICAN QUALIFIERS
This week, Team NRG lost their undefeated status after losing one game to team L.I.T., but managed to win 3-0 against Pure Players, who played without Bandanaa, their team captain. Keehu, playing for Team NRG, continued to shine with a K/D ratio of 4.6 this week. Bandanaa's absence hit hard with team PP, who lost their six games this week.
Team L.I.T. came out of week two with four wins and two losses, with team captain SypherPK keeping his title of most takedowns in a single game, with 22 takedowns this week.
After two weeks, the current standings for North America:
Team NRG (22 points)
L.I.T. (14 points)
Pure Players (0 points)
In order for Team L.I.T. to make it to Montreal, they need to score all 12 points this coming weekend, and they'll need Pure Players to turn in an amazing performance against Team NRG. All Team NRG needs to secure first place is three wins.
www.youtube.com/embed/7iuobQGHUOY?start=1054
We still have one week of qualifiers to go before the stage is set for the live finals.
See you on the battlefield!