The Six Invitational may look a little different this year, but competition will be no less fierce. Neither will your clothing game, because the Ubisoft Store has official Six Invitational gear just for you... and well, everyone. But when we say "just for you," we mean that too, because this year, you'll be able to secure your very own customized gear! Got your attention? Great! Check below for more details on that and a selection of other great Six Invitational gear.
---
Official Six Invitational Jersey
No competition is complete without jerseys, but let's take it one step further: This official Six Invitational jersey not only looks good, but you can add a little extra personality with a brand-new customization feature that lets you personalize the name on the back with custom text. Use a gamertag, your favorite player's name, your favorite Siege Operator, or even your favorite pet's name. The only limitation is your imagination... and a set number of characters. Get it here.
---
Official Six Invitational Bomber Jacket
This sleek bomber features the Six Invitational logo on the front and a subtle geometric design on the back, but let me tell you what you don't see: the multifaceted nature of bomber jackets. You can wear them when it's pretty cold, but they also come in handy when it's a little warm but still cold enough where you really could go either way. That's just extra value on a great-looking jacket. Get it here.
---
Official Six Invitational Face Mask
The Ubisoft Store is offering a pair of different Six Invitational face masks. One features the logo and a festive full-color design that says you're in full hype mode and you don't care who knows it. The other is more understated, featuring a logo and a light geometric design with light coloring to let everyone know that you are no less hyped, but just perhaps a bit more reserved about it. Get it here.
---
Official Six Invitational Hoodie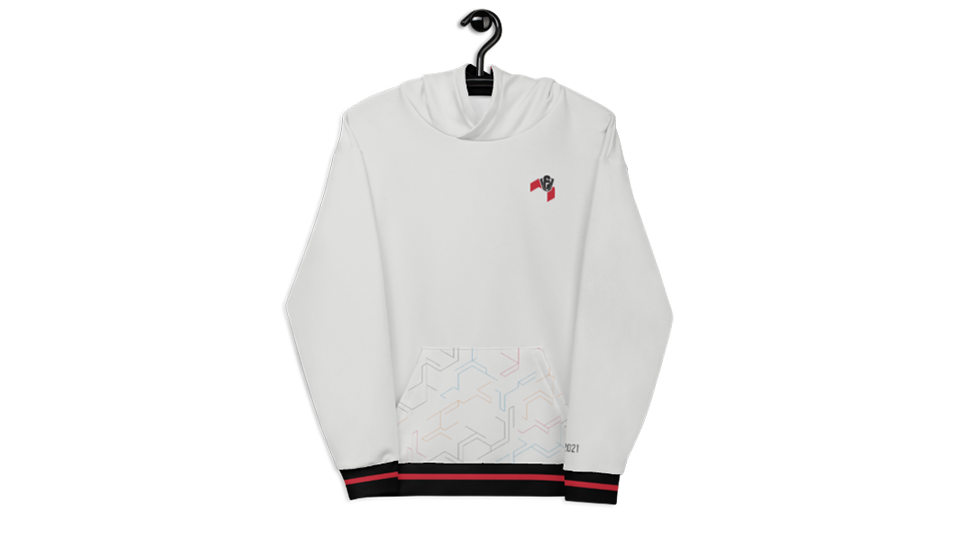 The hexagon is one of the most powerful symbols known to humanity, and the Official Six Invitational Hoodie knows that with great power comes great responsibility. The colorful, understated hexagonal stylings of the comfy front pocket say, "I know how to wield my powers for good," while the Six Invitational logo on the chest shows that you could go full hexagon at any time, but have chosen discipline and restraint. People who think that they only used the hexagon design because the shape has six sides and "Six" is literally in the name of this hoodie will never understand. Get it here.
---
Official Six Invitational Embroidered Red T-shirt
What's better than sporting the official Six Invitational logo on a classic white t-shirt? Sporting a classy embroidered logo, of course! This understated design tells the world that you're ready for competition, but that you're subtle enough to take a measured approach, giving your opponent the space they need to slip up so you can claim victory with your superior strategy. Are we reading too much into the design, or does it speak to your leadership skills? Guess that's up to you, boss. Get it here.
---
Official Six Invitational Blue T-Shirt
Understated is great, but a less-subtle fashion approach has its merits, too. While others hide and wait for the action to come to them, emblazoning this logo proudly across your chest says that you're ready to meet any challenge head-on. In addition to putting your enthusiasm front and center, this t-shirt's classic white design pairs well with just about anything, making it an ideal centerpiece for any outfit. Get it here.
---
Official Six Invitational Beanie
You know who's cool, both literally and figuratively? Buck. Luckily, his beanie helps him combat the literal cool while contributing to his figurative cool. All this is meant to say that beanies will keep you warm AND make you look cool, like Buck. The Six Invitational Official Beanie comes in two fashionable colors, and it's your first step towards cosplaying as Buck. Get it here.
---
Official Six Invitational Sweatshirt
People don't tend to think of the calming power of a soft, comfortable sweatshirt with subtle, colorful flair when they think of high-level esports competition with millions of dollars at stake. But when your favorite team is taken to a third map that they historically underperform on, and the Operators they excel with are banned, you'll be grateful for the serenity that this garment provides. Get it here.
---
Official Six Invitational Cap
Maybe beanies aren't your style. Maybe you're trying to cool off, rather than warm up. In that case, the Official Six Invitational Cap is right up your alley. Not only will it keep the sun out of your eyes, but the white color goes with any outfit. Plus, you can turn it backwards and it offers a completely different look. That's like two hats in one! Get it here.
---
Rainbow Six Siege is available now for PC at the Ubisoft Store. It is also included with a Ubisoft+ subscription. For more on the game, including details on this year's The Road to Six Invitational event, check out our previous coverage.
Follow the Ubisoft Store on Facebook, Twitter and Instagram to stay updated on current promos, new deals, merch and more about your favorite Ubisoft franchises!