Margaret Boykin's career in the film industry was about as traditional as it gets, until it wasn't. The Barnard College graduate majored in English with a focus on film and creative writing. In her summers, she worked as a research assistant for a writer on "Boardwalk Empire." That was Boykin's first exposure to writing a screenplay, how productions get made, and what it's like to write for a TV show.
That assistant job led to another summer internship, this time with United Talent Agency (UTA) in Los Angeles. While she started off in a "mail room position" delivering mail and helping with interoffice administrative duties, she also got the opportunity to work as a temporary assistant to agents, managing their schedules and client needs. The position threw her into the deep end of Hollywood, allowing her to learn about the industry on the job. Once Boykin graduated from college, she moved to LA to work at UTA full time as an assistant for an agent, and eventually left to work for a film producer at Columbia Pictures. There, she learned the creative and technical aspects of production, like how to develop a script that will eventually turn into a film.
Boykin's career was on a traditional Hollywood trajectory until two years later, when it took an unexpected turn. Videogames were completely new ground for the Hollywood veteran, but when the opportunity to work at Ubisoft Film & Television (UFT) presented itself, she was excited by the possibilities of exploring and developing the worlds, characters, and stories created by Ubisoft. Boykin took the job as director of film development, joining the small but growing team at Ubisoft Film & Television's Los Angeles team.
What does a director of film development do?
MB: My job is really about overseeing the creative direction and development of our projects. That means from the very beginning, when we say, "Hey, we want to make The Division into a movie," I'm responsible for working with our team to figure out the best path forward to get that done. What tone do we want to take with this movie? Now, who's the right writer to deliver on that vision? Who's the right director to bring it to life? Who are the right actors? And who's the right studio partner? I help figure all of that out. It's a lot of strategy.
On the day-to-day side, I spend a lot of time finding and overseeing writers. Once they're writing, it's giving script notes, finding ways to improve the scripts by looking at what works and what doesn't. Once we have our creative partners on board on the film side, we also make sure that each of our writers and directors are immersed in the world of the game and understand what we're looking to do with the film adaptation. We want everyone to be aligned on our vision for the film—it takes a lot of people to develop and produce a movie, so a huge part of my job is making sure we're all on the same page and everyone feels both heard and up to speed. Every day is different, and now that our team has grown, we also have a lot of internal meetings to make sure everyone is talking to each other.
Is there a specific part of the job you like best?
MB: I still really love the things I loved when I was a stressed-out assistant at UTA. I love helping creative artists bring their visions to life. I like it when a writer calls me up and says, "Hey, I just wanted to pitch you this idea. I know we were talking about changing the script this way, but I really love the idea that the character does THIS. What do you think about that?" Every time I get a call like that, I just want to pinch myself, because I feel so lucky to be here.
I would say the other thing that I love, and wasn't expecting to love, is the energy and even the challenges of being part of a division that's really growing right now. Obviously, we're part of a much larger and well-established company in Ubisoft, but we're still working to define what it means to be Ubisoft Film & Television, both within the entertainment industry and within the company. It's really cool to see a team grow from four people to 15, and be a part of all the changes and growth that comes with that.
How has UFT changed in the three years since you joined?
Margret Boykin: We're a pretty small team, but we've grown a lot since I first started here. Back then, there was only four of us, now we're about 15. We've built and grown a TV department with (Senior VP of Film & Television) Jason Altman and (Director of Television Development) Danielle Kreinik. We've hired Ilyssa Adler on our legal team, and two physical production executives who help us oversee all the logistics of our projects when we are anticipating and in production.
Ubisoft is primarily a videogame company. What is it like working in a film and television division that's part of a larger game company?
MB: It's great. Sure, there are challenges; whenever you're working in a large company, you can't take any knowledge for granted, especially when you're doing something new. You constantly have to explain why you think something is a good idea, or why you want to explore a path forward, whether it's a new business model or a new project you want to take on.
But, at the same time, that means that you're often encouraged to think of things in a different way. I think Hollywood can be really stuck in the mud, and operates in a very traditional hierarchal way, not readily embracing change. When you work in a company that's not steeped in those traditions, you're always challenged to think of things differently, to discover new ways to get from A to B. I'd also say that everyone is very nice (laughs). There are no egos here.
Career paths in Hollywood seem very traditional, like everyone has to start in the same place. Does it feel like you have to pay your dues to move up in Hollywood?
MB: Absolutely. This is definitely the most "non-traditional" thing I've done with my career, but it's been refreshing to break from the standard assistant-to-producer path and join such a great, adventurous company. I also I think the concept of "paying your dues" is something that's really being re-examined in Hollywood right now. As in, that idea kind of sucks, since it often means working in a psychologically exhausting job for long hours and no money. So, people are revisiting that, and asking: Are we making sure that all kinds of people have access to these jobs? How can we break down all the different barriers to entry for people who maybe can't afford to work an unpaid internship, or balance the cost of living in Los Angeles with a minimum wage assistant job with no benefits?
I think it's also being examined from a lens of, "How are we treating people?" Do we really need people screaming at their assistants? Being divas? Throwing temper tantrums? I think that's one of the many good things about the #MeToo movement; we're not just talking about sexual harassment, it's about reexamining Hollywood workplace culture from all angles.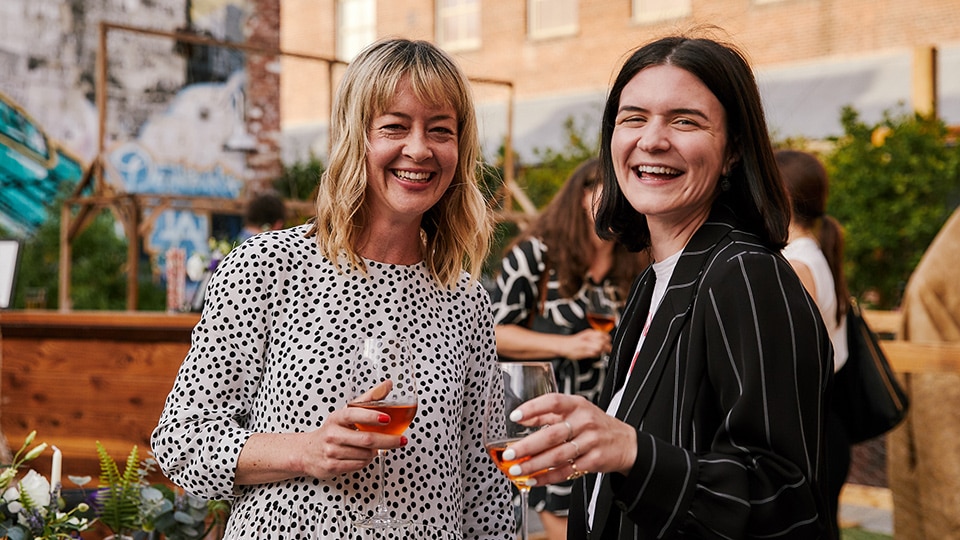 You said joining Ubisoft was the most "non-traditional" move of your career. How familiar were you with the company and videogames when you joined?
MB: Frankly, I didn't know a lot about it, and I learned a ton as soon as I got here. I really threw myself into the world of each game that we're developing for film. I have to translate the world of that game to our potential creative partners, so it's important to me that I work hard to understand each game inside and out. I'm still learning every day.
Were you aware about the stigma around videogame movies?
MB: Yes. My old boss worked a lot on different IP adaptations, and it's funny, because everyone talks about the stigma of videogame adaptations, but you face the same challenges in adapting a book, a graphic novel, or someone's life rights. Whenever you're adapting from one medium to another, you have to make creative choices to keep the essence of the source material intact, but also make it entertaining. I wasn't deterred by the stigma, because I think it's just the challenge of adaptation.
The way you engage with a game is super-personal, because you have a lot of agency there, and a lot of autonomy. The act of having a story told to you is just different; it can't be as open and exploratory as games are. You have to do it justice in a different way.
From what I understand, the Women's Film & Television Fellowship started with you. Why was that something you wanted to make happen?
MB: Generally speaking, when you're putting together writer lists, you get suggestions from agents who represent writers. I would call asking for suggestions for our film projects at Ubisoft based off of our games, and the lists were always male-dominated. I would always have to push back and say, "Do you have ANY women who are writing in this space?" And even then, I'd get two names, maximum, and it's the same two women every time. I knew there were more women out there who wanted to write video game adaptations, and I knew we could do something to help.
I felt like I hadn't seen a writing fellowship in Hollywood that was specifically targeted towards creating more opportunities for women in genres that they're frequently excluded from, like big IP adaptations. So I pitched the idea of the Women's Fellowship after showing a bunch of slides with inequality statistics of women in film and TV. I was pitching my presentation for the fellowship and (CEO of Ubisoft Film & Television) Gerard Guillemot approved it right then and there (laughs).
So now we have a great fellowship program, going into its third year. It's a six-month program where we hire one woman for film and one woman for TV. It's a paid fellowship, and they come and work with Danielle, Jason, and me to look through our library of titles to see what they can adapt. They then develop a story pitch with us that we share with Jason and Gerard. This year, we also added the opportunity to pitch original ideas within the gaming industry, similar to what we're doing with "Mythic Quest: Raven's Banquet."
Ultimately, the fellowship is a way to create more opportunities for women writers not only at our company, but in Hollywood. I love the idea that they could go in for a meeting at Marvel and say, "I just completed the Ubisoft Women's Film and Television Fellowship, I've worked with big IP, and came out of it with a great project." I think that's a currency that a lot of women could use.
Was it your intention that, even if Ubisoft doesn't get anything out of the fellowship, the fellows themselves are going to get a lot of great experience and build their portfolios?
MB: Yes, absolutely. I always wanted, at the bare minimum, for these women to be learning and really honing their pitch and adaptation skills. I also wanted them to be paid. A lot of the writing fellowships in Hollywood are unpaid, and it was really important to me that this one is paid and also non-exclusive. Other fellowships are exclusive, meaning they're in-house. They own everything you create, and you're not allowed to take other jobs. I wanted this to be a stepping stone for these women in their careers.
You came up through a very traditional route, but now that that's changing, and you're working in a space between film and games. Do you have any advice for someone who wants to do what you do?
MB: I think you learn a lot by working at a talent agency. Agents are a core part of this business, and it's important to understand how they think. That being said, I got just as much out of being a research assistant. There's no job too small when you're first starting out. It's important that you're in a position where you're learning a lot and can be near the action. Because even if someone isn't there pulling you aside to explain things, you're still picking up knowledge by being near it all.
The other piece of advice I'd give is to ask for favors. That's always the advice I give. I feel like people in Hollywood really like to be the person that recommends the great assistant, or great director, or great executive. It's really an industry that traffics in word of mouth and relationships. People will sit down with you for a general meeting, get coffee with you, or just pick up the phone and talk about what you want to do and how they can help you. You'll get more yeses than you think.
For more interviews like this, check out our past Women of Ubisoft entries.