Mario + Rabbids Sparks of Hope is coming to Nintendo Switch on October 20, reuniting Mario, Luigi, Rabbid Peach, and their friends and teaming them up with new allies Edge, Bowser, and Rabbid Rosalina for a tactical adventure on a cosmic scale. Led by Ubisoft Milan and Ubisoft Paris, the development team worked together to ensure that accessibility was as important as designing new gameplay mechanics.
Ubisoft News spoke with Senior UX Designer Andrea Scambia to learn more about how the development team built accessibility into their game design, and what kinds of features players can expect.
What was your approach to accessibility on Mario + Rabbids Sparks of Hope?
Andrea Scambia: It was really important for us to make a game as many players as possible could enjoy, building on what they already loved about Mario + Rabbids Kingdom Battle. We know that those who are new to tactics games found it very approachable and were able to learn the ropes quickly. This was achieved with gameplay that introduced new concepts and mechanics gradually. We knew that this was even more important to carry through for Mario + Rabbids Sparks of Hope. New combat mechanics, and plenty of exciting strategies to play using the Sparks, brought an added level of challenge.
We knew that we wanted to make it the most accessible Mario + Rabbids game to date, so we had to consider accessibility from the very start. This meant that we could build accessibility into our designs and plan ahead for options that we might need. There was a real motivation to improve on the accessibility from Kingdom Battle to welcome even more players to the world of Mario + Rabbids!
One design feature we introduced is direct control of the characters: having immediate feedback of where the Hero would be in the battlefield instead of moving the cursor improved drastically the feeling of immediacy, thus making the gameplay more accessible.
To help with motion sickness, players are able to adjust the camera sensitivity and to prevent any sudden movements from the auto-camera and technique cinematics during gameplay. Players also have the option to turn off screen shake if they are sensitive to this.
We also wanted to reduce repetitive actions for players, so players can change any button-mashing actions to a single button press. You can even set your battles to always fast –forward during the enemy turn so you don't have to press the button every time. We also included the option to change all hold actions to a simple toggle. These options aim to reduce pain and fatigue, so more players can enjoy Sparks of Hope comfortably.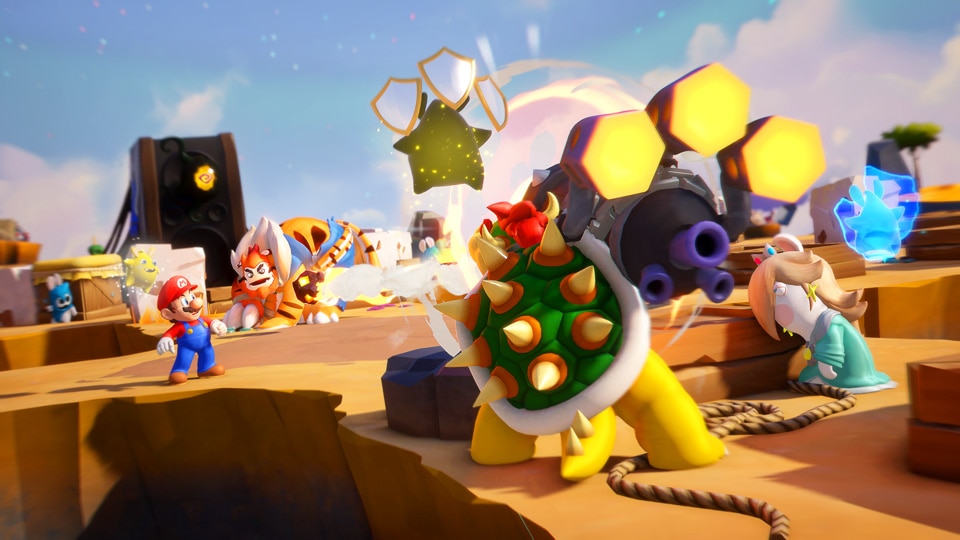 Will there be adaptive difficulty for new players that have trouble winning a battle after multiple attempts?
AS: We understand that difficulty is relative, and some players may find some aspects of battle more challenging than others. The wonderful thing about Mario + Rabbids Sparks of Hope is that players are able to balance their experience by adjusting various parameters in detail before going into battle.
We have three pre-set levels, but if players want to tweak things further, they can do that too. Players can decide whether or not their heroes' health is automatically restored after each battle.
They can adjust enemy threat level, which affects their health and the damage they deal.
We even added a specific invulnerability option that makes their Heroes immune to damage if they want to! If managing your heroes' skill upgrades feels overwhelming, you can choose to have this done automatically, too.
We really wanted to make sure that players could craft an experience that feels fun and challenging for them, and we made sure there isn't any consequence at all if they decide to change it at any time during the playthrough.
Is there something you're particularly proud of when it comes to accessibility in Sparks of Hope?
AS: At Ubisoft, we are shifting to an accessibility-by-design approach, which means trying to provide the most accessible experience by default. Since we started thinking about accessibility early on in development, we were able to make intentional choices that embedded accessibility into the core design.
For example, players will come across many puzzles with colored items in the world. Considering accessibility from the start meant that we could add symbols, icons, or shapes so that players have multiple ways to perceive the information. This means that those items are colorblind-accessible by default, without the need for an additional option to solve this.
We tried to reduce the physical demands on players by simplifying controls. Most actions can be completed by pressing one button at a time. Heroes' weapons will target enemies automatically, with players able to scroll through enemies before selecting. This helps to reduce the need for precision. Players are also free to take as much time as they want on their turns, which is helpful for players who may need more time to think through and carry out their actions.
Exploration is also a key part of the game, giving players the freedom to explore the planets and discover interesting characters and mysteries along the way. To help players find their way, we've added a map screen and a compass they can follow to their objective. Players can use these tools when they need help getting back on track.
All of these features help make our game more accessible, and they are baked into the design. We hope that integrating accessibility by design makes the game as inclusive and welcoming to as many players as possible.
Here is a full list of the accessibility options available in Mario + Rabbids Sparks of Hope:
CONTROLS
Sensitivity Option to adjust camera movement speed. (Motor, Cognitive, Vision)

Remap controls Option to invert X and Y axes for the camera. (Motor, Cognitive)

Button Holds and Toggles Option to change holds to toggles individually for skipping cinematics, feeding Sparks, boost and scan actions. (Motor, Cognitive, Vision)

Repeated Presses Option to change interactions that require repeated presses to a single button press. (Motor)

Menu Navigation Works with directional inputs snapping to items automatically, using the left stick or the D-pad. (Motor, Cognitive, Vision)

Control reminders displayed on-screen during battle. (Cognitive)
VISUAL
Color No information is communicated by color alone. (Cognitive, Vision)
MOTION
Camera Shake Option to disable camera shake. (Cognitive, Motion Sickness)

Other Motion Effects Option to automatically skip technique cinematics and deactivate auto-camera during gameplay. (Cognitive, Motion Sickness)
AUDIO
Subtitles enabled by default and cannot be disabled. Speaker names are displayed. (Hearing, Cognitive, Vision)

Sound Ability to adjust volume levels for ambient sounds, music, sound effects, spoken voice and user interface. (Hearing, Cognitive)
GAMEPLAY
Difficulty There are three pre-set difficulty modes available. Players can customize the experience by adjusting enemy threat level and how hero management tasks are handled separately. There is also an option for invulnerability. (Motor, Cognitive, Vision)

Aiming assists Primary weapons automatically lock-on to enemies (Cognitive, Motor, Vision)
Mario + Rabbids Sparks of Hope is available for pre-order at the Ubisoft Store and launches on Nintendo Switch on October 20. For more on Sparks of Hope, read about how the development team created the new Rabbid hero, Edge, and find out why the Rabbids talk in the new game.