Caroline Hirbec is an industry veteran. She's worked as a videogame artist for 10 years, but is a relative newcomer to Ubisoft. She joined the team at Ubisoft Paris a year and a half ago and is now a senior concept artist on Just Dance.
Originally from the town of Tours, France, Hirbec studied graphic design at art school in Orléans. As a university student, she wasn't quite sure where her art degree would take her, but her love for videogames and entertainment helped guide her down the path to becoming a concept artist.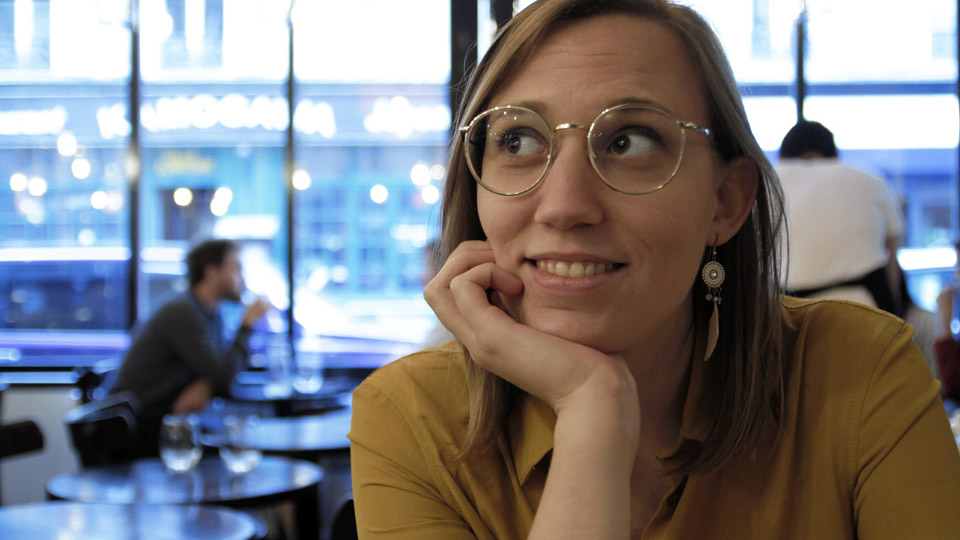 What brought you to Ubisoft?
Caroline Hirbec: Before coming to Ubisoft, I worked on mostly mobile games. Ubisoft gave me the opportunity to work on a console game for the first time with Just Dance. I was excited to join the team of one of the largest videogame publishers. It was a dream come true.
It's a little cliché to say, but I grew up with two older brothers, so I was aware of videogames from a very young age. I was really influenced by games like The Legend of Zelda, Secret of Mana, and Final Fantasy growing up. To this day, I think they're beautiful games, and their universes and art direction helped me realize I wanted to make games one day.
What does a concept artist do on Just Dance?
CH: On Just Dance, we are the beginning of the process. Our art director comes to us with a brief for a theme or idea for a particular song. We design the background and stage for each song. The director gives us an idea for what they'd like to see, and as concept artists we try to create something that matches their vision. It starts out pretty rough, just to get something out quickly to communicate our ideas. Then, we do a lot of iterations and alterations between our team and the content and director teams. Once we come to an agreement, we polish our ideas and drawings. Meanwhile, the other teams design the costumes and the choreography alongside the dancers.
Afterwards, we prepare the image for the video artists. We separate the various layers of the setting so they can animate and then integrate the coach in the background. From there the map is tested with the level design team and becomes playable. We're always making new maps, so while you may have finished one map and passed it along to the video artists or level designers, we have to continue making new maps.
As an artist, I was told to be curious. You have to see different possibilities; you can't just stay in your comfort zone.
Do you have a favorite map design?
CH: I'd say it's the Naughty Girl by Beyoncé map from Just Dance 2018. It was heavily inspired by an Arabian Nights-style palace. It's difficult to design a map without having listened to the song before. It helps to design it while you're listening to it, so I've heard that song so many times by now (laughs). I knew the song before, but when you're making a map for it, it forces you to listen to it differently.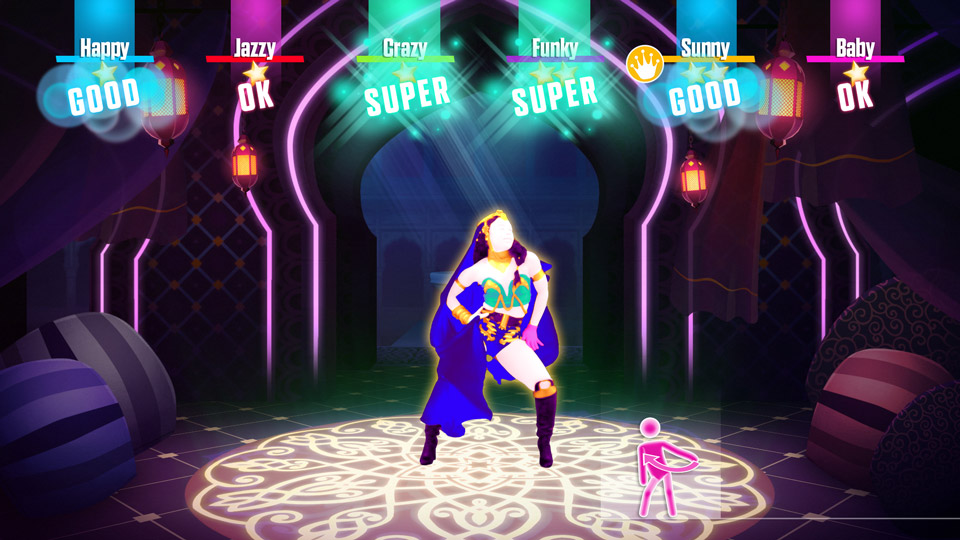 Did your artistic style fit naturally with Just Dance, or did you have to adapt it to the game?
CH: The nice thing about Just Dance is that there isn't just one style. Just look at all the maps in any game, and you'll see that they're all different. The backgrounds can be dramatically different from one another; in fact, we encourage difference. The only thing that unites them all is that they're colorful and dynamic.
I am a concept artist on Just Dance, but I worked as a 2D artist, color artist, and illustrator on other projects before my time at Ubisoft. The skills required are almost the same, but there are some differences, especially in the process. You still draw images, but not with the same goal, purpose, or technical constraints. You also don't use the same tools. These specializations helped me develop new skills, which is something that was really helpful on Just Dance, because the project has various art styles.
I am free to bring my own treatment to some maps, as long as it fits the art director's brief. For example, I was free to apply my art style for Naughty Girl, and the team was really happy with it. Sometimes, you can recognize which concept artist did a map, because of the choice of colors, the way the buildings are designed, or the treatment (painting, photobashing, or 3D). Other times, however, I'm asked to do something else, and I'm totally happy to do it. It's always a challenge to try something new, and I appreciate trying something I've never done before. You can't be bored working on Just Dance.
At what point did you decide you wanted to work in videogames?
CH: I've always loved to draw, and I always knew I wanted to work as an artist in entertainment, because I liked videogames and animated movies. But when I was young, videogame schools weren't very common, and people told me working on videogames was very difficult because there weren't that many places to study or work. I wanted to be careful, and so I started with a classic graphic-design art school where I studied illustration, photography, animation, and graphic design. I knew it was not the direct step to the job of my dreams in games, but it still related to it, and at the same time let me learn other skills just in case.
It was useful, but not specific enough for what I really wanted. That's why I was convinced, three years later, to attend Isart Digital, a videogame art school in Paris. It was interesting, because the program was half in school, and half working for a company, so I was actually able to earn a salary while in school. It was the best thing I could've done. The program really helped me realize I wanted to work in games, because it let me work in games.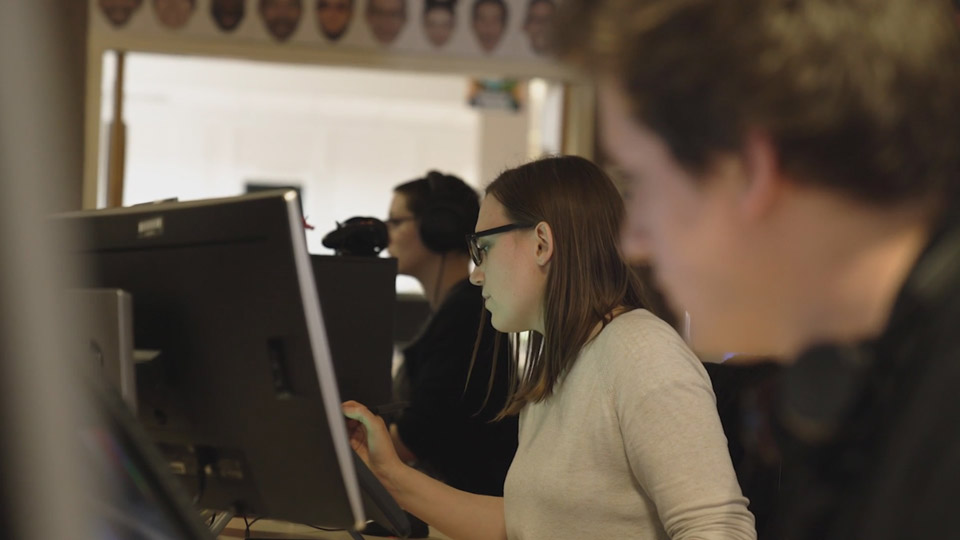 Have you noticed a gender disparity working on the concept art team for Just Dance?
CH: Just Dance is a bit special, because they are more women than men in our concept art team. I think art is a unique field, because there are as many men as there are women. There are certainly a lot of men in game development, but I've never really felt like there's been a gap in my field. I've always been respected as a woman in the art department and in the game industry. In fact, I don't think the question was even asked because everything went naturally. I don't know if I was lucky or if I didn't realize, because I know that is not always the case for everyone, even in art. There's still work to do, and I'm sure the gaps are bigger in other fields, but things are changing more and more all the time, so I'm sure the gaps will only shrink with time. That's something I like here at Ubisoft Paris, because I feel our teams are equally composed of women and men and people from different cultures. I think it's a real strength, and greatly aids in creativity.
Do you think it's important to have female role models?
CH: Yes, of course. A lot of my coworkers were wonderful inspirations for me. I learned a lot from coworkers who are older than me and had been around for longer than me.
When I was in my first art school, one of my female friends encouraged me to attend videogame art school along with her. That encouragement really helped me find what I wanted to do. Later, I too encouraged another female friend to go to the same school. Now, she's working on games and loves it. I'm really glad she did it, because she's a very talented person.
It's always a challenge to try something new, and I appreciate trying something I've never done before.
Is there a benefit in having wider representation in concept art?
CH: Absolutely. Not just women, but having people from different cultures is important, I think. They're able to bring new ideas and perspectives into art that can impact the game greatly later on. They're able to share their knowledge and experience, and it just might be the same experience as a player.
What's the best advice you've ever been given?
CH: As an artist, I was told to be curious. You have to see different possibilities; you can't just stay in your comfort zone. It's also important to be able to take feedback, it's one of the things they teach you in art school. The feedback forces you to learn, adapt, iterate, and get outside of your comfort zone, which is a huge part of working in art professionally.