In the vast open world of Ghost Recon Wildlands, danger lurks around every bend, and this weekend, you can confront that danger for free. From October 12 at 12:00am PDT through October 16 at 12:00am PDT*, you can download the full game for free and explore all that Ghost Recon Wildlands has to offer on PC, Xbox One**, and PS4** (PS4 players can pre-load on 10/10, PC players can pre-load on Uplay on 10/11). That means a gorgeous open world full of diverse ecosystems and thrilling missions for you to take on in single-player, or with a squad of up to four co-op players. That means a wide array of weapons, abilities, and vehicles that let you tackle each situation using whatever strategy you choose. And as of this week, that means the new Ghost War 4v4 team deathmatch mode.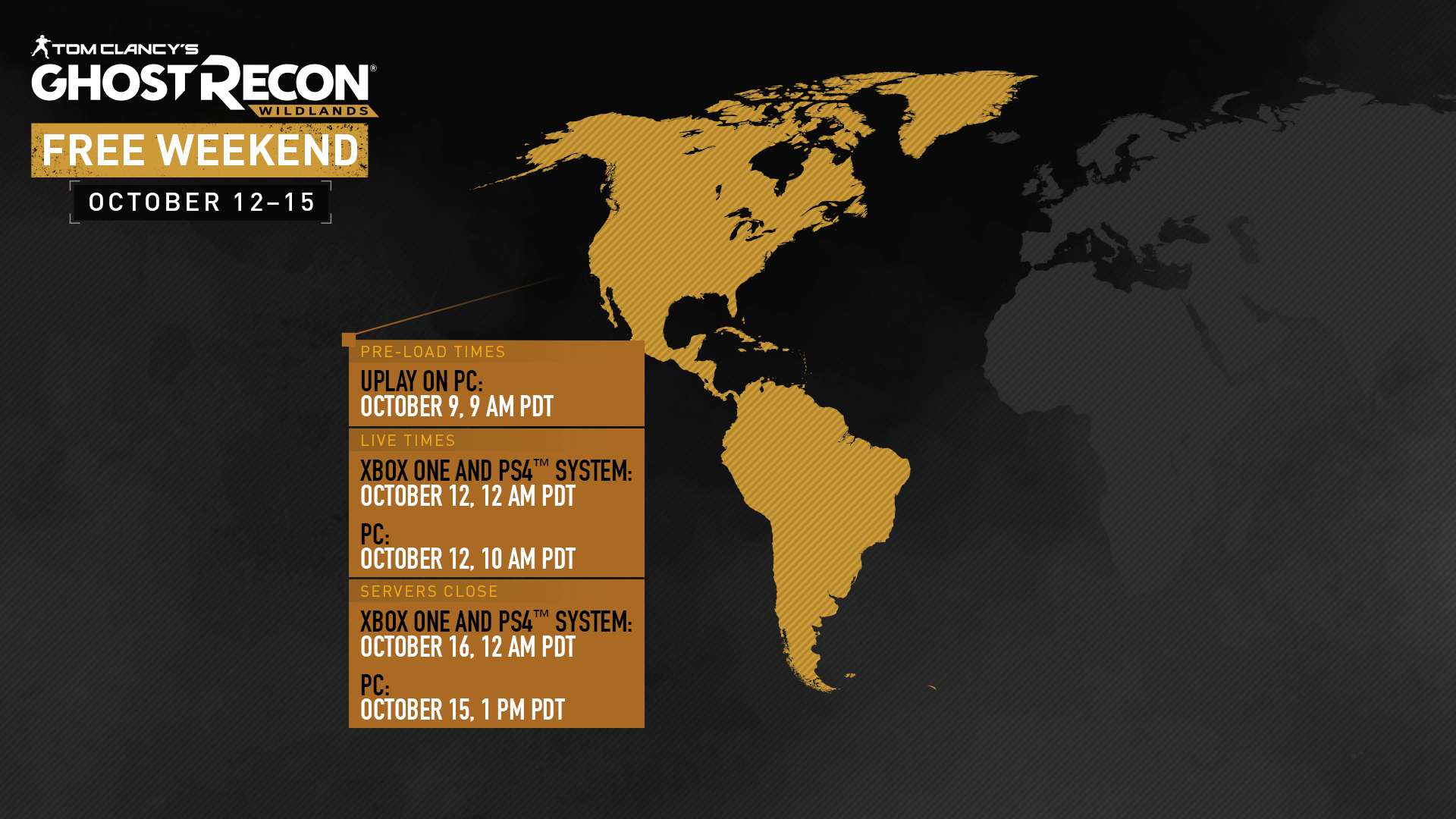 Released for free to all Ghost Recon Wildlands players, Ghost War is a brand new mode that brings a whole new challenge to the table. Players choose from among 12 distinct classes to create teams loaded for bear with powerful weapons, perks, and abilities. Using squad tactics and stealthy scouting techniques, they fight it out against a team of enemy players in intense multiplayer. Ghost War launches on October 10, and the development team will expand it in the months to come with new maps, new classes, and new modes.
If you want to stay in the fight after the free weekend ends, you can buy Ghost Recon Wildlands for 50% off from October 12-16 (sale continues for Uplay PC, PS4, and Xbox Live Gold members until October 23). Any progress you make during the free weekend will be carried over when you buy the full game, so you won't lose a step in your fight to take down Santa Blanca. Whether you're taking on missions solo, teaming up with friends to eliminate threats together, or facing off against other players in tactical deathmatches, playing Ghost Recon Wildlands is an excellent way to spend this weekend, and many more to come.
Ghost Recon Wildlands is available now for PS4, Xbox One, and PC. For more on the open world shooter, check out the official free weekend page or take a look at our previous coverage.
*Uplay/Steam hours are slightly different: 10/12 at 10:00am PDT to 10/15 at 1:00pm PDT
**Xbox Live Gold or PlayStation Plus membership required