Rainbow Six Siege's Six Invitational tournament kicks off in February, and while The Road to Six Invitational event offers players a way to celebrate in-game right now, fans can also gear up for the tournament in real life with an assortment of Six Siege merchandise from the Ubisoft Store. From jerseys and hoodies to prints and statues, there's all kinds of swag to help you show your love for your favorite teams and Operators. Hit the links above or below to start shopping, or take a look at some highlighted items below.
---
Six Siege Esport Pro Jersey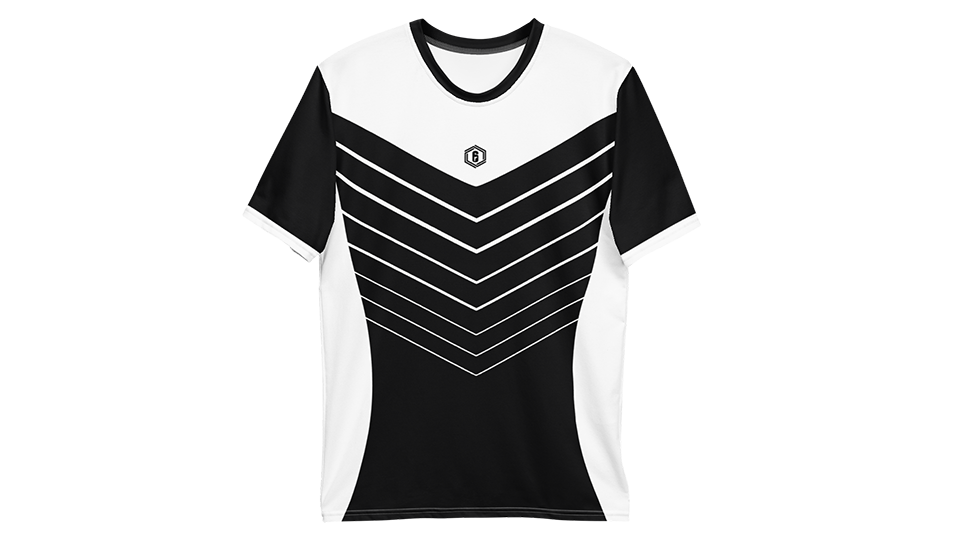 Do you have what it takes to stand among the best Siege players in the world? Have you mastered every Operator, honed your reflexes to razor-sharpness, and become fluent in tactical communication? No? Me neither, but we can still dress like the pros by sporting the distinctive black-and-white chevrons of this stretchy, premium knit jersey. (And if the answer to the above questions is "yes," well, consider this dressing for the job you want, not the job you have.)
Get it here.
---
Six Siege Esport Pro Hoodie
If, on the other hand, you're looking to achieve a more layered pro look (or just want something a little warmer than a t-shirt), the Pro Hoodie has you covered – literally – with a striking black-and-white design. It's comfy, too, with a brushed-fleece interior and a pocket pouch in front, ideal for warming your hands (or secretly wringing them in anticipation while you watch your favorite pro team edge closer to victory). Get it here.
---
Tachanka Elite Art
It's been a long road for Lord 'Chanka, but the formerly turret-bound superstar is now as formidable as his once-ironic reputation long implied. Celebrate his rise to battlefield dominance by adorning the wall above your weight bench with this musclebound masterpiece of buffness and tattoo-ness, available in five different sizes and four different print types. #goals. Get it here.
---
North American League T-shirt
Show the world that you support the best players from the US and Canada by proudly displaying the emblem of the North American League. Combining the US Division's red-and-blue star with the Canada Division's stylized maple leaf, this cotton t-shirt is a blazing beacon of regional unity in white, navy, black, gray (US), or grey (Canada). Get it here.
---
Dokkaebi Face Mask
Much like the fake glasses she wears, Grace "Dokkaebi" Nam's cute logo hides her true ferocity in the field. And by wearing this facemask, you too can hide your true nature from the world while warning other Siege fans that you could unleash a Logic Bomb of your own at any time. (By which we mean, like, a well-reasoned argument, not launch a devastating hack.) Not intended to act as a medical device or replacement for approved personal protective equipment, but real good at stretching to fit any size of face. Get it here.
---
Pro Fanny Pack
Backpacks? Big and bulky. Pockets? Way too shallow for all the stuff you want to carry. Split the difference with a discreet, waist-hugging Six Siege Pro Fanny Pack, which features an inside pocket to keep valuables close at hand. The pack can also easily be hidden under a shirt or jacket, removing the need to fill your pockets with keys, a wallet, or other character-inappropriate items while cosplaying. Get it here.
---
Hibana Statue
Everyone needs a hobby, and Yumiko "Hibana" Imagawa's hobby is Kyūdō, or Japanese archery. Measuring 27 inches (68.6 cm) from its base to the top of Hibana's bow, this statue is a striking depiction of the hatch-slaying Attacker in her Elite Skin. What's more, the lantern lights up with working LEDs, and if you want to see Hibana wield something with a little more thunder than a bow, she can also hold her X-KAIROS launcher and one of its disc-like pellets. The Hibana Legendary Figurine is limited to 999 units and will ship in Q3 2021, so don't sleep on this one. Get it here.
---
Hibana Badge Raglan Shirt
The statue has a lot of things going for it, but it won't keep you warm on a cool, sunny day. Enter this two-tone baseball shirt, which proudly features a shattered version of Hibana's emblem (an X-KAIROS pellet, what else?), letting your friends know you're ready to burn some holes through some walls. Available in three distinctive color schemes to suit any aesthetic (so long as said aesthetic includes raglan shirts). Get it here.
---
Rainbow Six Siege is available now for PC at the Ubisoft Store. It is also included with a Ubisoft+ subscription. For more on the game, including details on this year's The Road to Six Invitational event, check out our previous coverage.
Follow the Ubisoft Store on Facebook, Twitter and Instagram to stay updated on current promos, new deals, merch and more about your favorite Ubisoft franchises!