The next free update for Ghost Recon Wildlands is headed to PS4, Xbox One, and PC on June 28, and it's bringing a new way to play: Tier 1 mode, which introduces new levels of difficulty and bigger challenges for players who've reached level 30. Once you activate it, Tier 1 introduces a new XP bar, which you can fill with Tier points by completing missions and taking on solo Live Season Challenges.
As you fill it, your Tier – visible to all players, next to your player name – will gradually progress from Tier 50 to Tier 1, unlocking new rewards every five Tiers. With each promotion comes a rise in difficulty –your enemies will grow smarter, tougher, and more alert. To help you survive, you'll be able to upgrade your weapon damage through 30 different levels with loot you find in the field, earn through Live Season Challenges, or accumulate through the free companion app's Guerrilla Mode.
You can still partner with other players online regardless of your Tier or theirs, but the difficulty will adjust to the party's average Tier level (even if some players haven't activated the mode), ensuring a balanced challenge for the group. Also, if you find that you miss playing without Tiers, you can deactivate and reactivate the mode without losing any progress – and if you hit a Tier that feels like just the right level of difficulty, you can choose to stay there.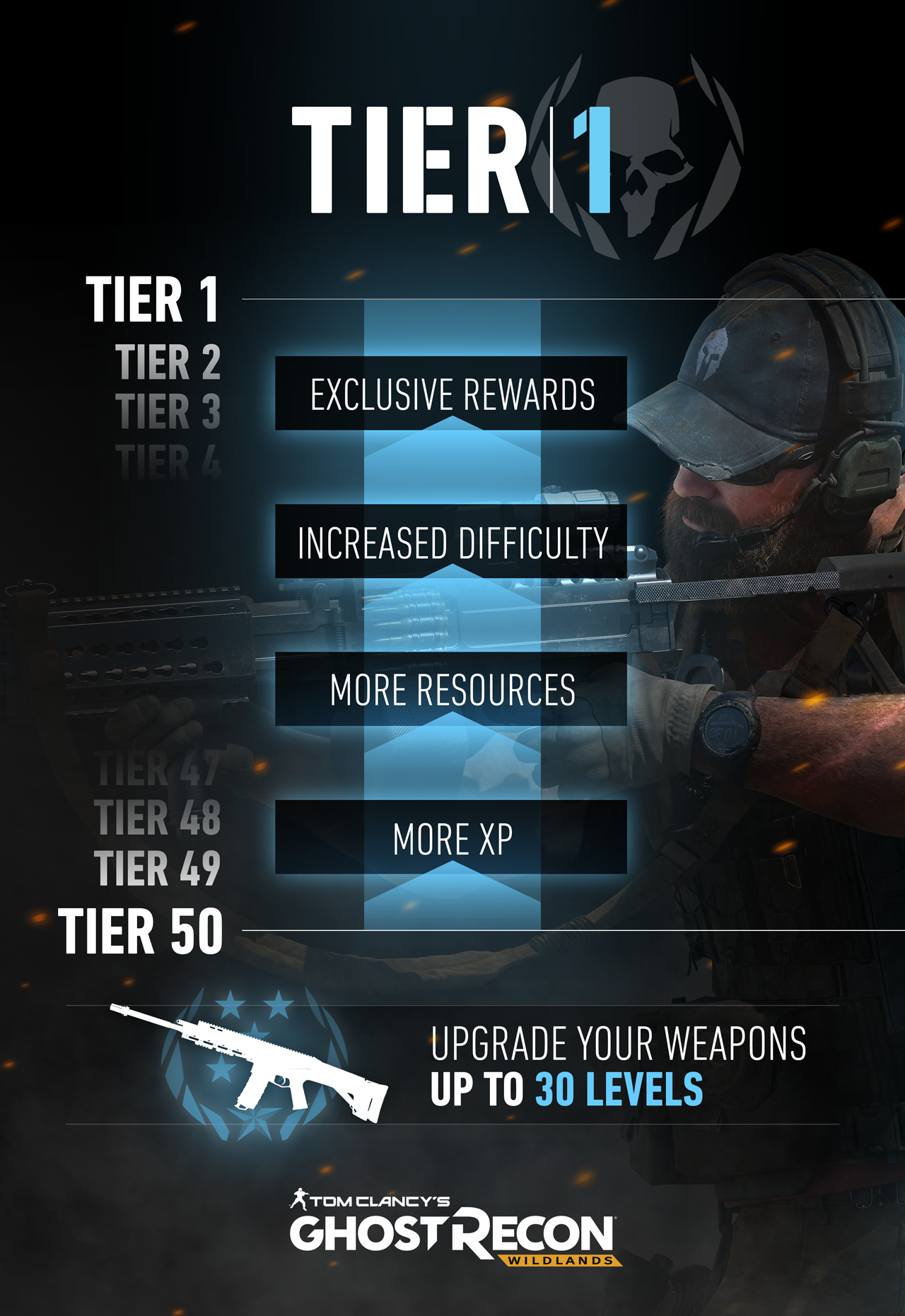 Tier 1 isn't the only new addition coming in Title Update 5, which also introduces new challenges and rewards with season two of the Live Season Challenges. The update also brings a host of tweaks and fixes, including the eradication of bugs that caused follower icons to disappear from the minimap, or alarmed enemies when you used the Whisper pistol or the crossbow. For more, check out the official Ghost Recon site.
Ghost Recon Wildlands is available now on Xbox One, PS4, and PC.