When Ubisoft Singapore opened its doors in 2008, it set a vision to be a world class studio, and in the intervening years it played an important role in several major titles, including Ghost Recon Online and every Assassin's Creed game since Assassin's Creed II. Today, it is the largest AAA studio in Southeast Asia. Ubisoft Singapore has been responsible for the innovations in naval gameplay and combat featured in Assassin's Creed Black Flag, which led to the development of a brand-new franchise centered on the pirate fantasy: Skull and Bones. However, it wasn't always fair sailing; creating a new game from scratch is both exciting and challenging, and the studio has been focused on building an environment in which all teams can thrive.
Darryl Long, the managing director (MD) at Ubisoft Singapore spoke with Ubisoft News to provide insights on how the studio tackled these challenges, invested in their culture, and built a long-term vision that empowers employees to make excellent games.
What was the culture of Ubisoft Singapore when you arrived?
Darryl Long: I started in Singapore in January 2021, coming from Ubisoft Winnipeg, where I was the MD. I was new to Singapore, and to the studio; knowing that, my first job was to listen. So, I hosted a bunch of listening sessions, workshops, and Ask Me Anythings (AMAs). I met with more than 150 people over the course of a couple months to hear their views, talk about what the studio's strengths were, and how we could improve.
From my discussions with the teams, I had two main takeaways: the first was that it was a wonderfully creative and talented studio who was counting on me to be open and listen. There were rumors about our projects and workplace, and teams were looking for more visibility. So, I got in front of the studio at a town hall and said, "Listen, we've heard you, and we're going to share where we're at."
For example, some teams had questions about salary equity. To be as transparent as possible, we worked closely with the global HR team and hired an independent third-party consultant to come in, do a scientific analysis, and then share their findings with the full studio, which showed that teams were being paid fairly and equitably.
The second takeaway was that teams really cared about their work and wanted to have a bigger say in our strategy. So, we crowd-sourced our strategy with our teams, working collaboratively together to maximize our strengths and ensure we had a common vision and ambition. We share the strategy transparently with everyone in the studio, and I present it myself to every newcomer on the team. We regularly check in with the team to see how we're progressing on our objectives, and that's given us all a strong sense of alignment.
How has Ubisoft Singapore been investing in creating an inclusive and supportive work culture? What changes has it made?
DL: From the beginning, it was very clear that Diversity, Inclusion, and Accessibility (DIA) were going to be a core part of my leadership. Video games are fun, and making them should be fun too. That's why one of our studio pillars is that we are a fun and caring team. It's about respect, being inclusive, supporting each other, and generating a positive work environment where we can attract and retain people from all backgrounds, where they feel supported and empowered to take creative risks.
There's been a lot of investment in nurturing that environment over the last year and a half. We recently onboarded a talented new HR Director, Desiree Tan, who will continue to strengthen our local HR team. We also partner closely with the global DIA team, and are looking forward to the recruitment of a new person in their team who is specialized in the Asia Pacific region.
We're continually improving, and we've revamped our employee listening program to ensure our team's feedback and insight is driving our strategy and action plan. Part of this work includes Ubisoft XP, our annual global employee survey, which includes questions about diversity, inclusion and how we are building a safe, supportive and respectful workplace. As a part of our listening program, we'll also soon launch a more regular Pulse survey, which will help managers to ensure their teams are feeling happy, engaged and supported in their day-to-day. For all surveys, we share the results openly with the studio, and the insights teams offer help to fuel our strategy and action plan.
As a part of our work to ensure we're attracting diverse talents to our studio, we honed in on our commitment to welcome more women into our industry and studio. That kicked off a lot of things, like the Singapore Women in Tech pledge, which is an initiative to support women in their careers and help them advance more quickly. One of the internal programs that then came out of that was what we call Power Up, which is a targeted series of trainings and workshops to support women and help them develop more quickly in their careers and become the leaders of the future.
When building our teams, we also take care to make sure our recruitment process is promoting diversity. We are intentional about widening the pipeline of talent and make sure to bring in at least three or four candidates for every job posting. This gives us an opportunity to meet candidates that might not have the most obvious resume, but do have the most talent and potential for that role. The other thing we've done is create more diverse hiring panels, so the people interviewing candidates reflected the diversity of our studio as well. Their insight has a big impact on the hiring decisions we make.
When it comes to creating a caring and supportive environment, employee resource groups (ERGs) also have an important role to play. We're currently rolling out our local chapter of the UbiProud ERG, called Rainbow Kueh: the name is a play on words with a local multi-layered cake. We just celebrated Pride Month, and I'm proud to see the initiatives our team has brought to life. It shows me that this is an opportunity for Ubisoft to be a leader in the region.
Then, to help ensure we're creating an inclusive work environment that supports the well-being of all our teams, we're working to build a more flexible work environment. We've put in place flex hours, flex work from studio or home, and other options to help people find the right work-life balance for them in the industry.
All of that is supported by what we call Kudos, a program to acknowledge the great initiatives in the studio, and people that are making a difference. People can nominate each other for what we call The Pillars Awards, to highlight folks who exemplify the studio pillars and values. We also have the Kudos long-service awards to recognize team members who have contributed to our studio over the years. It's about building a culture of recognition where we are all supporting each other.
Has the team been open to these changes?
DL: The team has been very open to these opportunities and even extending the culture beyond the walls of Ubisoft. We have an ambassadorship program, and it's been rewarding to see people signing up to promote Ubisoft Singapore and our industry as a great place to work.  For example, we have a lot of people who participate in programs at local schools, universities, or polytechnic schools, and they'll go and do a talk or contribute to a program and lend Ubisoft's expertise to the schools. There's been a lot of recognition of their efforts, and we've been happy to see two employees listed among the top 100 Women in Tech for Singapore over the past two years. It's one of the ways we're supporting our local community and taking a leadership role in Singapore, the Southeast Asia region and our greater industry.
Working on an entirely new game like Skull and Bones is an enormous opportunity and challenge. How does Ubisoft Singapore support the teams to do their best work?
DL: One of the awesome initiatives that's come out of that is the studio game jam. We will let people form teams, get together for a few days to build their own really quick indie game, and then we'll celebrate those games at the studio during our meetings. What better way to generate new ideas in the studio? In addition to creating an inclusive, respectful, supportive work environment, we're also put a big focus on encouraging creativity. One of the initiatives we do at the studio is called Open Innovation, which is a program to give people the freedom to pitch a game and get their idea out there. It's a forum for people to contribute their own ideas - and much like how the Kudos program has started to spill over into everything that we do, Open Innovation is also starting to percolate through our day-to-day.
These kinds of initiatives help the team to continually grow. Nearly half of this year's pitch ideas came from junior and mid-level employees, and it has turned into coaching opportunities, mentoring to help more junior developers advance more quickly, training programs that foster creativity and hard skills development.
What is the long-term vision for Ubisoft Singapore?
DL: We first built our shared strategy a year and a half ago, but we've continued to evolve with the input of our studio leaders and the people making the games. We want to be ambitious, and we want to make games that reflect the unique approach and perspectives of our teams in the Southeast Asia region.
The vision we developed is to reach every player in the world, from the little red dot. The little red dot is a very Singaporean reference; there is a joke that the red dot on the map to mark Singapore is actually bigger than the island itself. The Singapore government took that and said "You know what? We're going to own it. We're the little red dot, but we're the little red dot that stands proudly on the global stage." And that's our studio ambition as well. We're a leading studio in Southeast Asia that reflects the unique perspectives of our teams in the region, bringing original gameplay and style. We will make innovative AAA games that sell across the world and leverage the reach of Ubisoft to bring something truly original to players.
We have the opportunity to reach so many players with our games, with something new and fresh. Of course, we're looking forward to releasing Skull and Bones and supporting the game into the future. That's been such a big part of our studio, and we'll continue to enrich it. It's a live-service game - the idea is that you can keep playing this game for five to 10 years, and that's what we hope players will do.
Pivoting to the game, what challenges has Skull and Bones faced over its years in development?
DL: This studio has learned firsthand over the last, uh, several years (laughs) that building an entirely new game is one of the biggest challenges in the games industry. You have to build a new recipe - there's no model to follow, there's not a set playbook. It's really finding the solutions yourself the hard way, through iterating and testing and trying things out. It's a very ambitious vision that Skull and Bones has, right? It's a new game that takes elements from many different game genres, and puts them together in a new way where players are really telling their own story in the world that we've built. And that's extremely hard to do.
While Skull and Bones has been in development for several years, it went through many iterations before coming to its final form. As we were trying to find our new formula, tech also evolved during the development, along with the videogame market and the preferences of players. As game developers we needed to constantly adapt to those changes and when we saw the power of the new consoles, we knew we had a great tool to help us realize our vision.
I'm very proud of the dedication the team has shown, especially over the last few years with COVID. We're finally getting there, and we're making an exciting, totally new game. It's a massive accomplishment.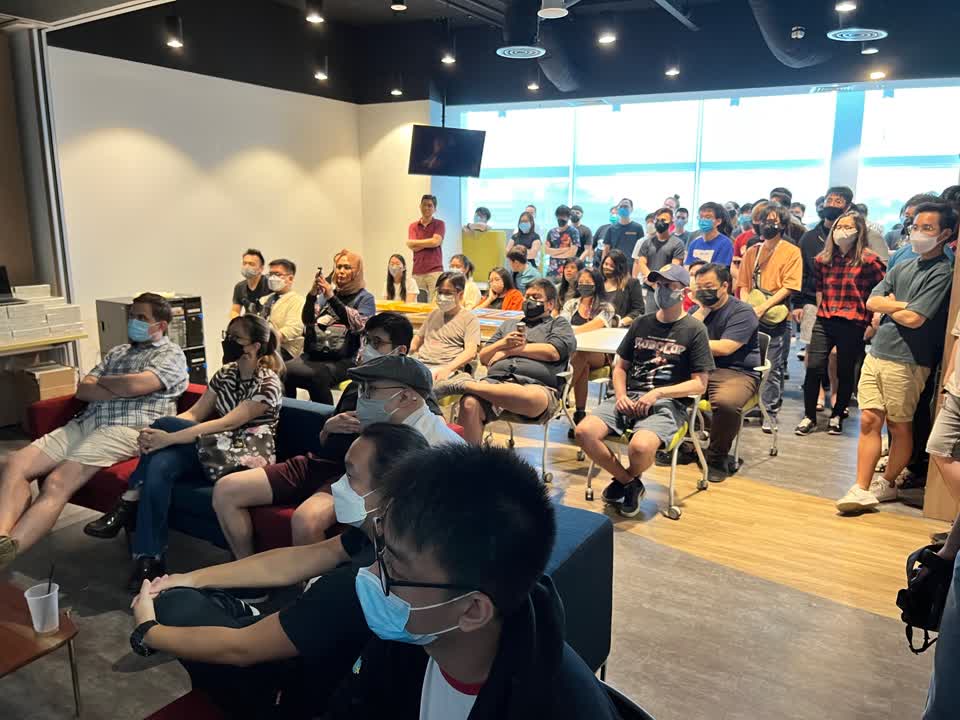 How do you know when the game is done? How do you know that those ingredients have all finally come together in a perfect way?
DL: Our fans tell us. We're doing playtests all the time, but we've taken it a step further on Skull and Bones. We have something called the Insider Program, and that's where we enlist people from the community, people that we know are passionate about games, or fans who have engaged with us in the past. And we let them play the game. It's a small group now, but it's growing all the time. They're giving us very clear and very honest feedback about the game we're making, and of course we take that and keep improving.
What do you hope players will take away from Skull and Bones?
DL: In every game we make, we aim to enrich players' lives, and there are some important lessons in Skull and Bones itself. The game is inspired by events in the Indian Ocean at the end of the 17th century, which they call the Golden Age of Piracy. And it's a cutthroat time, a cutthroat place. People from all over the world were going to the Indian Ocean in search of riches. They were looking to escape difficult economic situations or make a name for themselves.
We're taking that experience of starting from scratch, and making it into a survival-inspired game - it's really do or die. You start with nothing, and you need to work your way up to become an infamous pirate. It's about finding your own path and telling your own story. The players will have agency to tell their unique story in this world, and it'll be their success when they become an infamous pirate.
How do you plan to support Skull and Bones into the future?
DL: We have a really ambitious Live plan, and this reflects the studio's ambition to be a leading developer of AAA games as a service. We're going to try a lot of things on Skull and Bones, and we're looking forward to regularly releasing new content; new features. We've built a game experience that's extremely expandable, and our backlog is miles long. Each season will introduce something new that will enhance the experience.
We're also fortunate to learn from the best, such as the other live-service Ubisoft games. And of course, throughout this journey we'll listen to players to make sure we're delivering the content and features that matter the most to them.
What legacy to do you hope that Ubisoft Singapore will have?
DL: I believe our legacy will be building a caring, creative studio that brings a new type of game to players, and it will be AAA games inspired by our talented teams in the Southeast Asia region. We have all the ingredients here in Singapore to deliver on these ambitions, and I can't wait to see what the future holds for us.
---
For more about Ubisoft's culture, read about the DIA team's plans for the future, the newly launched Ubisoft RADAR program, or the seventh season of the Ubisoft Entrepreneurs Lab. You can also learn more about Ubisoft's Asian & Pacific Islander, Salaam, and Neurodiverse ERGs.