This year's Six Invitational Showmatch premieres February 18 on Twitch, featuring well-known content creators from the Rainbow Six Siege community. The European team, including FastAnne, JostRekt, Caramelo, Z1ronic, and JerichoFive, will face off against the American team composed of YoBoyRoy, MacieJay, KingGeorge, VarsityGaming, and PacoMGShark. They will be competing to raise awareness for SpecialEffect, a UK-based charity that helps people with physical disabilities to play games.
"Our community is full of diverse players, and it's a priority for us to work toward ensuring as many players as possible can play our game," says Wei Yue, Director, Esports. "We're thrilled to host this Showmatch in support of SpecialEffect as they work to transform the lives of physically disabled people through the use of innovative technology, and we will be donating $50,000 USD to their cause."
We spoke with Mark Saville from SpecialEffect's Communications Team to learn more about how they are helping gaming become more accessible.
What is SpecialEffect and what is its mission?
Mark Saville: Our mission is all about inclusion. We're a UK-based charity that brings fun and inclusion into the lives of people with physical disabilities by helping them to play videogames. There's no one-size-fits-all way of doing this, so our team of occupational therapists and gaming specialists creates bespoke control setups for hundreds of individuals each year, while our R&D team uses what we learn to develop freely available resources and solutions to help level the playing field for gamers with physical challenges all over the world.
Can you give us examples of how your team helps people with physical challenges to play games?
MS: Our specialist assessment teams spend as much time with each individual as is needed. Everyone's different, so we take care to match up the right pieces of equipment to suit someone's physical needs as well as their personal goals in terms of which types of games they'd like to be able to play. The trickiest setups involve a mashup of all different types of access – eye control, switches, voice control – and it's crucial to ensure that they all work together seamlessly, reliably, and comfortably within the person's environment.
Take Rebecca. Her dystonia Parkinsonism means that controlling her fingers to master a standard gaming controller is very difficult and tiring. Our team worked with her to find out which combination of adapted gaming equipment might let her make the most of her abilities, and as a result she was sent the loan of a large joystick and a careful selection of hand- and foot-controlled button switches, along with an additional later loan of a chin-controlled joystick. The team also wrote some custom code for one of her adaptors to address a few game-specific access issues, and her whole setup is complemented by suitable mounting equipment and advice about accessibility settings for individual games.
We also recognize that people's abilities may change over time, so we offer lifelong support for everyone we help. There are some people we've been working with for nearly a decade now: gamers like Paul, whose high spinal injury in 2013 left him with virtually no finger movement and very limited arm movement. The loss of his FPS camaraderie and competitiveness was particularly felt by his brother. Our team have worked with him over the years to give advice and make vital ongoing changes to an accessible gaming setup they first created eight years ago, and the great news is that now he's able to compete online with his brothers and friends again.
The benefits of levelling the playing field like this are so wide-ranging. Games offer a fantastic opportunity for the people we help to participate as equals in rich competitive gaming environments and social communities, and every day it's really exciting to see huge boosts in independence, self-esteem, confidence, achievement, an opportunity for people to demonstrate to others the best of themselves… the list goes on.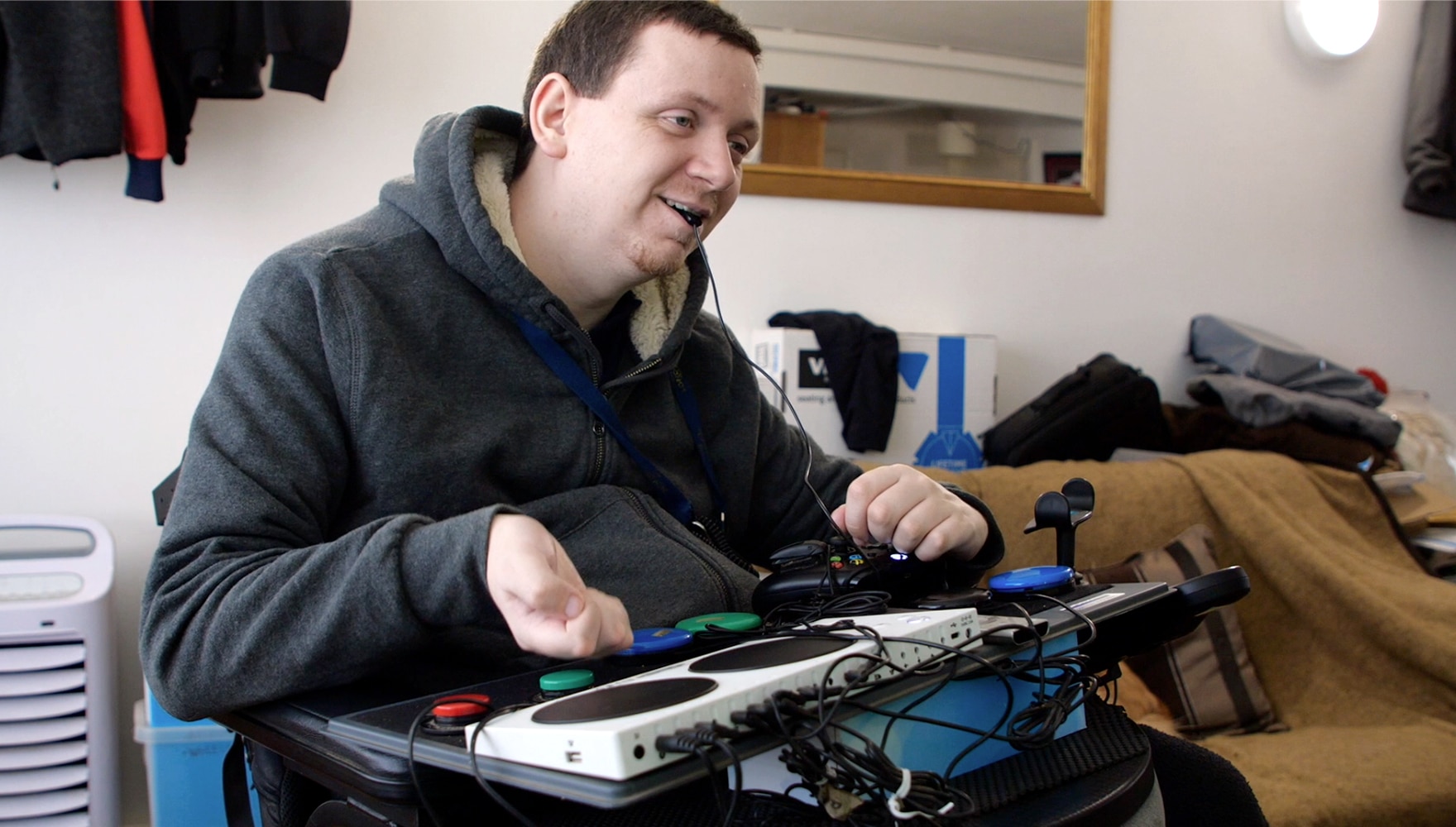 Your R&D team develops free resources for gamers with physical challenges. Can you tell us more about these resources?
MS: We believe it's really important to share what we learn with as many people as possible. A feature or solution that's worked with just one person we've helped might benefit thousands with similar access needs worldwide. To that end, we're continually adding to the huge amount of information about games, equipment, and software for physically disabled players on our gameaccess.info website. We've also developed groundbreaking resources like EyeMine, our free eye-control-optimized software that, when paired with a suitable eye tracker, enables Minecraft to be played without a keyboard or a mouse.
How has SpecialEffect helped game developers to make gaming more accessible?
MS: We've had the privilege of being involved in many exciting collaborations in both hardware and software accessibility: working with EA Sports on making games like FIFA more accessible, with Microsoft on creating the Xbox Adaptive Controller, and Logitech on the Adaptive Switch Kit, to name a few. The big news here is the recent release of our SpecialEffect DevKit, which complements this area of our support. It's a free video-based online resource that shines a spotlight on motor accessibility within game design, offering practical ideas and examples for developers looking to make their games more inclusive to players with physical challenges. We've been blown away by the positive reaction it's received so far.
Beyond gaming, what other ways do you use technology to help people with disabilities?
MS: Our mission of inclusion extends beyond gaming, whether that's by using eye-gaze technology to bring communication, independence, and hope for people in intensive care units with a severe injury or illness (our StarGaze project), or by using telepresent robots to reconnect medically isolated children with their education and friends (our BubbleBusters project).
As an example, Steve's life was turned upside-down last year when Guillain-Barré syndrome suddenly left him in intensive care on a ventilator with very limited movements in all four limbs. His independence was gone and he was left facing the isolation and uncertainty of many long months of rehabilitation, so the hospital called in our specialist StarGaze team to assess his needs and abilities. As a result, he was able to use a computer with head and foot switches to access online entertainment and reading.
Whatever we do, we're committed to making life better for the people that need us, for as long as possible.
How can people help support SpecialEffect?
MS: We charge nothing at all to the people we help, and we receive no statutory funding, so our work is entirely dependent on fundraising. We've been humbled by the generosity of the gaming industry and the gaming community for providing a huge slice of that support over the years, and it's why we're so very grateful for the continuing support of Ubisoft through the amazing donation from the Six Invitational. The funds are going to make a massive difference to so many gamers with disabilities around the world!
Just around the corner is our GameBlast weekend on February 25-27, where we invite everyone involved in gaming to organize their own sponsored gaming streams, events, or fundraisers. It's so inspiring to see hundreds of gamers taking part as individuals, friends, communities, and companies, simply doing what they love to bring the magic of games into the lives of people with disabilities. Bring it on!
Learn more about SpecialEffect and donate to their cause at https://www.specialeffect.org.uk/. Watch the Six Invitational 2022 Showmatch tomorrow on the official Rainbow Six Siege Twitch channel.