Operation Commanding Force is kicking off Year 8 of Rainbow Six Siege, bringing a new Attacker named Brava whose Kludge drone can hack the Defenders' electronic gadgets to destroy them or switch their allegiance. The first season of the new year is also bringing a reload rework, an anti-cheat feature custom-built for catching mouse-and-keyboard players on console, and beginner challenges to help players learn the fundamentals of Siege. Brava will be available at season launch through the premium track of the Operation Commanding Force Battle Pass and unlockable two weeks later with Renown or R6 credits. And starting on February 20, the Year 8 Pass be available, offering a discounted price for all four seasonal battle passes throughout Year 8 and benefits including a store discount, faster battle pass progression, and more.  
New Operator Loadout
Brava hails from Brazil and joins the Attackers as part of the Viperstrike squad, the high-performance, jack-of-all trades crew led by Hibana. She is armed with the PARA-308 assault rifle and hard-hitting CAMRS marksman rifle as her primary options, and the USP40 Pistol and Super Shorty as her sidearms. She can also bring along smoke grenades or a claymore, but what sets her apart is her unique gadget.
The Kludge Drone
Some drones are used for scouting, others can be used for destruction; Brava's drone is used for thievery. The Kludge drone is able to hack enemy electronic gadgets from a distance, and a successful hack will do one of two things: it will either destroy the gadgets (like Thunderbird's Kóna Stations or Bandit's batteries) or it will change their allegiance. The results of this change can be as simple as giving the Attackers access to default camera or toggling a Kapkan trap to explode when a Defender runs through it, or they can be more complex, like giving Brava control of (and her teammates access to the camera feed of) Echo's Yokai drone or Maestro's Evil Eye turret. Whether simple or complex, the results of Brava's hacks are disruptive and potentially deadly.
The Kludge drone can initiate hacks from a fair distance, and once it starts a hack, it only needs to stay in range of the target until the hack completes; this means it can safely scoot behind cover or through a drone hole to better avoid detection. Which is helpful, because the Kludge drone is big, as drones go, and wary Defenders will be eager to shoot it on sight. Speaking of sight, Defenders and Attackers alike will want to pay extra attention to the color of the light on any given electronic gadget; noting the current allegiance of the gadget will determine whether getting spotted by a bulletproof camera is cause for alarm, or whether you're going to feel a painful zap walking through Aruni's Surya Gates.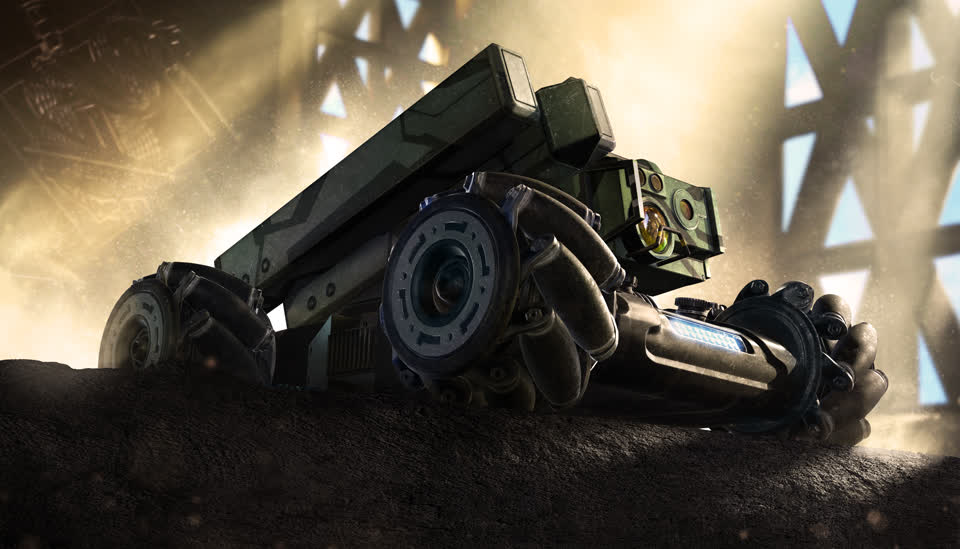 There are a few Defenders who can counter Brava's shenanigans, one of whom is Mute, whose electronic jammers will freeze the Kludge drone in its tracks, providing the drone doesn't have line-of-sight to hack them first. Solis is also adept at using her SPEC-IO Electro-Sensor to spot not just the Kludge drone, but also Brava's location when she is piloting it, which could get very dangerous for Brava. For a next-level counter, however, Defenders will want to enlist Mozzie. His Pests can capture Brava's Kludge drone, giving the Defenders the ability to hack Attacker electronic gadgets. Nomad's Airjabs and even the humble claymore make very appealing targets for giving Brava and the Attackers a taste of their own medicine.
Free Operation Commanding Force Updates
A bunch of free updates are coming to all players at the launch of the new season. Firstly, the reload rework will mean that once you've started the reload animation to remove the magazine from the weapon, you will only have access to the single remaining bullet in the chamber of the weapon until you complete the animation and insert a new magazine. (Currently, you can cancel the reload animation and still have access to however many rounds you had left in the magazine). This will make reloading a more vulnerable time for Operators, or a more advantageous one if it happens to be your opponents reloading.
A balancing update for Zero gives him more flexibility on how to deploy his Argus cameras. Currently, the cameras automatically pierce through a destructible or reinforced surface when deployed; with the new update, Zero will be able to choose when to trigger the piercing action, giving him more control over when to peek through and potentially alert Defenders on the other side. Note that while other Attackers will be able to switch which side the camera is looking at, only Zero can decide when to pierce the wall.
Further updates include buffs for the muzzle brake and compensator attachments, new anti-toxicity measures, and, as mentioned above, a new anti-cheat measure that targets the use of mouse and keyboard when playing on consoles.
You can read all about the full slate of updates on the official Rainbow Six Siege website. Take a look at the WWE superstar-inspired cosmetic bundles recently added to the game, and check out our Rainbow Six Siege news hub.