Ubisoft's Photomode contest, which will lead to a global exhibition that gives players the chance to show off their in-game photography skills and showcase Ubisoft's worlds, kicked off on September 10. Participants can submit their work on Twitter or Instagram by tagging it #UbisoftPhotomode, and can enter one of seven categories, each with their own unique hashtag: portrait (#portrait), outdoor/wildlife (#outdoor), narrative (#storytelling), still object/architecture (#design), experimental (#experimental), motion/sport (#action), and "out of category" (#outofcategory). Winners will earn a spot in Ubisoft's in-person exhibition in New York, along with an MSI Raider laptop and a fine-art print of their photo.
Photomode, along with other methods of in-game photography, may be a new medium, but it's a fast-growing one, and a popular way for players to show off their artistic skills in the games they love. Some have even been able to make a career out of it. Kent Sheely, a digital artist who makes art from and about videogames, and Pascal Greco, a self-taught filmmaker and photographer, are two of the four judges for Ubisoft's Photomode contest. They spoke with Ubisoft News to share their insights on what makes a great in-game photo, and what players can do to make their submissions shine.
Understanding the Medium
In order to create a truly great photomode capture, it's important to understand it as an art form, particularly how it relates to traditional photography, and how it differs. "The best screenshots are one of two things: Either they adhere to the rules of traditional photography, or they completely deviate," says Sheely. "When you're getting started, I think it's easier to pay attention to the rules of photography - you know, composition, exposure, field of view, those kinds of things - and once you get a grasp of that, you can start breaking the rules a bit."
Cameras have evolved a great deal over the years; where photographers used to have one chance to get the perfect shot, they can now control shutter speed, basic color grading, aperture, and more. Most photomodes also offer those options, giving players the ability to set up ideal settings for the shot they want to create and eliminating the need to edit a photo after it's been taken - a good thing, because one of the contest rules is that submissions can only be made with tools available in photomode, and can't be edited in any way after the photos are taken.
Lighting is also key to creating a good and powerful photo, and can help shape the tone of the image. "Modern games especially have day/night cycles," says Sheely, "Sometimes you'll want to wait for the sunset to get that perfect shot." Fortunately, photomode allows players to literally freeze time while experimenting with different filters and angles, without running the risk of missing the light.
For those not already familiar with the traditional rules of photography, Greco doesn't think there's a need for worry. "I'm kind of the opposite of what Kent is describing; I didn't know the rules when I started photography, and honestly, I didn't really learn about [them]," says Greco. "It's more risky if you don't know the rules, but I think photomode is a good tool for people who want to learn photography and experiment."
You can also learn what works in photography by studying the work of others as well, according to Greco. When he started, he had to seek out books, either from a store or a library. Now, with the advent of technology and online galleries and tutorials, it's much easier to study other photographs and learn what you find inspiring and what style you want to have. Sheely agrees, elaborating that joining a community of like-minded individuals who can give you feedback and help you hone your skills is huge for budding photographers.
Where photomode deviates the most from traditional photography is in its ability to "break the laws of physics," as Sheely describes it. It's possible to move the in-game camera to capture angles that would be awkward or impossible in real life. "Sometimes, you can even take [the camera] through the geometry of the game and make glitches, which is one thing I really like doing," continued Sheely.
Greco agrees, to an extent. "When you're walking, you can't go higher than where your arms can reach," he says. "Shooting in photomode is exciting because it's new, and you can go wherever you want, when it's not possible to do in reality." However, Greco cautions that players should practice extensively, as moving the controls is not nearly as intuitive as moving the human body, and takes a bit of practice to make it feel natural.
Optimize Your Settings
One easy and tangible thing a player can do to make sure their photo has the highest quality has nothing to do with photography at all. Instead, it's about optimizing their equipment, whether PC or console, so the images have the highest resolution possible. "Bump up the graphics as much as you can, even if it affects the frame rate," advises Sheely, "Just capture it in the largest size, with the best level of detail." Many games with photomode also have an option in their settings that allows players to save an uncompressed PNG copy instead of a compressed JPEG. Depending on the title and platform, this can be done in the photomode settings, in the system's built-in capture settings, or by saving an offline version of the photo.
Additionally, contestants hoping to win the Photomode competition should shoot with anti-aliasing effects enabled, which help smooth otherwise jagged lines on curves in images and create a more realistic product. "You want that to be as crisp as possible, especially if it's going to be printed later," says Sheely.
These advanced graphics settings are typically found on gaming PCs and new-gen consoles like the PS5 and Xbox Series X|S, but Greco doesn't think only those playing with the latest and most expensive technology have a shot at winning. "If people have a PS4, great! Do the photomode in HD, that's no problem. We can still see the level of technique or the quality of the picture."
Practice Makes Perfect
To create the perfect photomode photo, Sheely and Greco agree on one method: Practice. Unlike film cameras, there is no limit to the number of pictures that can be taken in photomode. Capturing a bad photo wastes nothing except the second it takes to delete it. Additionally, getting it wrong can help a player get a feel for what they want to do, leading them to create or better define their artistic voice. Greco thinks making mistakes is an important part of the learning process, and can even lead to amazing photos.
"You'll have an idea of the picture you want to take, but the great thing about these tools is that you can test them out without risk. It's part of the experimentation process, and I think you need to do the wrong thing," he says. "Sometimes, when we do the wrong thing, there is a beautiful result."
Taking multiple photos of the same moment can also help players find the perfect, winning entry. "I shoot a lot of frames in a short amount of time, and I spend a lot of time going through them and organizing them," explains Sheely. "After I've taken a number of pictures of a thing and gone through them, I'll get a feel for where I want to go from there." As players are taking photos, they should always be trying to capture an entire story in a moment, presenting an image that has a theme. Developing that instinct takes time and practice.
Repetition can also help photographers avoid pitfalls of overediting their work. It can be tempting, especially for new photographers, to oversaturate or underexpose their shots; while those effects can have a place in helping to tell the story of a photo, too much can detract from what the artist is trying to say. Only through practicing and experimenting with these effects can players learn what levels of editing are a value add and best highlight what the work represents.
Find Your Voice, Tell a Story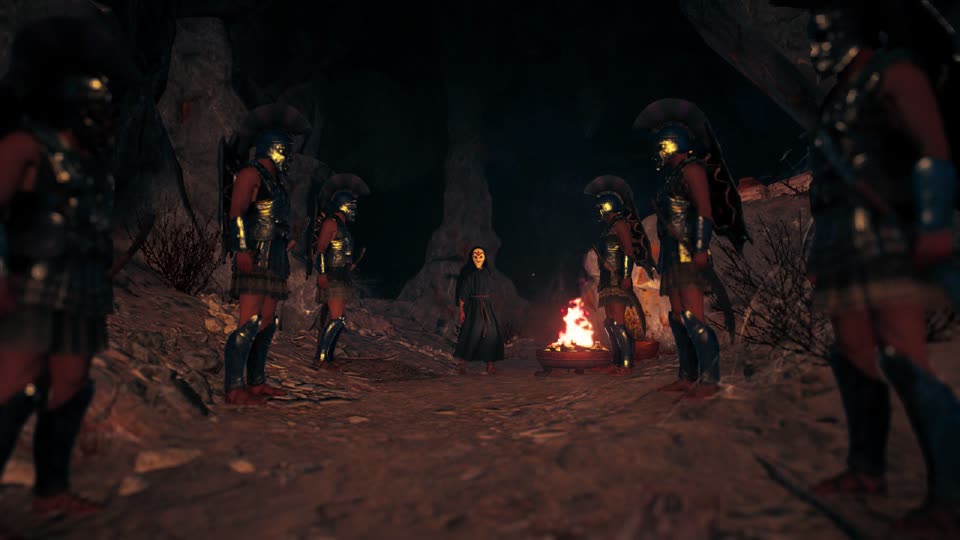 As players experiment with their photomode shots, they should keep in mind that truly great photographs show the artist's voice and tell a story. That's not something that can be taught, however; each person must find their voice and style on their own. "Asking how to make a beautiful picture is a little bit like asking a musician how they make a hit," jokes Greco. "There's no magical formula, but it's all about the emotion you put in the photo - your sensitivity, your history, your knowledge. In my experience, it's about shooting and being inspired. Trust in yourself and just do it."  
"Start with a game that is already familiar and inspiring," advises Sheely. "One thing that separates a good screenshot from a true work of art is the ability of its creator to explain how the photo ties into a larger summary of what's happening inside the frame. This can mean any number of things, like the concept of art itself; it can be as simple as a moment in time that stirs emotion regardless of context, or it can connect deeply with the artist's personal experiences in the real world."
Another way players can help their work shine is through a title and description; though neither are required to enter Ubisoft's photomode contest, they will be considered during the judging process and can have a big impact on a photo's score. "Giving a photo a title can sometimes be just as insightful as a full explanation of its significance," says Sheely, "Likewise, the statement of vision doesn't have to be long or completely spell out the meaning of the piece, but a thoughtful description of their intentions will greatly help viewers to understand the importance of what they're seeing."
You can learn more about Ubisoft's Photomode contest, and stay tuned to the dedicated news hub for more updates on Ubisoft games.