This week at Ubisoft, Rainbow Six Siege started Operation Solar Raid, its new season with a new Defender and some impactful new updates; Far Cry 6 launched its twisted Lost Between Worlds expansion; For Honor started its new Arabian-inspired season Shattered Fates; and Anno 1800 released its latest DLC, New Worlds Rising. Assassin's Creed Valhalla did a cosmetic crossover with Destiny 2, a Valiant Hearts sequel was announced, and The Division Resurgence kicked off a Live Test. Check it all out and more in this week's roundup of all Ubisoft News:
Valiant Hearts: Coming Home Launches Early 2023 For Netflix Members
At the Game Awards on December 8, Ubisoft announced Valiant Hearts: Coming Home, the sequel to the 2014 game Valiant Hearts: The Great War. The new game will launch in early 2023 exclusively for Netflix members via the Netflix mobile app. Valiant Hearts: Coming Home follows four characters as they reckon with the impact of the Great War, and the gameplay will feature exploration, puzzles, and action.
Rainbow Six Siege Operation Solar Raid Available Now
Operation Solar Raid kicked off on December 6, marking the final season of Year 7 for Rainbow Six Siege. The season comes with a new defending Operator named Solis, who brings her tech-detecting SPECI-IO gadget to help her team spot the Attackers' electronic devices. The free content delivered with the season includes a new Nighthaven Labs map, revamped Battle Pass progression, Ranked 2.0, anti-cheat and anti-toxicity measures, and more.
New Far Cry 6 Expansion, Lost Between Worlds, Out Now
Far Cry 6's most recent expansion, Lost Between Worlds, launched on December 6, bringing an otherworldly adventure to Yara. Dani is trapped in an alternate dimension after encountering an extraterrestrial AI, and now must fight her way through a series of rifts and collect shards in order escape. Each rift represents a fractured version of Yara and has its own unique set of challenges for Dani to overcome (read the article above for some intriguing examples). As you chart your paths through the rifts, you will unlock new gear that can help you take out enemies more swiftly and create shortcuts for a more efficient run.
For Honor Year 6 Season 4, Shattered Fates, Launches December 15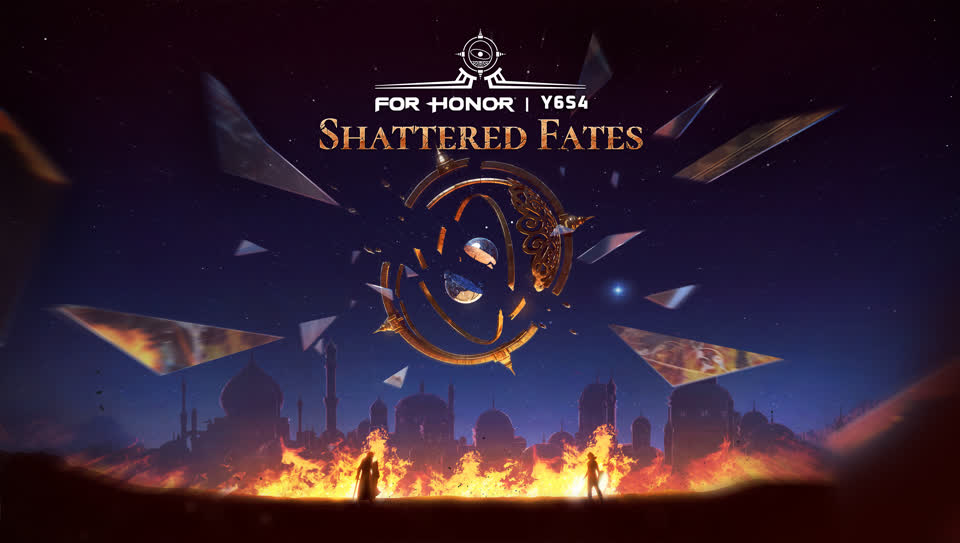 For Honor's Shattered Fates season is set to launch on December 15. The new season, inspired by Arabian legends, brings a new Hero skin for the Black Prior, a new Battle Pass and Battle Bundle, and the Frost Wind Nights event. The Testing Grounds are also set to come back on December 22, focusing on the Jormungandr.
Anno 1800 New World Rising DLC Out Now
Anno 1800's final DLC for Season 4, New World Rising, is out now, bringing a new population tier, new islands, and a new trade-focused scenario mission to the game. Players can also get their hands on the Old Town Pack cosmetic DLC, which lets you restyle buildings with a medieval look, as well as a free update that includes a reworked construction menu, the ability to move multiple structures at once, a bigger New World map pool, and more.
How Assassin's Creed Valhalla and Destiny 2 Developers Created Cosmetic Crossovers
Assassin's Creed Valhalla and Destiny 2 crossed over in a cosmetic event on December 6. Assassin's Creed Valhalla players can get armor sets inspired by Lord Shaxx and Saint-14; weapons inspired by the Gjallarhorn, Thorn, and more; as well as scout and mount skins and a weapons pack. Destiny 2 players can get armor sets inspired by Eivor, Kassandra, and Altaïr, as well as an Assassin's Creed-themed Sparrow, Ghost, ship, and finisher. Ubisoft News spoke to Ubisoft and Bungie employees involved in the project about how it came to be, and how the teams recreated Assassin and Guardian styles while remaining authentic to their worlds.
The Division Resurgence Announces Live Test Starting December 8
The Division Resurgence is an upcoming free-to-play shooter RPG for mobile devices, set in New York City during the first wave of SHD Agents. Starting December 8, the game began a Live Test period available to Android users in Western Europe, giving those players a chance to test several missions and game features and provide their feedback. If you're interested in participating, you can sign up at thedivisionresurgence.com.
Ubisoft's New Fair Play Program Promotes Healthy In-Game Interactions
On December 6, Ubisoft launched its Fair Play Program, an educational platform available for free on Ubisoft Connect and designed to raise awareness about disruptive behaviors in the gaming community. The program consists of five learning capsules with nine videos, one quiz, one self-assessment, and one pledge, all of which take about 25 minutes to complete in total. Ubisoft News spoke to Jeremy Marchadier, director of player safety, about the effects of toxicity in gaming, the process of developing the Fair Play Program, and why it's needed.
Meet Ubisoft's Accessibility Team
Ubisoft's Accessibility team works hard to make sure Ubisoft games are playable for everyone; they also develop tools, strategies, and methods to make work at Ubisoft as accessible as possible. Ubisoft News spoke with all six members of the Accessibility team to learn more about how the team came to be, what their proudest accomplishments are, and what they hope to achieve.
Play Ubisoft Games You Own on Amazon Luna
On December 6, Amazon Luna began a program that allows you to play games you own on PC (via Ubisoft Connect) on the cloud-gaming platform. In order to take advantage of this opportunity, players only need to have an active Prime membership or Luna+ subscription. Take your gaming experience to the cloud with Assassin's Creed Valhalla or Far Cry 6 today.
Rainbow Six Extraction Roadmap
Throughout its inaugural year, Rainbow Six Extraction put on four Crisis Events: Spillover, Nightmare Fog, Eclipse, and After Effect. On December 5, the team presented the game's yearly roadmap, which will see those Crisis Events recur every February, May, August, and November, respectively. All the weeks in between will be filled with rotating challenges as normal.
Ubisoft+ Spotlight - Valiant Hearts: The Great War
(Editorial note: This is a series of quick weekly highlights written by Ubisoft News team writers that feature games available with a Ubisoft+ subscription. We hope you'll enjoy reminiscing with us, or perhaps discover something new.)
Brittany Spurlin, Writer/Editor: Valiant Hearts: The Great War is a game of interwoven stories, showing perspectives from both sides of World War I. Karl, a German, has been deported from France and drafted into the German army. Meanwhile, his father-in-law, Emile, has joined the French army. Freddie is an American volunteer in the French army, seeking to avenge his wife who has been killed by Germans. Anna is a Belgian war nurse intent on stopping Baron Von Dorf, a German military leader developing gruesome machines of war. And of course there's Walt, a Doberman Pinscher who tags along for the adventure, helping wherever needed. Whether they're trying to reunite with their family, take revenge, or simply make it through the war alive, the intersection of these stories creates a somber narrative that shows the human side of WWI, as well as the many difficulties for everyone involved.
The game is as educational as it is fun to play, taking players through real-world events like the Battle of the Frontiers, Battle of the Somme, Battle of the Marne, and more, as well as visiting key locations from the war, like Reims and Montfaucon. You'll get to experience the dangerous trenches, snowy fields, and military forts of France, all animated in a unique art style reminiscent of a graphic novel. The gameplay itself serves as a vehicle for the story, primarily a mixture of puzzles and exploration. Valiant Hearts: The Great War is split into four chapters, each composed of several sections that require players to complete an objective (such as stealing equipment, sneaking past enemies, or surviving a battle) in order to progress. All of the characters can knock out guards and throw things, but some have additional abilities: Emile can dig, Freddie can cut barbed wire, and Anna can heal. Walt is also a huge asset for stealth missions, as he can move through areas and get items without the enemy noticing.
You can play Valiant Hearts: The Great War today with a Ubisoft+ subscription, and don't miss its sequel Valiant Hearts: Coming Home when it comes to the Netflix mobile app in early 2023.
Game Updates
Rainbow Six Siege received a patch update with the new Solar Raid season, bringing gameplay updates and bug fixes.
Added voiceover lines in Team Deathmatch playlist
Operator's legs no longer twitch when shown on the MVP screen
Hip fire recoil on the Shooting Range now matches recoil in PvP matches
For Honor released patch update 2.40.0 on December 7 to coincide with the new season, bringing improvements and bug fixes to the game in addition to the new content.
Raider's stamina pool reduced to 120
Lawbringer's front and side dodge shove moves, as well as their recovery, have been buffed to better open up opponents to attack
Jiang Jun, Gladiator, and Shaolin can no longer change stances during a Guard Break Start
The Division 2 received Title Update 16.4 on December 6, rolling in new content and bug fixes for the shooter.
Dark Path Apparel Event is now live
Lucky League, Lucky Target, and Prime Target General Anderson are now available in Season 10 Manhunt
Fixed multiple crashing issues affecting progression