Twenty years ago, Red Storm Entertainment and the Tom Clancy brand joined Ubisoft, making it the company's first major franchise. Since then, Ubisoft teams all around the globe have worked on games inspired by the writings of techno-thriller author Tom Clancy, expanding the brand's portfolio of games and fanbase. To celebrate this important milestone, the Ubisoft News team spoke with teams who have worked with Clancy brands over the years to gather intel about the origins of the franchise and how it evolved over the years.
The Origins of Red Storm and "The Thinking Person's FPS"
In the mid-1990s, Virtus Corporation, together with Simon & Schuster Interactive and Clancy Interactive Entertainment, launched a submarine simulator called Tom Clancy's SSN. The game was successful, and the teams decided to make the collaboration permanent, which led to the foundation of Red Storm Entertainment in 1996. The studio worked on smaller projects, like a line of games called Power Plays that tied into the Clancy books, but in parallel, the team was developing a more ambitious title that would become Rainbow Six, released in 1998.
"We set out to take the essence of the 'Clancy feel' – its heroic structure, the idea that one individual can change the course of large events – and then implement that in an FPS game," said Steve Reid, one of Ubisoft Red Storm's founders and managing director of the studio for the past 20 years. Reid told us how Rainbow Six introduced the "one shot, one kill" concept, which was a revolution for the genre.
"Our goal was for our game to be more realistic, and definitely to break with the run-and-gun gameplay that was the trend at the time," said Elizabeth Loverso, vice president of product development at Ubisoft Red Storm. When pulling the trigger becomes more meaningful, Loverso explained, it slows down the tempo of the action.
"The revolution was that we made a game that became a thinking person's shooter," she continued. "Players suddenly needed to plan ahead, to think about how they were going to sneak around, when they would reload their guns, etc. The gameplay was unique, and players recognized that almost instantly."
The team at Red Storm knew they had something special even before release. Reid fondly remembers that the night Rainbow Six went gold (meaning development was finished and the game was ready to be published), many developers on the team stayed at the studio after hours to play it. The game was an immediate success. "We couldn't manufacture the discs fast enough to match the demand!" Loverso said.
When Red Storm joined Ubisoft – then known as Ubi Soft Entertainment – in 2000, the North Carolina studio had one goal in mind: develop bigger and better games. This was soon the case with Ghost Recon (2001), a strong multi-platform title that shifted the action from tense indoor combat to war zones and outdoor environments, which could finally be achieved realistically thanks to technological advances.
The "Clancyverse" was starting to expand. Soon, other Ubisoft studios would be inspired to enrich it with even more games and experiences.
Three Green Dots: Bringing Splinter Cell to the Clancyverse
In 2002, years before the success of new brands like Assassin's Creed, the team at Ubisoft Montréal was set to launch a brand-new stealth game: Splinter Cell. At the time, Helene Juguet (who is now managing director of Ubisoft Film & Television in Paris) was in charge of the teams marketing the game in the US, and immediately saw the game's promise. Together with her team, she came up with a game-changing idea: to bring Splinter Cell into the Tom Clancy line of games.
"From a narrative perspective, this made a lot of sense," Juguet told us. "Splinter Cell focuses on a spy, Sam Fisher, and the gameplay has many aspects of the tactical techno-thriller that are the main characteristics of Clancy games."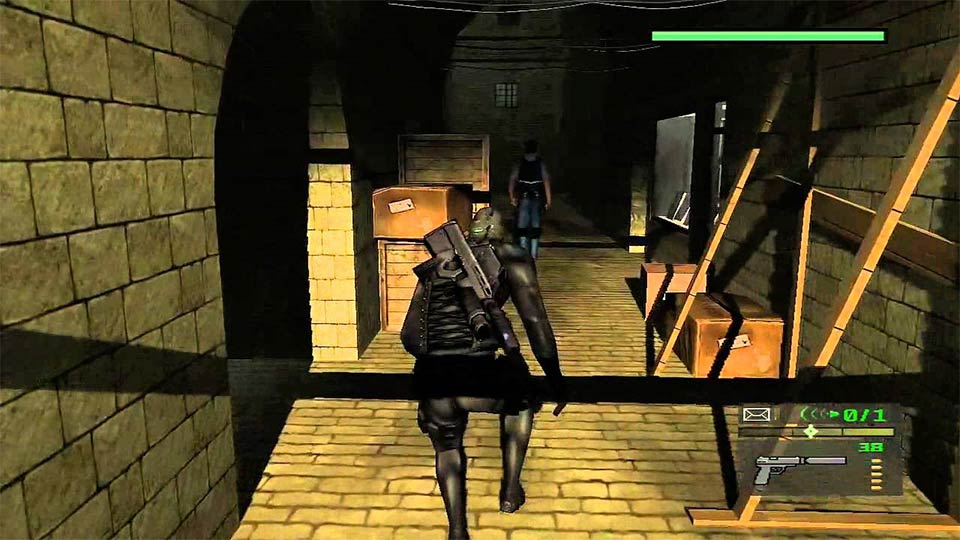 The success of the original Rainbow Six and Ghost Recon games convinced the team that leveraging the Clancy name for this new IP would help the game stand out. Juguet recalls Microsoft including the game on stage at E3 and presenting Splinter Cell as a must-have for their upcoming console, the Xbox.
According to Juguet, Splinter Cell's innovative gameplay, its strong narrative and themes, and the appeal of Sam Fisher as a character also helped the franchise become successful.
"From a marketing perspective, the dev team had created many great elements that we could leverage, like those iconic night vision goggles," Juguet said.
Juguet has many fond memories of working on Tom Clancy titles, and one of her favorite Clancy games is the sequel to the original Splinter Cell, Pandora Tomorrow, which launched in 2004.
"For this game, we chose a name with (then-brand manager) Xavier Fouilleux that was a little unexpected, and it was a great fit" Juguet said. "Ialso love it because it has such a unique multiplayer mode, with asymmetric roles between Mercs and Spies. I don't know if many people remember it, but it was revolutionary at the time!"
The Clancyverse Expands: From Parallel Development to Global Co-Development
As new games and series released over the next decades, Ubisoft Red Storm took full advantage of Ubisoft's network of international studios and increased its level of collaboration.
"It became clear to us that we almost had too much goodness to handle on our own: we needed more partners," Reid told us. The team at Ubisoft Red Storm specialized in developing the multiplayer part of Clancy games, as was the case for Ghost Recon titles, whose development was led by Ubisoft Paris.
While Ubisoft Red Storm's role and involvement in Clancy games has expanded and varied, multiplayer has remained a specialty: the studio was in charge of the Dark Zone in both The Division games, a franchise led by Ubisoft Massive.
"At this point," Reid told us, "we are collaborating on huge blended projects where everyone has a role, and all these team members that are scattered across the world in multiple studios really just form one big team."
Moments of Light in the Darkness: Writing Realistic Stories
Although breakthrough gameplay innovations are what put Tom Clancy games on the map, everyone we spoke to told us that narrative was key to their long-term success.
"The biggest mistake we could make is to treat gameplay and narrative as two separate things, when in fact both are equal parts of the experience and must work together to create the best game possible," said Lauren Stone, a writer now based at Ubisoft Massive who worked on Rainbow Six Siege,The Division and is currently working with Ubisoft's Tom Clancy IP team.
Richard Dansky, central Clancy writer and one of the custodians of the Clancy brands, concurred. According to him, the integration of narrative in the gameplay has improved dramatically over the years.
"In the first mission packs for Ghost Recon, the only story you had was this giant wall of text giving you the brief of the mission, and that was it!" Dansky said.
For Dansky, one of the most interesting things to work on was "the translation of the fantasy, so that the players can realistically see themselves as highly trained operatives that can solve any problem at any time." Creating Clancy narratives requires a lot of research and leveraging not just knowledge based on real-world geopolitics, but also a deep understanding of the Clancy game world and a predictive approach to the real world.
"The key is being aware of geopolitical trends to understand how the situation we're in could realistically evolve in the near future," Dansky explained.
Clancy games are so in tune with politics that they sometimes predict real-world events. Ghost Recon, a game that launched in 2001 but was set in 2008, featured a Russo-Georgian conflict and mirrored the situation that took place in real life in August 2008.
Matthew Corso, development director for the Clancy IP, also highlighted that maintaining consistency throughout the franchise is no small task.
"To that end, we have an internal universe tool that enables us to keep track of each character's backstory and status within the universe," Corso said.
Additionally, the Clancy IP team, based at Ubisoft Reflections in Newcastle-upon-Tyne, England, created five major narrative pillars to ensure that consistency, accuracy, and collaboration remain at the forefront of every Clancy title.
"These pillars ensure, among other things, that players can identify with the themes and characters presented in the games," Corso said. "For instance, we always want our heroes to fight together for the greater good, but our antagonists should be realistic, with believable motivations."
Another important part of making the game feel more realistic is to find the right balance between each narrative element, Stone told us.
"If a story is too dark, then the darkness has no real impact anymore," she explained. Stone dealt with that in The Division 2 by introducing minor characters like Eva Garcia, whose audio logs can be discovered by players exploring the ruins of Kenly College in Washington, DC. Garcia's logs about the sexist history of her college are personal accounts on subjects that still feel grounded in the wider story.
"Sometimes, smaller characters can also have a big impact on the story, especially if they feel real to the player, with relatable experiences," Stone said.
Looking to the Future of Clancy Games
"What is so great about these games is that the themes are timeless," Reid said. "The hero story, the idea that one person can save the day, ties into a heroic satisfaction that will always be relevant."
From a narrative perspective, the future is very exciting.
"Things are going in so many different directions – the world, technology; everything, really – so that means a lot of opportunities that we have to take advantage of, to push new stories and let them evolve in new directions," Dansky told us.
For example, as Rainbow Six Siege has grown and evolved with its community, the game's themes and values have shifted toward competition, teamwork, and excellence. The Division, while featuring sleeper government agents, has explored the gray area between faction allegiances, most recently with Faye Lau's storyline in the Warlords of New York DLC. Increasingly, Clancy games give players more agency, emphasize teamwork, and feature characters with nuanced motivations and agendas.
Another major objective for teams working on the future of Tom Clancy is to keep satisfying players and providing them with memorable and enriching experiences. For example, Rainbow Six Siege has embraced esports and grown a strong competitive community, and the first Rainbow Six Siege World Cup will take place in summer 2021. Another example is the work from Ubisoft Red Storm, as well as Ubisoft Reflections, Ubisoft Düsseldorf and Ubisoft Mumbai to bring Splinter Cell to a new and innovative platform with VR.
You can play 15 different Tom Clancy games, including the original Rainbow Six, Ghost Recon, Splinter Cell, and more on Ubisoft+.