This week at Ubisoft, Rainbow Six Siege, Riders Republic, and Trackmania kicked off their respective winter celebrations with a Snow Brawl, Winter Wonderland, and over 260 new blocks of snowy creative options. Additionally, Associate Producer Quentin Correggi talked about designing balanced and fun weapons for Mario + Rabbids Sparks of Hope, Apple TV+ announced a new Mythic Quest spinoff show, and the Ubisoft Store launched its annual Winter Sale. Check it all out and more in this week's roundup of Ubisoft news:
Rainbow Six Siege Snow Brawl Event Starts Today
Rainbow Six Siege kicked off its seasonal Snow Brawl event today, which will run through January 6. During the event, you can take part in a snowball fight capture-the-flag game mode, which is set in a night version of the Chalet map and has a special secondary gadget.  Players who log in during the event can claim a free Snow Brawl Collection pack, which has a winter-themed cosmetic item.
How the Mario + Rabbids Sparks of Hope Team Updated Kingdom Battle's Weapon System
Mario + Rabbids Sparks of Hope made several changes from its predecessor Kingdom Battle, like removing the tactical grid and implementing real-time movement. The development team also rehauled the weapon system, designing each character's weapon to be unique, have personality, and work well in combat. Ubisoft News spoke with Associate Producer Quentin Correggi about the process of developing these weapons and how they make them fun to use while ensuring balanced gameplay.
Trackmania's Winter Campaign is Coming January 1
Trackmania is kicking off its Winter Campaign on January 1, bringing 25 new tracks, new medals and trophies, and (in a first for the franchise) prestige skins. Three of these skins - Season, Royal, and Ranked - will be available at the start of the season, and 37 more will be released throughout 2023. The Trackmania World Tour 2023 is also gearing up, with the Showdown Weekend taking place from December 17-18.
Riders Republic Season 5: Winter Wonderland Now Available
Riders Republic Season 5: Winter Wonderland launched on December 14, bringing snow, holiday cheer, and competition to the game. Winter Wonderland has free weekly challenges and new gear (including outfits from Season 5 sponsor The North Face, and Prada-designed items). There are also a number of events throughout the season, starting with a crossover with one of Ubisoft's most popular franchises complete with Ezio and Eivor cosplay outfits, followed by a Holiday Season Celebration, New Year's Eve, X Games Winter Edition, and Ghost Warriors events.
New Mythic Quest Series, Mere Mortals, Coming to Apple TV+
On December 15, Apple TV+ announced Mere Mortals, a spinoff of the platform's workplace comedy Mythic Quest. The new series takes inspiration from Mythic Quest's breakaway episodes, such as "A Dark Quiet Death," "Backstory," and the upcoming "Sarian," and will focus on the impact the fictional MMO has on its employees, players, and fans. Mere Mortals is written by Ashly Burch, John Harris, and Katie McElhenney, and is executive-produced by Jason Altman, Megan Ganz, Rob McElhenney, David Hornsby, Charlie Day, and Margaret Boykin.
Roller Champions' Neo Retro Season is Live Now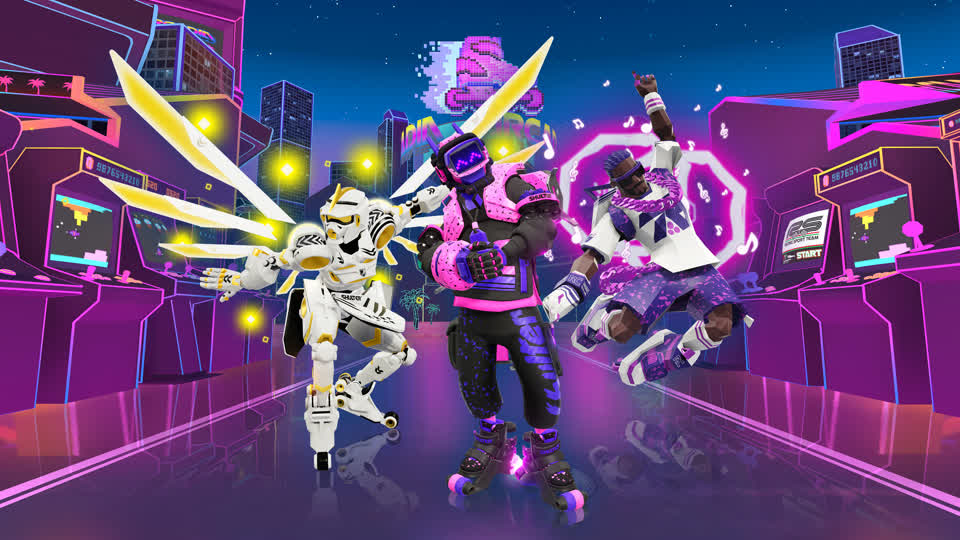 Celebrate gaming history in Neo Retro, the newest season of Roller Champions. Neo Retro launched on December 13, bringing an all-new game mode called Clone Clash. It's a 1v1 mode where your avatar is cloned to make a team of three, and you can change up which skater your control at any time. Neo Retro also introduces three new themed arenas to Roller Champions: Pixel City, Arcadia, and the Pinball Stadium.
Rocksmith+ Adds New Artists, Reaches 6,000+ Songs Launched Worldwide
Rocksmith+ is a music-learning service that teaches you to play the electric, acoustic, or bass guitar with familiar songs. Its library has launched over 6,000 songs worldwide, including music from artists like Avril Lavigne, Childish Gambino, Korn, and Apocalyptica.
Clash of Beasts Major Update Available Now
Clash of Beasts, the free-to-play PvP mobile game, received a major update on December 15. Now, players can attack with up to four beasts at once (instead of one), significantly changing the strategy for gameplay. Additionally, new story chapters and campaign maps were added to expand the world of Veren.
How to Get the Most Out of Ubisoft's Winter Sale
Ubisoft's Winter Sale is underway from now until January 5, giving you a chance to get up to 80% off select Ubisoft titles. For extra savings, use the code HOLIDAY22 at checkout to get $10 off an order of $20 or more. If you're not sure what games to get yourself or your loved one, the Ubisoft Store grouped similar games into genre bundles to help: Adventurer, Action Seeker, Sports Enthusiast, and Strategist.
Far Cry 5, Far Cry New Dawn, and Far Cry Primal Join Ubisoft+ Classics on PlayStation Plus in December
Ubisoft+ Classics, a curated library for PlayStation Plus Extra and Premium members, is getting three new games on December 20: Far Cry 5, Far Cry New Dawn, and Far Cry Primal. Now's the time for members to dive into Hope County, Montana to take down The Project at Eden's Gate cult, and then help its citizens rebuild after a nuclear war. Or, members can travel through time to 10,000 BCE and lead the Wenja tribe while fighting enemy tribes and prehistoric beasts.
Ubisoft+ Spotlight - For Honor
(Editorial note: This is a series of quick weekly highlights written by Ubisoft News team writers that feature games available with a Ubisoft+ subscription. We hope you'll enjoy reminiscing with us, or perhaps discover something new.)
Brittany Spurlin, Writer/Editor: Heathmoor is a world torn apart by faction warfare. In For Honor, you can choose a fighter from the Iron Legion, Warborn, Dawn Empire, or Wu Lin factions, and help them fight for control over the in-game world. Or, if you would rather go rogue, you can choose a character from the Outlander group, a collection of fighters not allied to one another. Each Hero has a specific class: Vanguard, Assassin, and Heavy, or players can choose a Hybrid character that has two of those three skills. A fighter's class will determine their weapon type as well as their strengths and weaknesses in battle, so it's important to pick a class that suits your playstyle. Heroes also have unique Feats they can perform in combat, like healing themselves or summoning an aerial attack.
For Honor's combat has an intricate system of attacks, blocks, and dodges that emphasizes the strategic side of medieval melee fighting; you are always thinking about what strengths and weaknesses your Hero has as well as your opponent. Timing is also critical to every move you make - taking an action a second too early or too late can give your opponents the upper hand. The weapons have a convincing feel that's heightened by the different stances you can take to outwit and outslash your opponents.
The campaign mode can be played solo or in two-player co-op, and will take you on a journey through each faction's fight across Heathmoor, and is a great way to try out a variety of Heroes and find out who works best for your playstyle. In multiplayer, you can fight in the 4v4 Dominion mode, duke it out for victory in the 1v1 Duel mode, Brawl for the best of five 2v2 rounds, Skirmish against AI, and much more.  
You can play For Honor today with a Ubisoft+ subscription.
Game Updates
Rainbow Six Siege Y7S4.1 patch went live on December 13, bringing bug fixes and gameplay improvements to the game ahead of the Snow Brawl event.
Electricity visual effects are again visible on deployable shields, reinforced walls, and hatches
Players can no longer see through barricades while picking up deployable gadgets
Solis' hands no longer go into an animation loop, and her SPEC-IO no longer loses functionality on reactivation
Riders Republic deployed a patch along with the Season 5 launch, which brought game updates, improvements, and bug fixes in addition to the wintery new content.
Weekly challenges are now free
Updated leaderboards are out now in beta
The Ridge Giant Screen can now display videos
Game no longer crashes when players exit zen mode
In addition to the new content, Roller Champions' Neo Retro season comes with a patch update that adds new features, game balancing, and bug fixes.
Roller Champions has been added to the Steam Registry and can be searched, installed, and played on the platform.
Players can now score after catching a Magnetic Pass and teleporting the ball through the goal
Vertical trajectory of the ball after an Uppercut has been adjusted to allow the tackler to have better recovery